This Week's Opportunities For Startups | November 14 – 18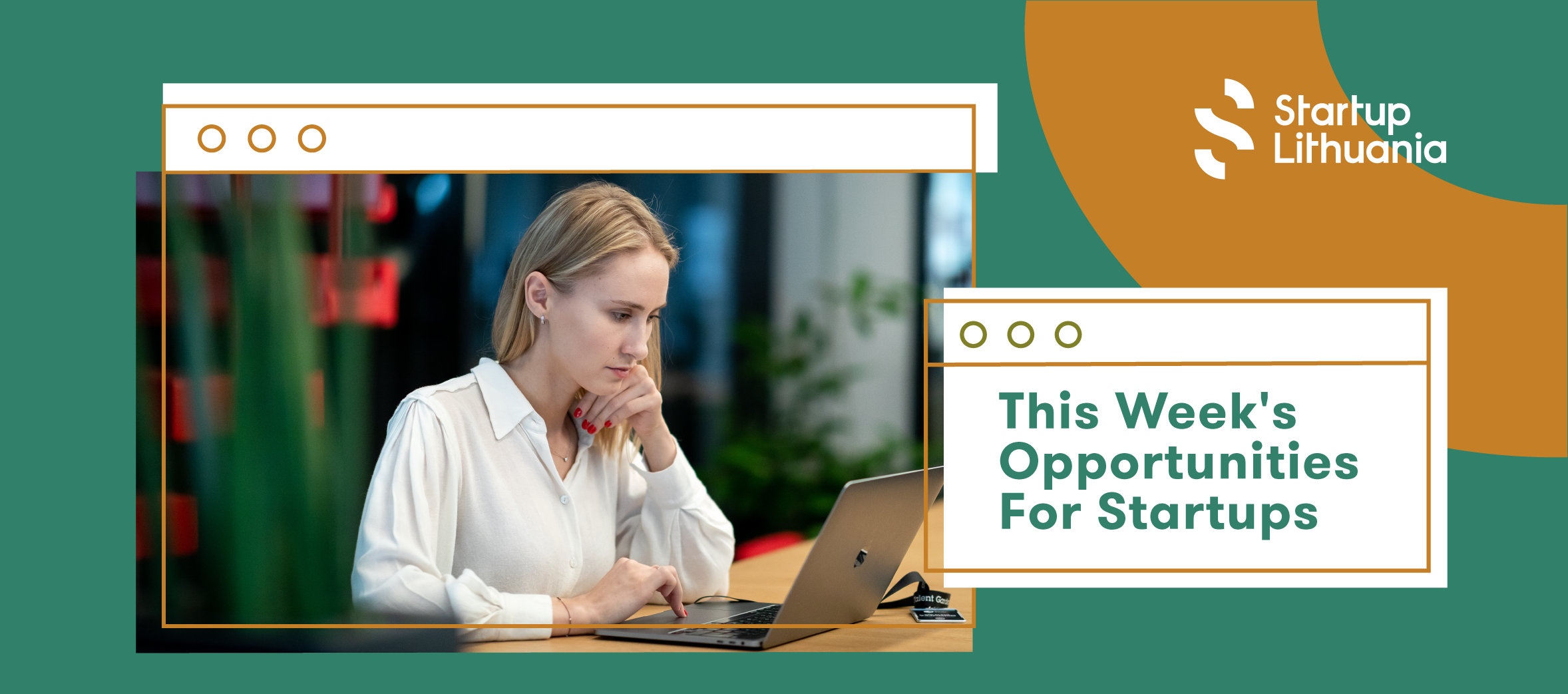 Save your time and concentrate on things that matters. 
Startup Lithuania prepared a list of opportunities, events, and open calls that you might be interested in! Please, check it right now and take every chance that you get:
📣 APPLY UNTIL NOVEMBER 15 | THE EUROPEAN CYBER DEFENCE AND CYBERSECURITY FORUM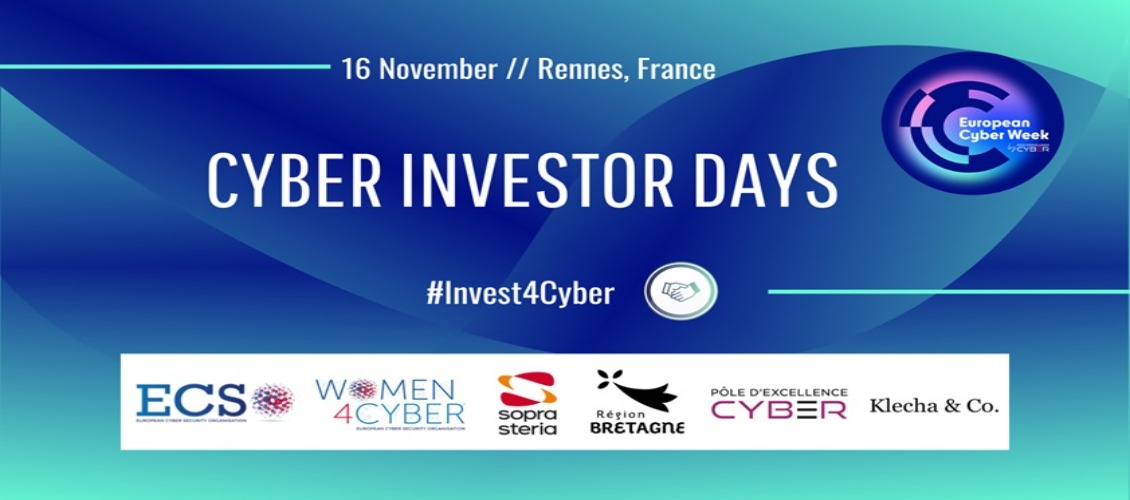 The 6th edition of the European Cyber Week kept all its promises, with over 4000 visitors from the public and private sectors of the cyber security / cyber defense industry.
It is therefore with great pleasure that the Pôle d'excellence cyber invites you to attend the 7th edition from November 15 to 17, 2022, at the prestigious Jacobins Convent in Rennes.
The European Cyber Week brings together a French and European ecosystem of excellence, rich in diversity and high-level speakers. It is a source of meetings between players in the sovereign sector, and also offers the possibility of high value-added exchanges between suppliers and users of cyber security solutions.
It is a reference event in the field for strategic thinking, research and operational implementation, and also a convivial networking space for all its participants.
European cybersecurity start-ups shall submit an application form and a 5-7 slide pitch deck by Monday, 3rd October 2022, EOB to be considered for the event. Applying companies should be founded not more than 5 years ago, as competition focuses on young start-ups. For the application form and guidelines, please contact: Virginie Morlet vmorlet@hopscotchcongres.com and Stephane Grousseau stephane.grousseau@soprasteria.com
Investors and integrators interested in attending the event are invited to contact Stephane Grousseau stephane.grousseau@soprasteria.com
Date: November 15-17, 2022
Location: Rennes-France
More information: here
📣APPLY UNTIL NOVEMBER 17 | SLUSH STARTUP LITHUANIA SIDE EVENT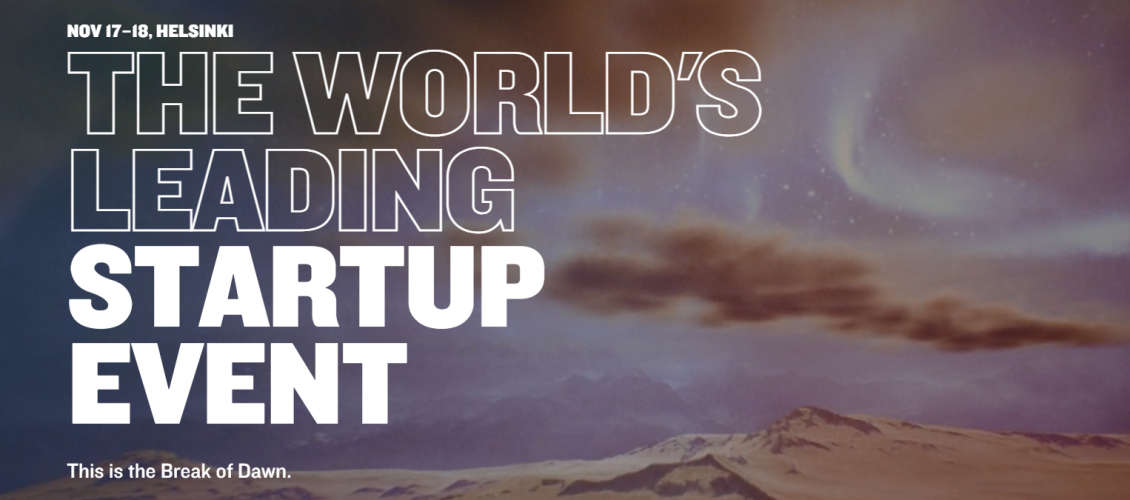 Slush is bringing the global startup ecosystem under one roof. In cold, dark November, a curated group of speakers from across the globe, showcases, and unique networking opportunities will all be in Helsinki together with hundreds of Side Events happening across the city throughout the Slush Week. This year Slush takes place on November 17-18.
Lithuanian startup ecosystem members are invited to attend this event along with Startup Lithuania, which is the organizer of Lithuania's national stand and side-event at the Slush conference. 
For more details reach out to milda@startuplithuania.com.
📣APPLY UNTIL NOVEMBER 18 | HOSPITON.RARE DISEASES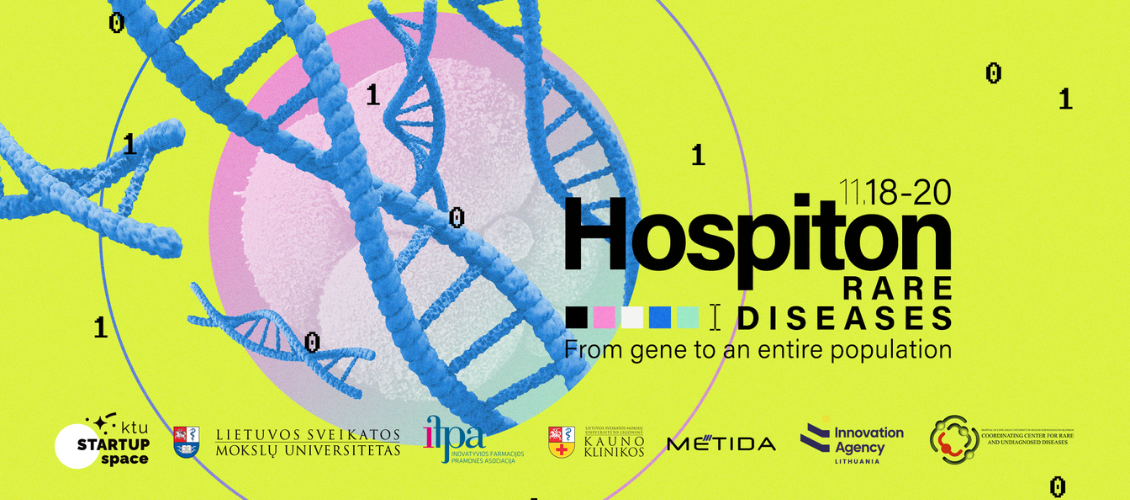 Event targets: students, professionals, and enthusiasts of different fields – medicine, nursing, engineering, IT, management, design, social services and other fields, as well as patients, their relatives, innovation development enthusiasts. Everyone who wants to solve real challenges in the field of health together – to create solutions that facilitate the treatment of patients with rare diseases and the daily life of patients and their relatives.
Medical or other field knowledge is not mandatory. Different competences allows us to discover non-standard solutions to challenges together.
Hospiton 2022 challenge – RARE DISEASES:
Identification and education. New diagnostic methods, use of data and dissemination of information – education of the public (from children to teachers) and specialists, raising awareness, improving communication between doctors, patients and relatives.
Effective therapy. Use of data, precision medicine, personalized treatment, use of new technologies, treatment methods, drug development.
Quality of life. Solutions for everyone – patient, relative, doctor – dealing with rare diseases. Treatment monitoring, adaptation of the environment to the patient and his relatives, help and support to the relative, family, patient.
Opportunities: During the hackathon, participants get to know the current challenges of rare disease treatment. Teams or individual participants put together in teams, create innovative solutions that solve challenges together. Access to patients and their relatives to understand the problems they are experiencing better, as well as the help and advice of mentors from various fields and special training will help you in your journey. The culmination of the event is the presentation of the teams' solutions to the jury and the announcement of the winners of Hospiton.Rare diseases.
Date: November 18-20.
Event location: LSMU "Santakos" Valley, The Centre for Advanced Pharmaceutical and Health Technologies, Sukilėlių pr. 13, Kaunas
Registration: here >> 
More information: on Facebook or contacting viktorija.butrimaite@lsmu.lt, neringa.valantine@ktu.lt
📣APPLY UNTIL NOVEMBER 18  | ACTINSPACE 2022 HACKATHON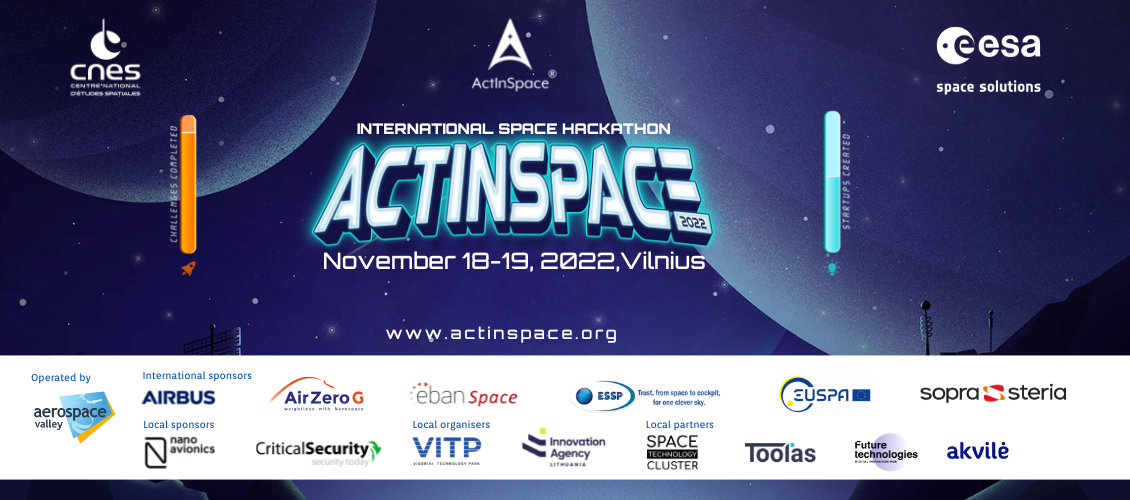 ActInSpace® is an international innovation contest initiated by the French Space Agency (CNES) uniting over 100 cities across 5 continents. ActInSpace® is supported by ESA (European Space Agency) and the ESA Business Incubation Centres network.
ActInSpace is a unique opportunity for participants worldwide to work on creating business prospectives for the challenges by the use of patents, technologies and satellite data made available by CNES, ESA, Airbus and all international partners to create new and innovative start-ups.
The challenges are based on high-level technologies, which nevertheless are easy to re-use because they have been selected due to their potential for commercial applications.
Visoriai Information Technology Park will host ActInSpace for the second time in Lithuania. It will be held on 18th – 19th of November. Participants will be coached, advised and encouraged by technical and business experts to transform ideas into a winning business concepts in just 24 hours hackathon.
The ActInSpace Lithuania team – winner – will participate in the International final in Cannes with chances to win a zero – gravity flight (Airbus 310 Zero G).
The space innovations will transform the world in the coming decade. This is your chance to unleash your entrepreneurial potential and be a part of "space renaissance"
Agenda
KICK-OFF. November 18 (Friday), 13:00 – 13:30 Welcoming message & competition rules
CHECK-POINT #1. November 18 (Friday), 13:30 – 15:00  Intro of mentors and teams
HACKATHON. November 18 (Friday), 15:00 – November 19 (Saturday), 15:00  Working in teams with help of mentors (duration: 24 hours)
CHECK-POINT #2. November 19 (Saturday), 10:00 – 10:30  Pitch tips, rules & teams progress updates.
PITCH in front of the jury. November 19 (Saturday), 15:00 – 16:30 Team pitch in front of the jury. 5-8 minutes for each team & Q&A with the jury 5 min for each team.
AWARD ceremony. November 19 (Saturday), 17:00 – 18:00  Award ceremony.
Reservation: here 
Date: 18th – 19th of November
For more information: space@vitp.lt or rasa@vitp.lt
📣APPLY UNTIL NOVEMBER 30 | FOODTECH LAB ŻABKA GROUP ACCELERATION PROGRAM | ŻABKA GROUP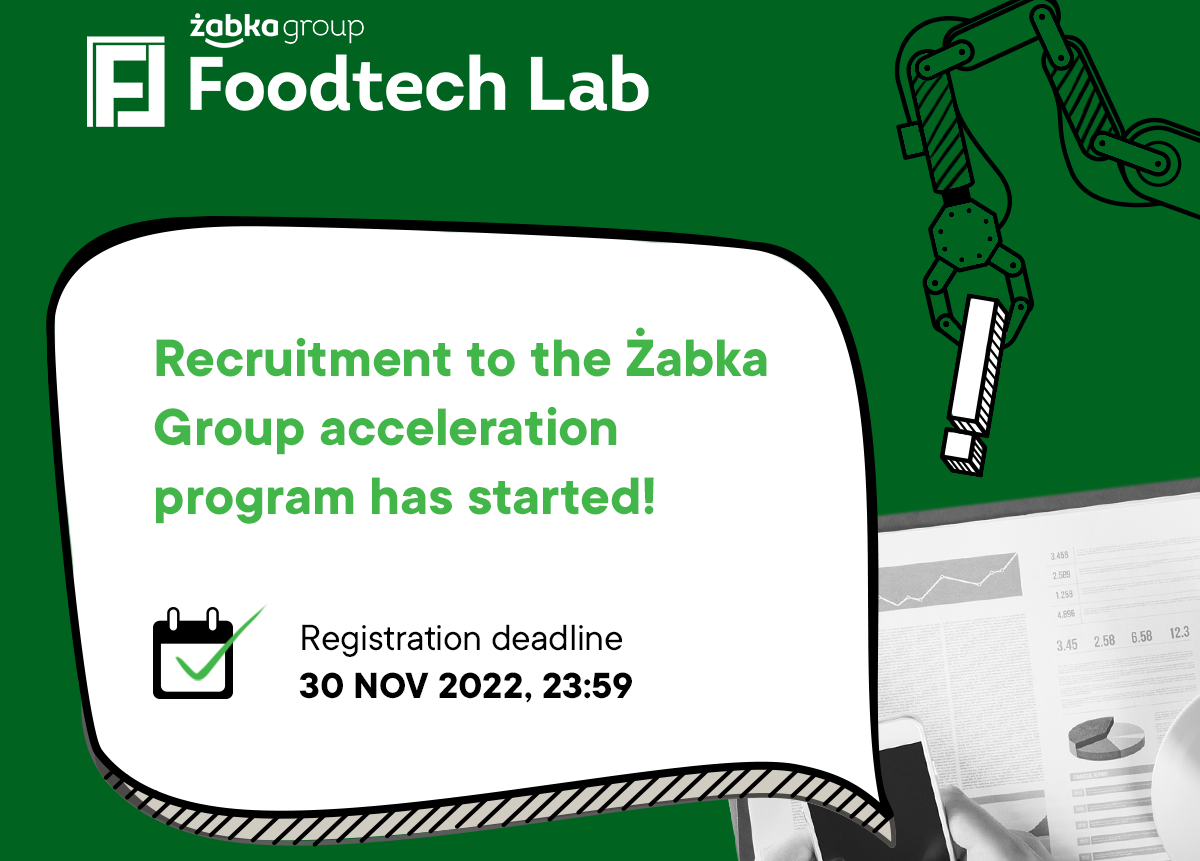 Żabka Group is the ultimate convenience ecosystem that aims to make people's lives easier. Żabka accompany consumers at every moment of the day, freeing up their time through the possibility of convenient grocery shopping, have a hot meal on the go, send a package, withdraw cash or take advantage of a dietary catering with delivery. We are one of the most recognizable brands in Poland, with nearly 3 million customers using our services daily.
For whom?
Żabka Group is looking for products and solutions in areas such as: innovative food products, alternative protein sources, lab-grown meat, functional food, packaging, food waste management, food processing technologies, food production, consumer.
Benefits of participating in the program
Ability to implement your product or solution on a large scale
Consumer Testing and Commercial Pilot Program
Possibility of cash investment
Access to expert resources
Numerous opportunities to establish key relationships
Positive PR thanks to support from Żabka Group
How to apply
If you want to take part in the accelerator, you will find program details and application form at Foodtech Lab
Deadline for Applications: 2022-11-30
📣APPLY UNTIL NOVEMBER 25 | CEE STARTUP CHALLENGE | VESTBEE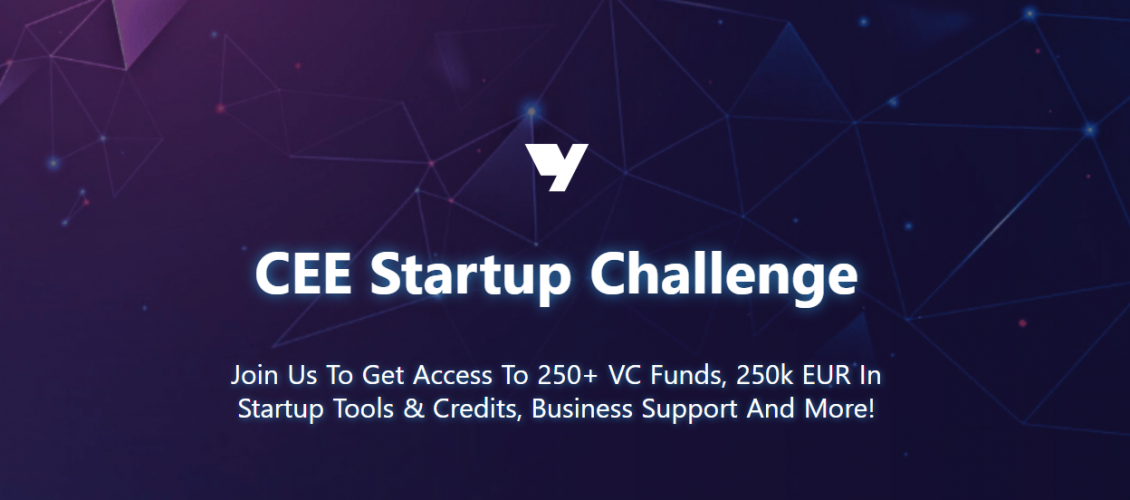 Calling all raising pre-seed, seed, and series A startups to join the CEE Startup Challenge by Vestbee! Apply and get:
a fast track to the CEE VC Summit 2023, an invitation-only gathering for 250+ VC fund managers,an opportunity to pitch in front of
the leading global investors e.g. OTB Ventures , Movens Capital, 3VC, Revo Capital, Credo Ventures, and more,
250 000+ EUR in business tools, media coverage, conference tickets, and more!
Apply here >>
Deadline for Applications: 2022-11-25
📣APPLY UNTIL DECEMBER 8  |WRAP UP OF 2022 & VILNIUS TECHFUSION STARTUP AWARDS | STARTUP LITUANIA

We are excited to announce that registration to the Wrap Up of 2022 & "Vilnius TechFusion" Startup Awards is now open! Join us and let's celebrate the record year for Lithuanian startups together!
Very limited capacity
 Only 300 
Keep in mind, that due to the limited capacity at the event's venue, we may not be able to host all of you. Don't wait till the last moment
 The registration will be automatically locked after we collect first 300 attendees
PROGRAM:
 18:30 Wrap up & Startup awards (The priority for live attendance is given to startups and members of the Lithuanian startup ecosystem) Link to watch Wrap up & Startup awards TBA
 19:30 Networking part
Join the Wrap Up of 2022 & "Vilnius TechFusion" event to follow the details!