This Week's Opportunities For Startups | January 23 – 27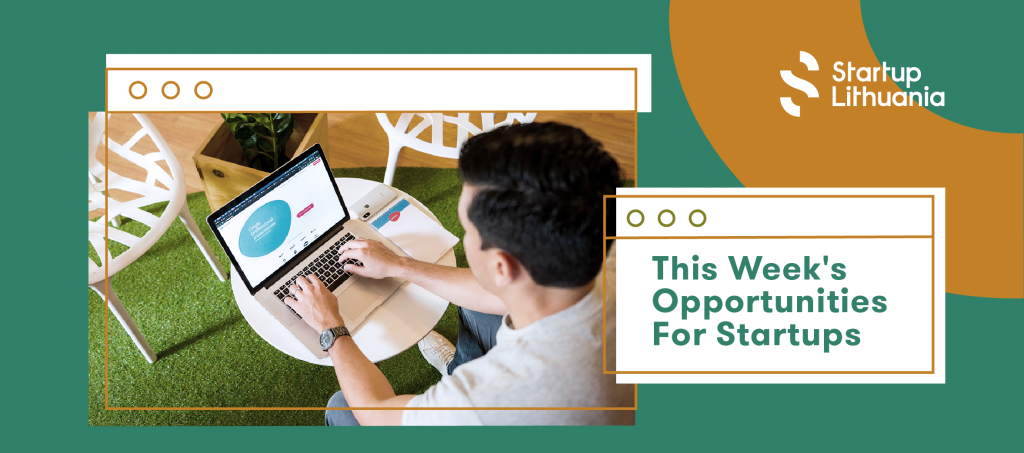 Save your time and concentrate on things that matters. 
Startup Lithuania prepared a list of opportunities, events, and open calls that you might be interested in! Please, check it right now and take every chance that you get:
📣 REGISTER UNTIL 24TH OF JANUARY | IMAGURU STARTUP HUB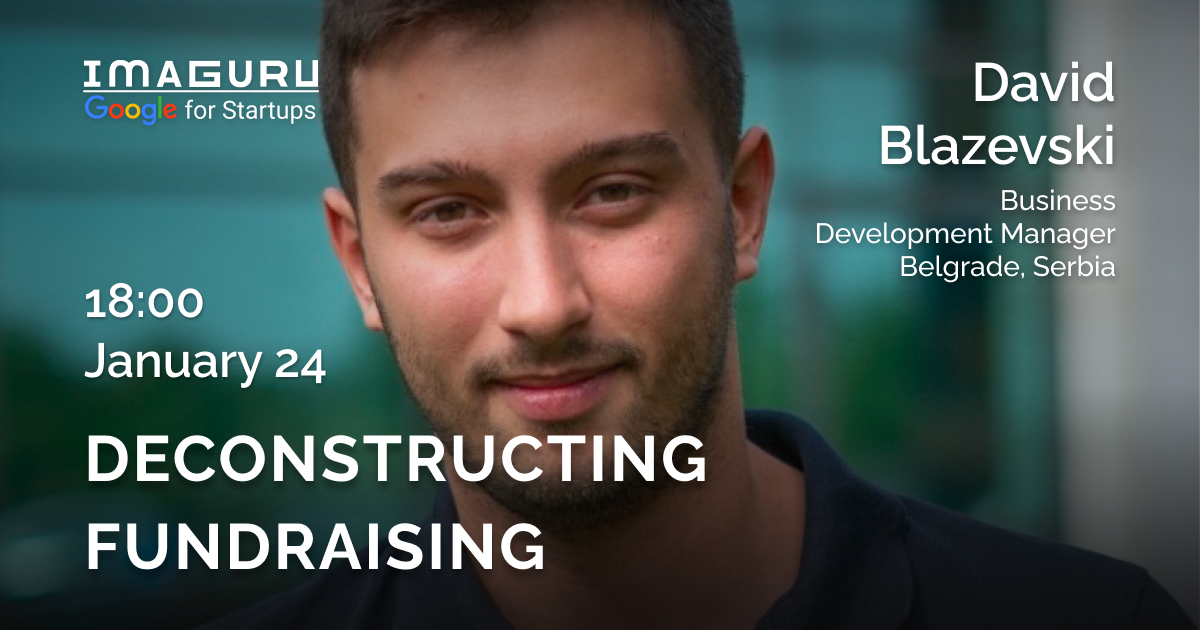 Imaguru introduces you to the series of events dedicated to Fundraising. This event (Deconstructing Fundraising by David Blazevski) is part of the series.
 Building something people want is the most challenging part of building a startup. The second hardest part of building a startup is – fundraising. Investors evaluate startups the way customers evaluate products. In this event, we will talk about how to avoid getting affected by the randomness of any investor's behavior by deconstructing fundraising – why raise money, how much to raise, and what fundraising rules to follow.
Meet our speaker – David Blazevski who is a Business Development Manager from Belgrade, Serbia. He is a part of the #GoogleforStartups mentor community, where he helps startups achieve their growth results, enter new markets and raise their next rounds. 
Register to participate in this event and join Imaguru on January 24th at 18:00 at Imaguru Startup Hub Vilnius (Vytenio g. 18).
Please, register by the link: https://airtable.com/shr3Q0JZ8YFZ4CCgJ
📣 REGISTER UNTIL 24TH OF JANUARY | JANUARY 2023 FOUNDER BOOTCAMPS | HUBSPOT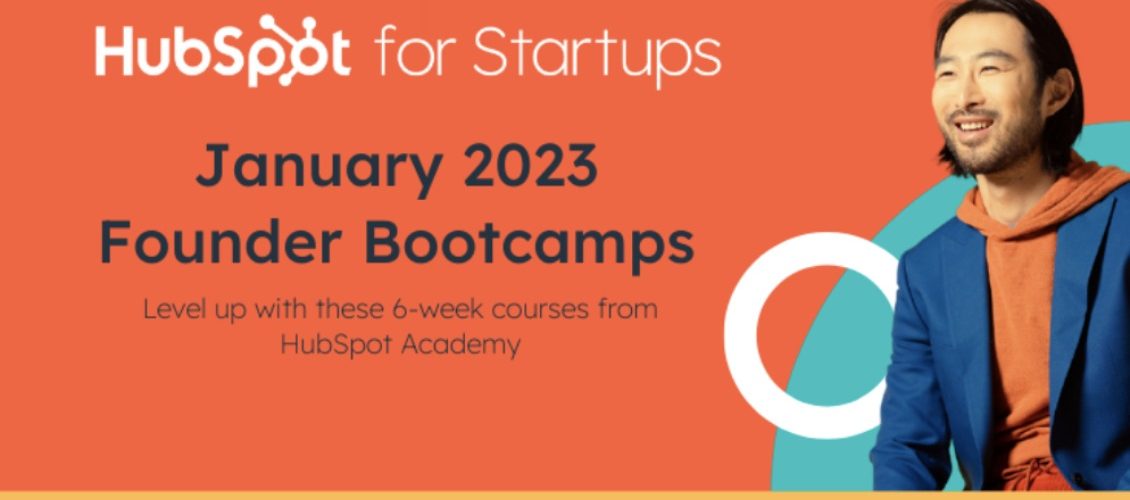 January 2023 Founder Bootcamps
Expand your founder tool belt and learn alongside your peers in these free interactive bootcamps from HubSpot Academy.
Get ready to level up your skills with HubSpot for Startups' FREE Sales & Marketing Interactive Bootcamp. Learn from the experts at HubSpot and expand your founder tool belt alongside your peers.
Grow your startup with HubSpot
Scale your marketing and engage core audiences with tools like ads, landing pages, email, forms and live chat.
Date: January 24th
Registration: here*
*Request the Unique Partner Link from Startup Lithuania and apply to the HubSpot for Startups Program via this link. Then, return to the Bootcamp Registration Page to request course access.
📣 JOIN ON 26TH OF JANUARY | BRIDGIO TALKS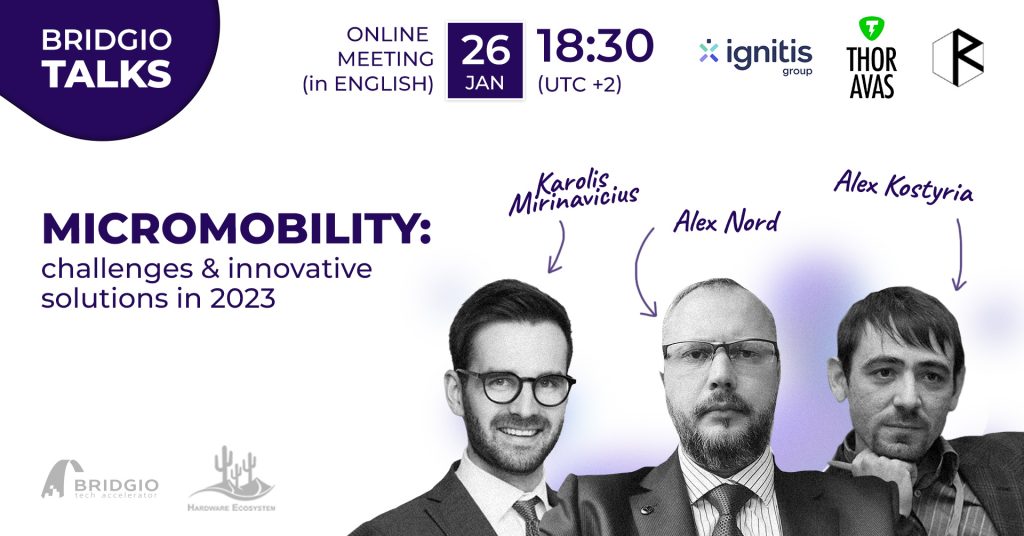 Micromobility: challenges & innovative solutions in 2023
More than 1000 organizations throughout the globe today are developing urban micromobility ecosystems. Solutions become diversified: they cover sharing services, food delivery, and consumer needs. It seems we have everything we need, like numerous versions of bikes, scooters, boards, buggies…However, we need to redefine existing solutions in modern cities.
To deepen the agenda, we invited for the bridgiotalk representatives of two market sides:
Corporate: Karolis Mirinavicius – Senior Innovation Expert at Ignitis Group;
Startups: Alex Kostyria, Founder and CEO at RAIDO (Raido is a battery-swapping infrastructure for micromobility fleets ); Alex Nord – Co-Founder and Business Development Manager at THOR AVAS (Thor Acoustic Vehicle Alerting System purpose is to bring road safety to the next level by helping to alert all road users of the electric vehicle's movement)
Ignitis Group will present unique micromobility market data, current infrastructure challenges, and open market niches, while startups will present solutions to existing problems.
Date and time: 26th of January (Thu), 18:30 UTC+2.
Online broadcasting: here
📣 JOIN ON 26TH OF JANUARY | PROPTECH LITHUANIA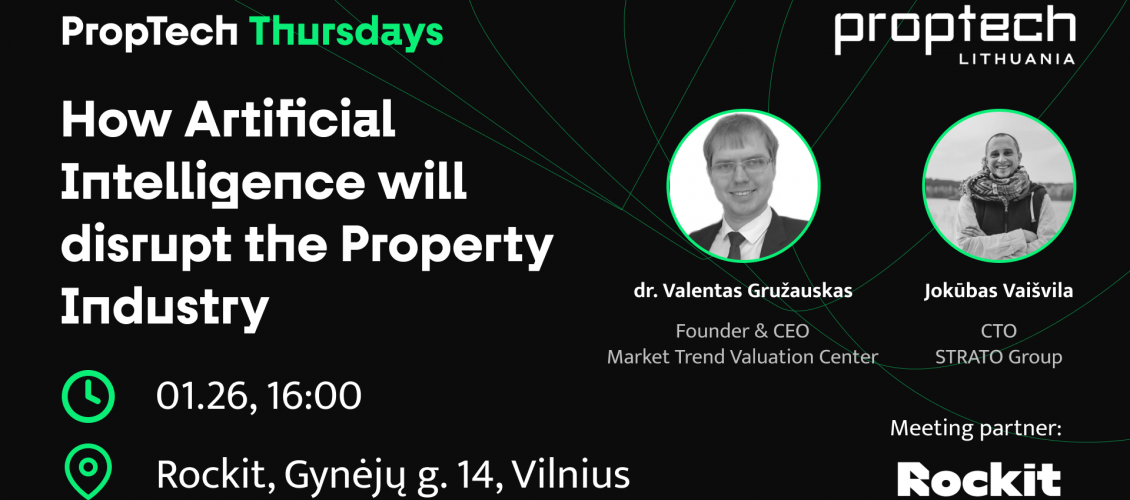 It's time to start the new year with the hottest topic – Artificial Intelligence!
For a while, A.I. was quite a controversial topic, mixed with unnecessary hype. But after last year, when everybody laid their hands on now-famous tools such as ChatGPT, Dall'e and Midjourney even the sceptics had to agree -the A.I. era is here and it's going to change things tremendously fast.
The first speaker for the night – dr. Valentas Gružauskas, a Vilnius university lecturer and a founder of Proptech startup "Market trend valuation center" will share his expertise about the specifics and practical use cases of the A.I. – Artificial Intelligence and how it relates to the Real Estate industry. The second speaker – Jokūbas Vaišvila, CTO of Strato Group will show us the future of the customisation of prefabricated homes and demonstrate their proprietary software – as they call it – a "Tesla configurator" for homes.
You need a free Eventbrite ticket to attend. Grab it now >>
📣 NEW OFFER FROM SCALEWAY | GET UP TO 36,000€ WORTH OF CLOUD CREDITS

Scaleway is a European cloud services provider, offering a number of pioneering solutions in the field of cloud infrastructure for business. Scaleway is expanding its operations around the world, and currently serves customers in over 160 countries providing three availability zones. You can find an overview of all the cloud products we currently offer here. 
We know what it means to launch and grow your startup. Our entrepreneurial DNA, deep European roots and values, as well as our size and agility, make us your ideal growth partner.
The offer
Get up to 36,000€ worth of cloud credits by applying to the Scaleway Startup Program!
How to redeem 
Apply via this TypeForm.