Proptech Thursdays: How A.I. will disrupt the Property Industry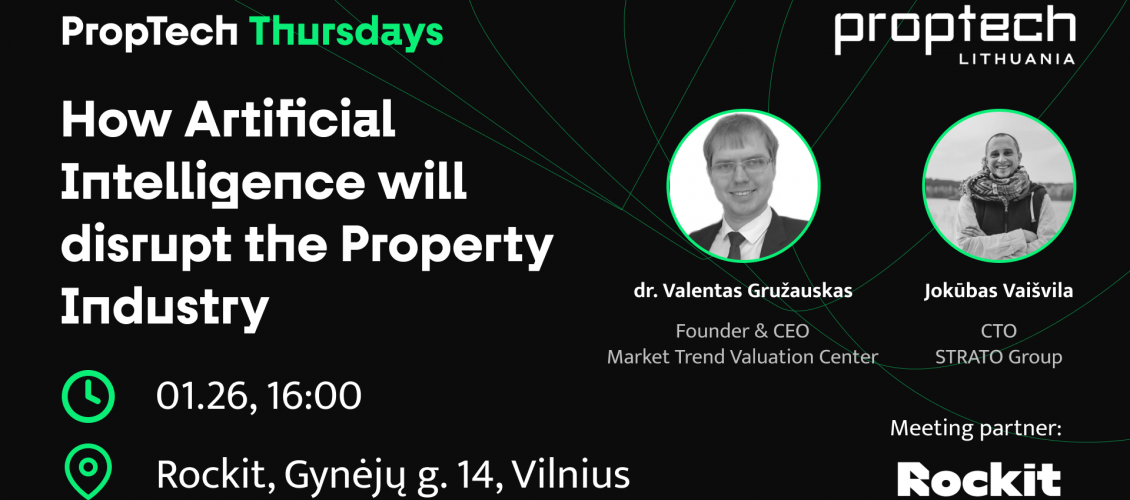 It's time to start the new year with the hottest topic – Artificial Intelligence!
For a while, A.I. was quite a controversial topic, mixed with unnecessary hype. But after last year, when everybody laid their hands on now-famous tools such as ChatGPT, Dall'e and Midjourney even the sceptics had to agree -the A.I. era is here and it's going to change things tremendously fast.
The first speaker for the night – dr. Valentas Gružauskas, a Vilnius university lecturer and a founder of Proptech startup "Market trend valuation center" will share his expertise about the specifics and practical use cases of the A.I. – Artificial Intelligence and how it relates to the Real Estate industry.
The second speaker – Jokūbas Vaišvila, CTO of Strato Group will show us the future of the customisation of prefabricated homes and demonstrate their proprietary software – as they call it – a "Tesla configurator" for homes.
Let's dig deeper into this exciting topic and meet fellow innovation and Real Estate enthusiasts.
As always, the first hour is for a presentation and the second – is for invaluable networking with your new and old peers.
You need a free Eventbrite ticket to attend. Grab it now >>
Find out more about the speakers:
http://strato.homes, https://strato.vip
https://valueadviseu.com