This Week's Opportunities For Startups | September 26 – 30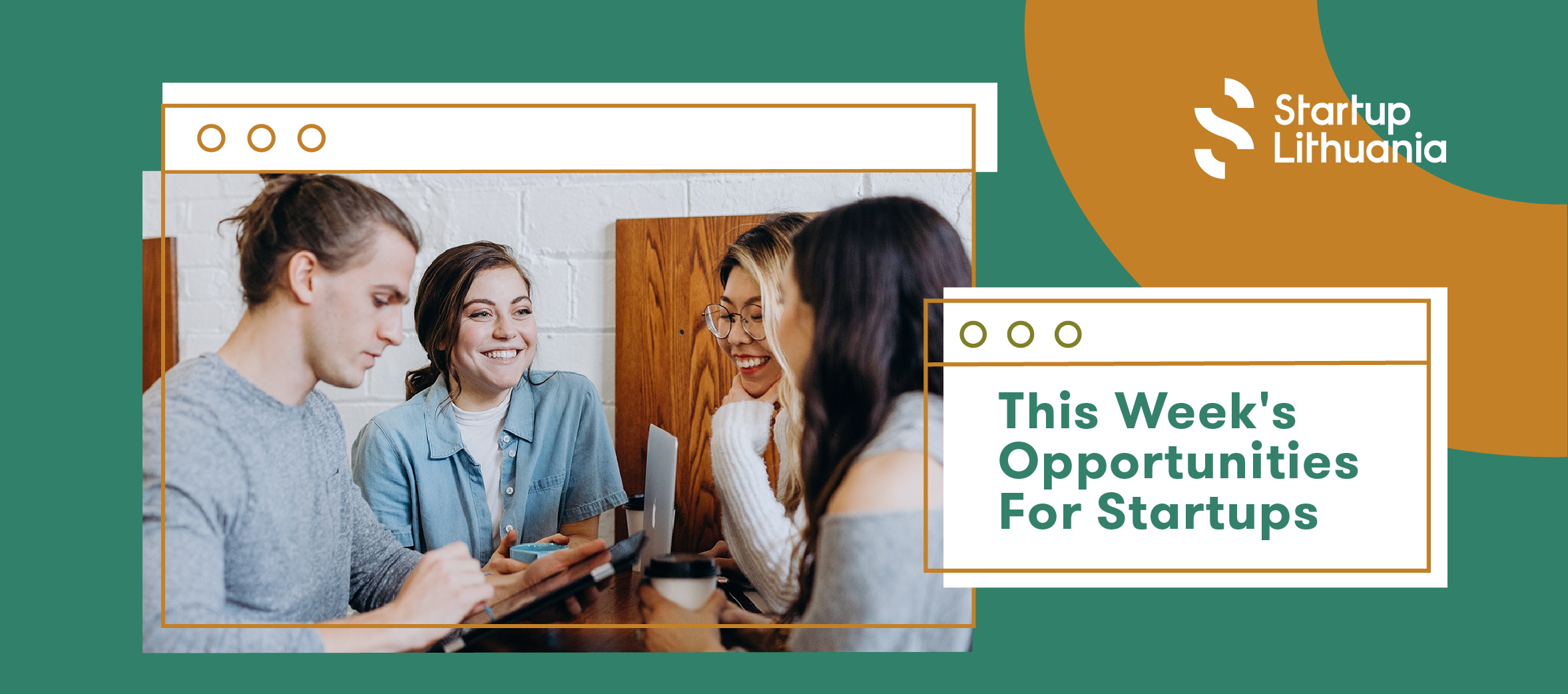 Save your time and concentrate on things that matters. 
Startup Lithuania prepared a list of opportunities, events, and open calls that you might be interested in! Please, check it right now and take every chance that you get:
📣 APPLY UNTIL SEPTEBER 30 | PORTATHON 2022| KLAIPĖDA SCIENCE AND TECHNOLOGY PARK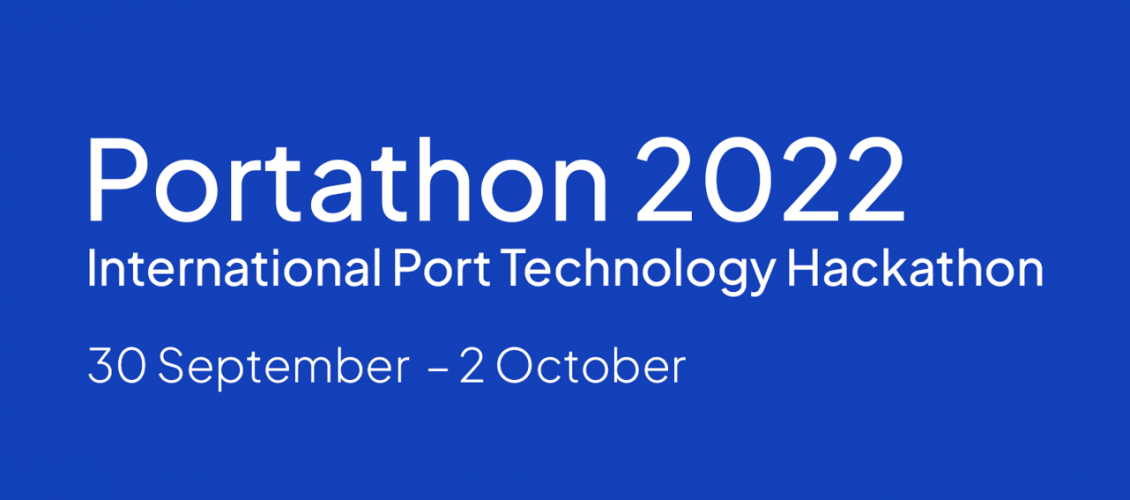 Modern ports of today and tomorrow are facing complex challenges and need advanced solutions now. Portathon is where bold ideas are born. Portathon is where innovators meet and grow. A strong community has been the driver of this hackathon for 4 years. After 48 hours of innovation, technological excellence and creativity you will come out STRONGER – with more OPPORTUNITIES for your career and business, with more VALUE for our maritime ecosystem.
Challenge areas:
digitalization in logistics
automated port equipment
digital port terminals
smart transport ecosystems
maritime cyber security
port environment & wellbeing
Prize fund: 4,000 Euros. + an excellent platform to…
develop partnerships
build a team for your startup
test new product/ service idea/ prototype
meet & work with experts in different fields
Registration is already open!
For teams (3-5 members) or individual participants register here
For mentors register here
Submit your challenge here
3 options to join:
in Klaipėda Science and Technology Park, Lithuania
online
in a physical location in your city / university – just set up a local Portathon embassy
Event is free of charge. Event language: English.
Coordinator contact: innovaton manager Erika Zavackiene erika@kmtp.lt
Attention startups! The URBAN TECH open call to apply for up to €54,350 to develop an innovative solution is open until the 28th of September.
Join the URBAN TECH program, of which Kaunas STP is a part, and propose a technological solution. The solution will help to overcome the challenges of large companies and organizations and corporations open to innovation to create more sustainable, smarter, and more lively cities!
Some of the challenges that need solutions:
Greentech
Discover "green" (non-fosil fuel-based) resin for the production of particle boards, MDF/HDF, and plywood at acceptable market prices.  Apply
 Smartcity
Customer happiness is your software target? We are looking for startups who develop solutions on how to track the satisfaction levels of museum visitors. Apply
Healthtech
15 mln. babies are born preterm each year, 1 mln. of them die. Premature rupture of the fetal membranes relates to 1/3 of all preterm deliveries. Non-invasive devices for amniotic fluid collection from the uterus for testing of infection could be a valuable tool aiming to reduce the preterm birth rate. Apply
Implement innovative tools and robust methods for the identification of patients and caregivers in the process of patient identification, collecting pathology samples, administering medications, and increasing patient safety in operating rooms by applying standards to people, products, and places. Apply
Discover more: here
Deadline for Applications: 2022-09-28
📣 APPLY UNTIL SEPTEMBER 26 | HACK4VILNIUS  | VILNIUS TECH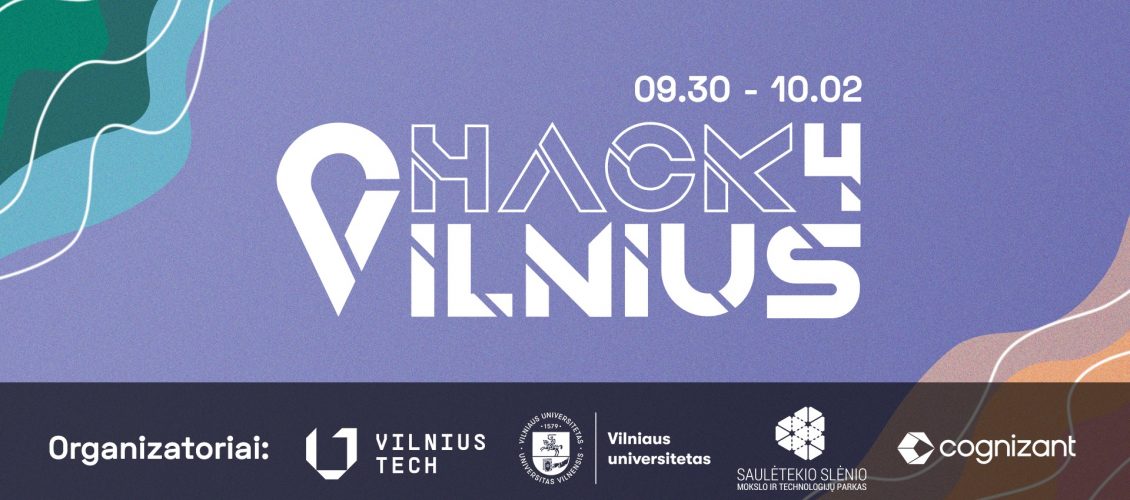 The hackathon "Hack4Vilnius" which promotes sustainability and innovation solutions to the city of Vilnius invites you to gather a team and generate ideas for the capital. The event takes place September 30 – October 2 and aims to make Vilnius even cleaner, smarter, and healthier, and ensure sustainable mobility.
"Hack4Vilnius" is moving from Saulėtekis to Vilnius Gediminas Technical University's (VILNIUS TECH) Creativity and Innovation Center "LinkMenų fabrikas", where participants will be invited to create not only software and digital solutions but will have the opportunity to prove their engineering abilities by constructing prototypes.
During the event, participants will be able to consult with mentors from business development, intellectual property protection, communication and marketing, sustainable mobility, and other areas. Hackathon participants will have the opportunity to listen to the presentations of professionals in their field and deepen their knowledge on the topics of intellectual property and business model development.
The prize pool includes:
The main monetary prize worth 1,500 euros  by Cognizant Technology Solutions Lithuania.
500 eur cash prize established by "Metida"
500 eur legal consulting package in the field of intellectual property
1000 eur scholarship established by CodeAcademy for selected courses to deepen programming knowledge
A place at Startup Lithuania's pre-accelerator "Startup Guide" to develop your idea into a startup
A 3-month program to develop a prototype by VILNIUS TECH "LinkMenų fabrikas"
The language of the event is Lithuanian but you can present your idea in English.  
Learn more and register HERE. 
Registration is open until September 26th, 23.59.
📣 APPLY UNTIL SEPTEMBER 30 | GAZELLE ACCELARATOR  | LINPRA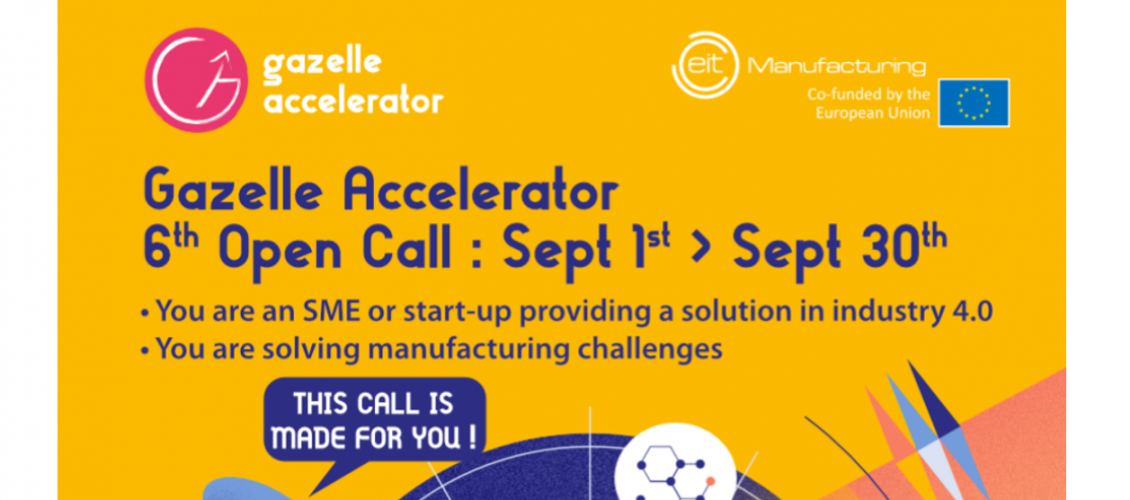 6th open call for start-ups & SME's is now open! 
If you are a start-up or an SME and you have a product / service within the field of Industry 4.0/5.0, this open call is for you. To participate, you have to fill in Gazelle Accelerator Application Form until 30th September HERE.
Gazelle Accelerator aims at supporting existing companies, SMEs, Start-ups and Scale-ups, by accelerating their international business and innovation capacities. The project is specialized in manufacturing and Industry 4.0/5.0. The programme is co-funded by the EIT Manufacturing and coordinate with international partners.
The key dates of the 6th Gazelle Accelerator programme:
 Open call for Start-ups and SME's applications: until 30th September.
 Community booster camp: from the 10th of October to the 11th of November which will include:
– Mentorship & Workshops: from the 11th of October to the 21st of October.
– Coaching sessions: from the 24th of October to the 10th of November
 Meetings: from the 14th of November to the 2nd of December

 B2B : with industrial companies

 B2F : with investors

 Collaborative : with other start-ups from Gazelle
 Follow-up program: from the 5th of December to the 3rd of March.
Deadline for Applications: 2022-09-30
📣APPLY UNTIL OCTOBER 4 | TECHHUB INFO DAY #7  | INNOVATION AGENCY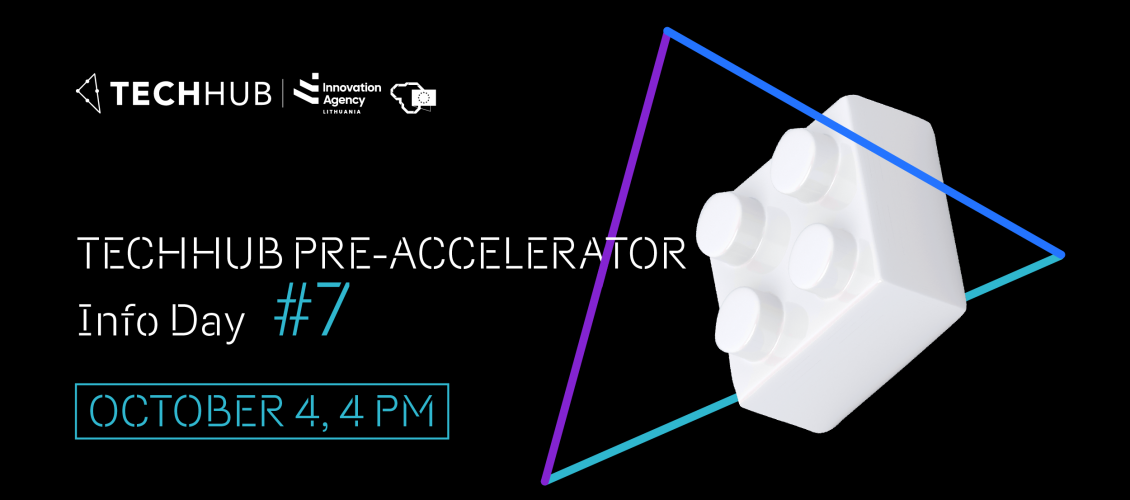 Have an innovative idea and want to turn it into a startup? Doubt if you can? Lack experience, team members, mentors? Join us in the #TechHub pre-accelerator Info Day #7 and find out about the opportunity to turn your idea into a business.
During the event, program manager dr. Gediminas Rumšas will present the benefits of participating in the pre-accelerator, training plan, elaborate on how the selection of startups will be carried out and what awaits at the end of the program.
Graduates of the program will answer your questions and share their experiences and success stories in the program. There will be two guests – CEO and Co-Founder of the startup "Sponsheep" Lukasz Kolpak and CEO and Co-Founder of "Doohoo" Dobilė Minkutė.
This will be the seveth cohort of the pre-accelerator – so far, in six cohorts, we have received more than 550 applications, 130 startups have already completed the program. The pre-accelerator brought together more than 400 innovators.
The program contains a total of twelve training topics. Startups will refine the target customer, perform market and competitor analysis, create market entry strategy, learn about business and product development, positioning, branding, team building, intellectual property, investing. All this – to help startups develop their idea into a minimal viable product.
Successful graduates will have the opportunity to present themselves to the investors at the final "Demo Day" event. In addition, the best performing teams will be awarded valuable prizes – tickets to accelerators abroad and trips to meetings with partners or events in the EU countries.
Startups (small companies with high and innovation-based business development potential, operating for up to 5 years), as well as teams with an innovative idea intending to register a company during the pre-accelerator, can apply for participation. Each applicant team will have to provide information about the startup, team, and service (product). The received applications will be evaluated and the participants will be selected by the project experts.
Date an time: 4 October, 4-5 p.m.
Join Zoom Meeting: here 
📣APPLY UNTIL OCTOBER 10 | EIT HEALTH RIS INNOVATION CALL   | EIT HEALTH INNOSTARS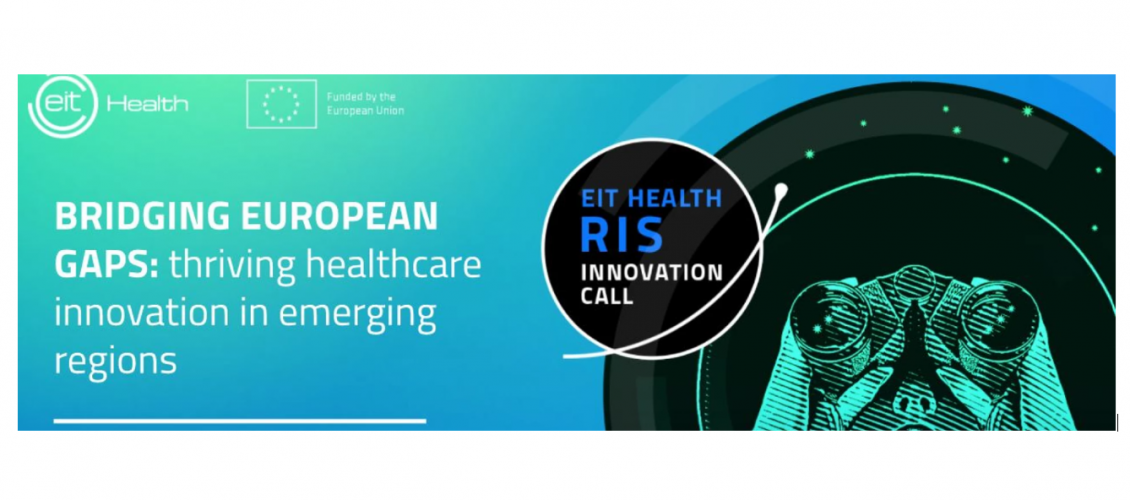 Program targets:
Innovative healthcare partnerships. The call aims at funding the proof of concept phase of high-quality, strong, balanced projects that target EIT Health's Focus Areas (Brain and Mental Health; Infectious Diseases; Fostering Healthier Lives; Harnessing Real-World Data) and will be developed by local actors including both business and academic/research/health care institutions.
At least 2 legal entities' established in Lithuania collaboration is expected – Business AND Academic Institution OR Research Institute OR Health care Institution. Natural persons are not eligible. The leader legal entity of the partnership must have an established and registered representation/branch in the NUTS2 North East Region, Lithuania.
Opportunities:
trainings (training modules include: Innovations canvas, Prototyping, IPR, GDPR, Business Development Plan, Pitch training, Start-up financing, Investment strategy, Funding opportunities) and mentoring sessions, financing up to 75 thousand euro. The requested funding per partner may not exceed EUR 25.000. This sum may vary depending on the enterprise category – small, medium enterprise.
Activities will take place:
January-December 2023.
Submission of applications:
till 10 October 2022, 17:00 CET (Budapest time) https://eithealth.optimytool.com/en/
More information:
HERE or email InnoStars.ris@eithealth.eu
Info RIS Innovation Call 2023 webinar
Time: September 14, 2022 11:00 AM CET
Topics:

 Introduction of the EIT Health RIS Innovation Call 2023

 Introduction of the Application form in details

 Tips on how to submit a successful proposal
Register HERE: 
Deadline for Applications: 2022-10-10