TechHub Info Day #7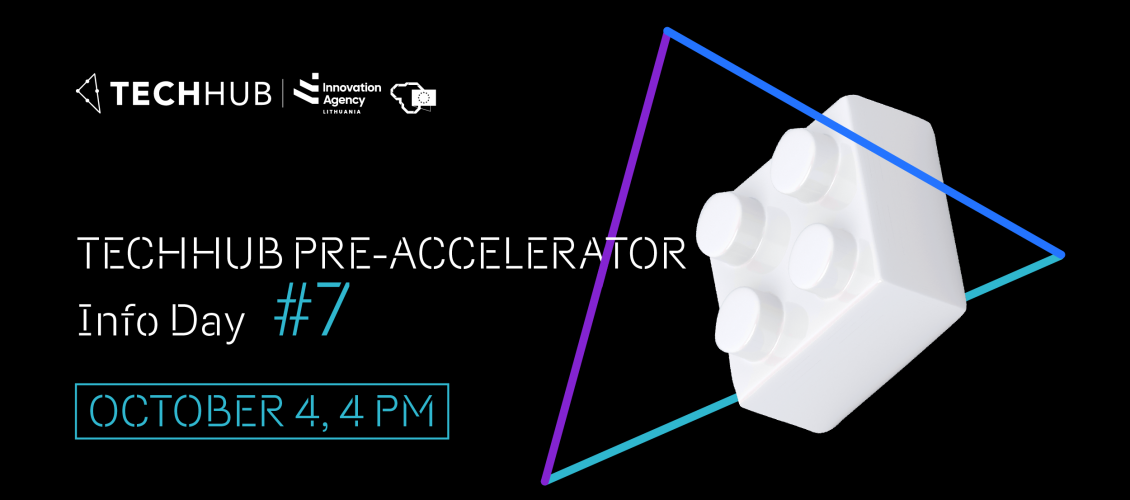 Have an innovative idea and want to turn it into a startup? Doubt if you can? Lack experience, team members, mentors? Join us in the #TechHub pre-accelerator Info Day #7 and find out about the opportunity to turn your idea into a business.
During the event, program manager dr. Gediminas Rumšas will present the benefits of participating in the pre-accelerator, training plan, elaborate on how the selection of startups will be carried out and what awaits at the end of the program.
Graduates of the program will answer your questions and share their experiences and success stories in the program. There will be two guests – CEO and Co-Founder of the startup "Sponsheep" Lukasz Kolpak and CEO and Co-Founder of "Doohoo" Dobilė Minkutė.
This will be the seveth cohort of the pre-accelerator – so far, in six cohorts, we have received more than 550 applications, 130 startups have already completed the program. The pre-accelerator brought together more than 400 innovators.
The program contains a total of twelve training topics. Startups will refine the target customer, perform market and competitor analysis, create market entry strategy, learn about business and product development, positioning, branding, team building, intellectual property, investing. All this – to help startups develop their idea into a minimal viable product.
Successful graduates will have the opportunity to present themselves to the investors at the final "Demo Day" event. In addition, the best performing teams will be awarded valuable prizes – tickets to accelerators abroad and trips to meetings with partners or events in the EU countries.
Startups (small companies with high and innovation-based business development potential, operating for up to 5 years), as well as teams with an innovative idea intending to register a company during the pre-accelerator, can apply for participation. Each applicant team will have to provide information about the startup, team, and service (product). The received applications will be evaluated and the participants will be selected by the project experts.
Date an time: 4 October, 4-5 p.m.
Join Zoom Meeting: here