Gazelle Accelerator
LINPRA, EIT Manufacturing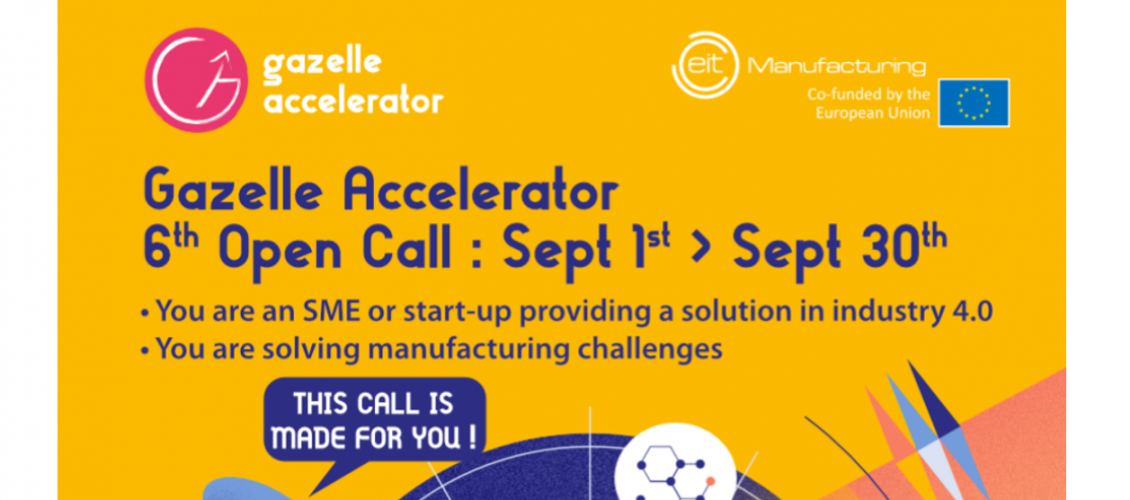 📢 6th open call for start-ups & SME's is now open! 📢
If you are a start-up or an SME and you have a product / service within the field of Industry 4.0/5.0, this open call is for you. To participate, you have to fill in Gazelle Accelerator Application Form until 30th September HERE.
Gazelle Accelerator aims at supporting existing companies, SMEs, Start-ups and Scale-ups, by accelerating their international business and innovation capacities. The project is specialized in manufacturing and Industry 4.0/5.0. The programme is co-funded by the EIT Manufacturing and coordinate with international partners.
The key dates of the 6th Gazelle Accelerator programme:
📢 Open call for Start-ups and SME's applications: until 30th September.
🧠 Community booster camp: from the 10th of October to the 11th of November which will include:
– Mentorship & Workshops: from the 11th of October to the 21st of October.
– Coaching sessions: from the 24th of October to the 10th of November
🤝 Meetings: from the 14th of November to the 2nd of December
1️⃣ B2B : with industrial companies
2️⃣ B2F : with investors
3️⃣ Collaborative : with other start-ups from Gazelle
📅 Follow-up program: from the 5th of December to the 3rd of March.
Deadline for Applications: 2022-09-30