This Week's Opportunities For Startups | October 24 – 28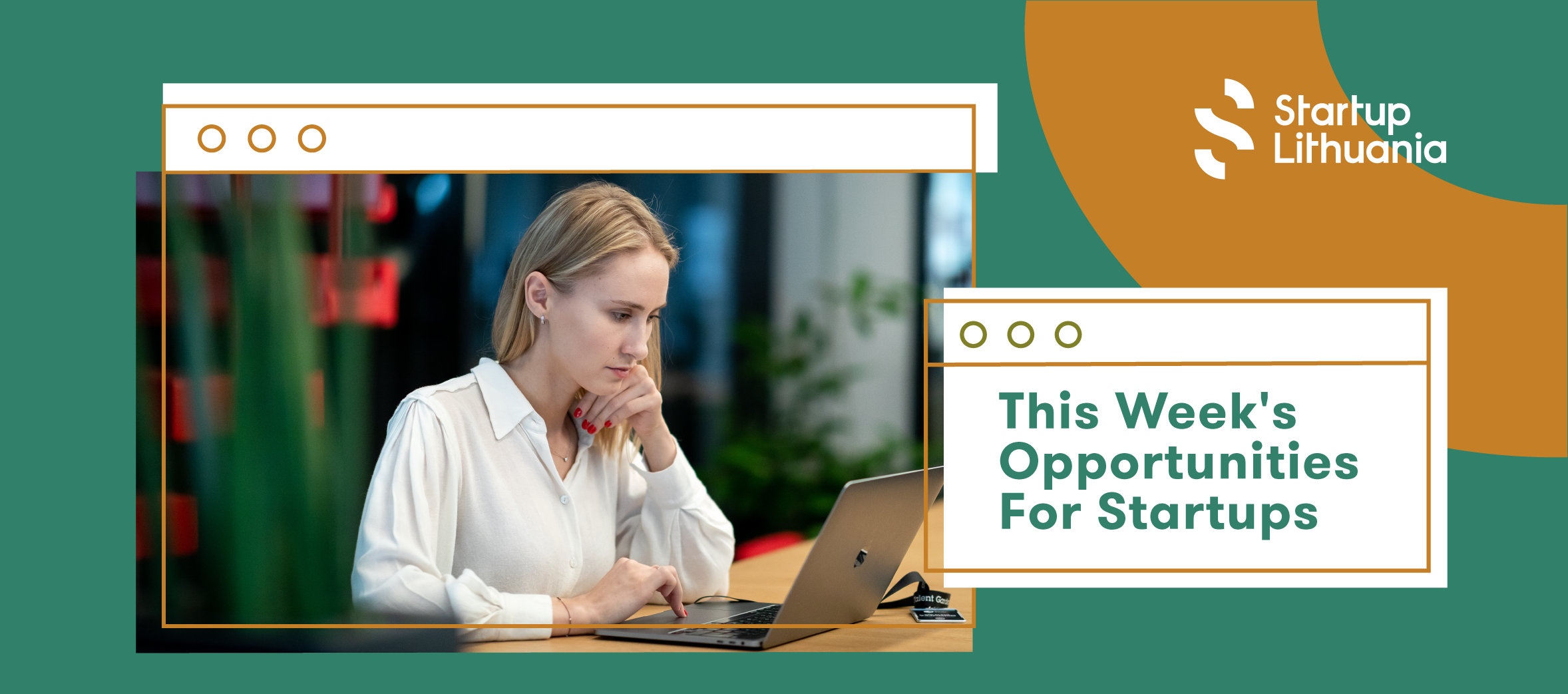 Save your time and concentrate on things that matters. 
Startup Lithuania prepared a list of opportunities, events, and open calls that you might be interested in! Please, check it right now and take every chance that you get:
📣 APPLY UNTIL OCTOBER 25| START UP SMART|SORAINEN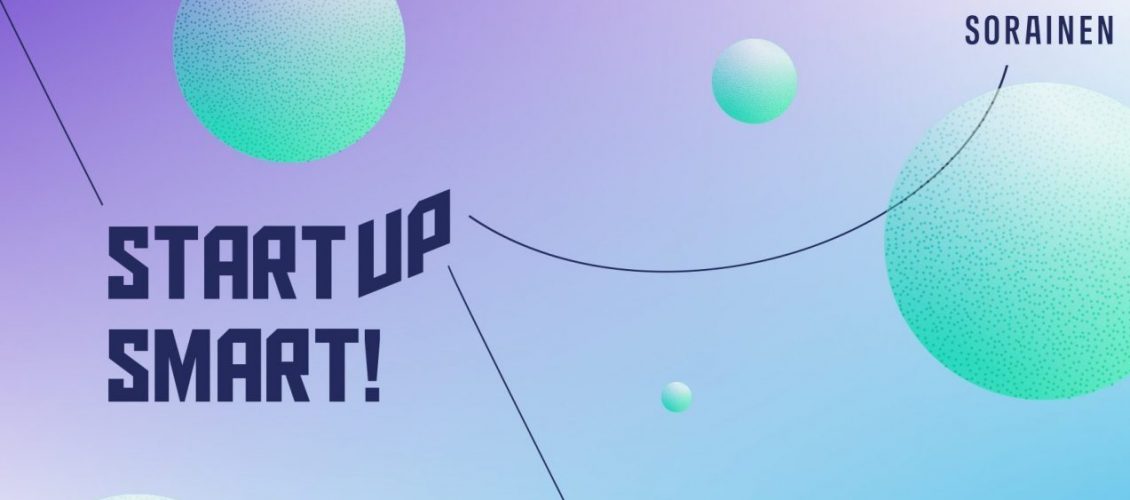 Sorainen Lithuania Legal Clinic
Do you know, how to make sure legal matters help, not hinder, the success of your startup? Join Sorainen in free legal clinic on 25 October to discuss any legal questions you might have!
Each startup can book a 1-hour slot for personalized advice from Matas Mačiulaitis, head of the Sorainen Startup sector group in Lithuania, and other lawyers. Attending the clinic is free of charge.
The clinic will take place via MS Teams, you will receive the link for joining the call a day before the event.
In case of any questions, please write to Justina – jujstina.budziute@sorainen.com
Date: 25 October, 2022
Session booking: here
📣APPLY UNTIL NOVEMBER 10 | IMAGURU PROGRAM FOR FOUNDERS |IMAGURU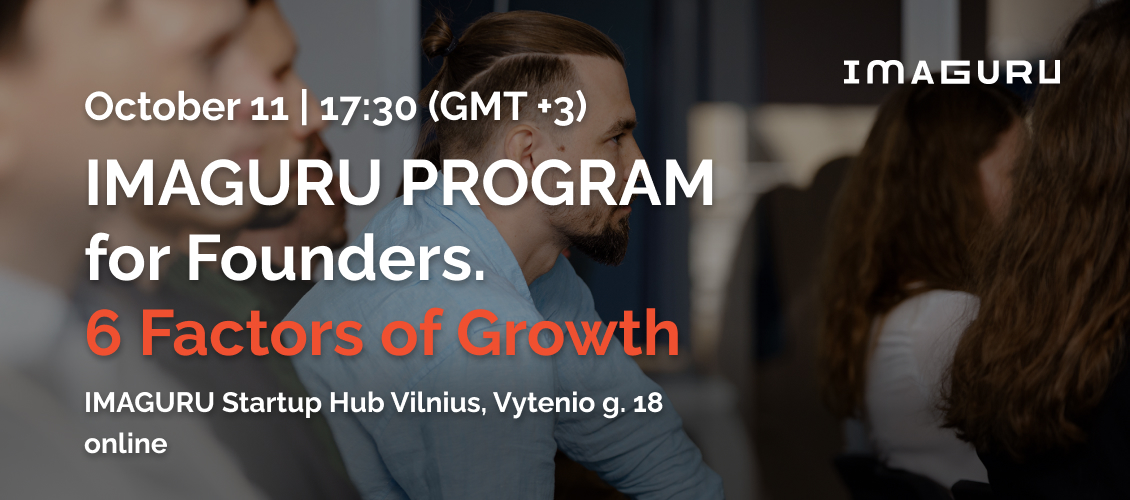 Imaguru invites startup companies to pass through a series of workshops to help startups grow based on working approaches and methods.
Join comprehensive training program to support your growing startup from international speakers. Combining business goals with metrics to run data-driven companies, the program equips leaders with the tools and skills to advance and scale their startups.
Workshops agenda:
October 11, 2022 – Successful Business Models for Startup Growth
November 10, 2022 – Product Validation and Growth. Do's and Dont's
December 12, 2022 – Growth Hacking. Building Communities for Startups
January 25, 2023 – Managing and Motivating Startup Teams
February 22, 2023 – Financial Management and Forecasting
March 22, 2023 – Fundraising for Startups
Read more and apply: here
📣APPLY UNTIL OCTOBER 25  | INDUSTRY HACK |IMAGURU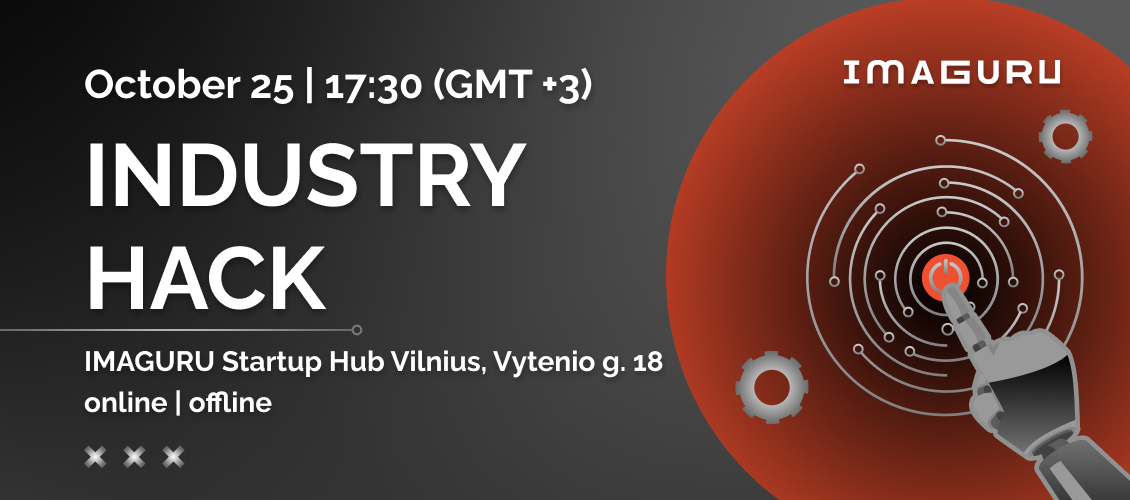 Imaguru invites you to meet within the walls of the Imaguru Hub and online and discuss new cases of cooperation between corporations and startups, the introduction of innovations at different stages.
The format of the event involves the interaction of startups, young, ambitious and progressive, with companies that have been on the market for a long time, with refined business processes and the ability to cope in situations of risk. Everyone can learn from each other's experience, get valuable advice and make contacts.
Date and time: 25 October, 18:30
Location: Imaguru Startup Hub. Coworking Vilnius, Vytenio st.
Registration: here
📣APPLY UNTIL OCTOBER 28  | GREEN LIFE HACK: MOBILITY  |TECH ZITY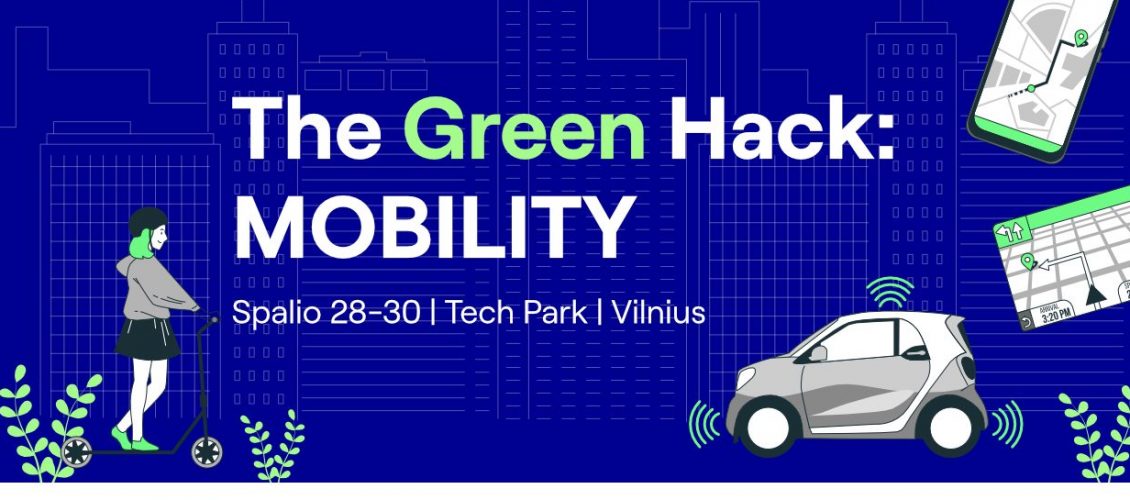 Tech Zity and partners invite everyone interested in the topic of sustainable mobility to participate in the hackathon "Green Life Hack: Mobility"! 
Do you have an idea related to this topic that needs to be developed and turned into reality? Tech Zity invite you to participate!
PARTICIPATION
A team of 4 to 6 people can participate in the hackathon, each team member will have a separate registration form and enter the name of their team.
PRIZES
By offering the best solution, the team will receive an exclusive prize – even 20 thousand. euros for further development of the idea. Stay tuned – additional prizes will be announced closer to the event.
REGISTRATION
Leave your email: here and Tech Zity will be the first to inform you about the start of registration.
CHALLENGES
During the "Green Life Hack: Mobility" hackathon, we will invite the creation of devices, applications, systems, information campaigns and other solutions to address the following challenges:
Harmonious mobility. By what means can we ensure the development of sustainable mobility in cities?
Improving the accessibility of the mobility system. What innovative solutions can be used to ensure that vehicles are comfortable and accessible to every resident of Lithuania?
Multimodality in cities. By what means can we ensure multimodality in cities and increase the use of multimodality?
Public information and education to change travel habits. By what means can we provide continuous information to various groups of society regarding the promotion of the use of non-polluting vehicles and the refusal of the use of polluting vehicles?
Project partners: Ministry of Environment, Ministry of Communications, Environmental Project Management Agency. The project "Increasing energy efficiency in Lithuania" (No. LIFE20 IPC/LT/000002) is financed by "the funds of the European Union and the Republic of Lithuania.
Date: 28-30 October
Registration: here
📣APPLY UNTIL OCTOBER 27  | CASSINI HACKATHON|CASSINI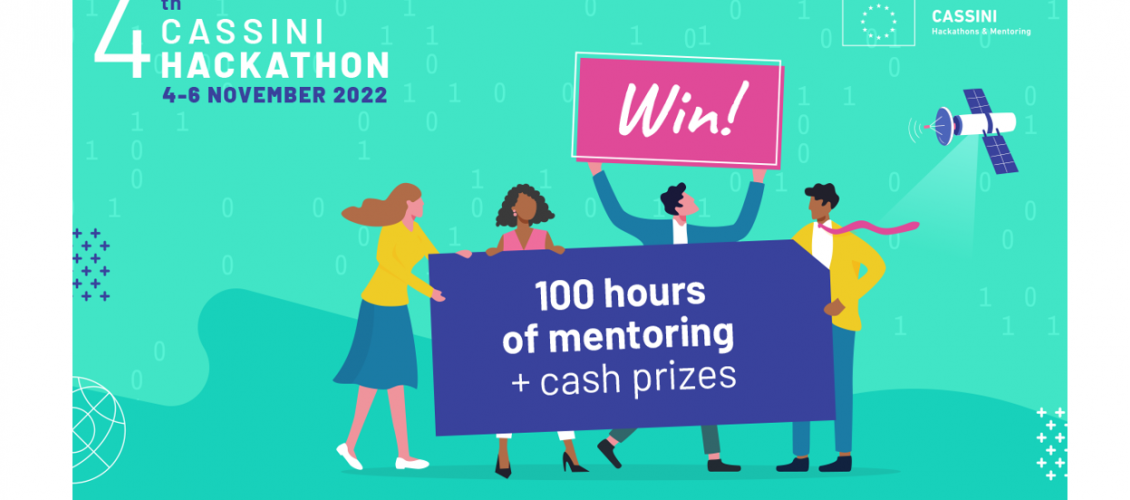 The 4th CASSINI hackathon will happen between the 4-6th November in Tech Park Vilnius (Antakalnio St. 17), among 9 other locations around Europe. For this hackathon edition the theme is "Space for the Financial World".  Participants are invited to use the GNSS data, signals and information from the EU Space Programme 
 to solve the fintech challenges! 
You will hear inspiring presentations and have a chance to participate in challenging workshops during the event. Space, business and fintech experts will help your team to solve the challenges 
.
Challenges you can choose to solve:
Enabling green and sustainable investment
Innovating financial tools and technologies
Advancing global financial intelligence
You do not have to be a space or fintech expert to participate! 
 Register now, join the team, present your solution and win cash prizes and mentorship!
 Registration is open until the 27th of October! Registration link here.
The CASSINI hackathon is happening for the first time ever in Lithuania and is organized by the Startup Division – an organization that promotes entrepreneurship and the development of the startup ecosystem. Startup Division has helped more than 1000 startups across Europe to get funding, assemble teams and achieve other goals.
Partners and sponsors of the event:
Space Hubs Network, Tech Zity, Rockit Vilnius, KTU Startup Space, VILNIUS TECH, Unicorns Lithuania, Startup Lithuania, NanoAvionics, Startuper's smoothies, Vytautas, EPBAR.
📣APPLY UNTIL NOVEMBER 8  | STARTUP GUIDE PRE-ACCELARATOR: 3RD CO-HORT|STARTUP LITUANIA
The Startup Guide Pre-accelerator is designed for early-stage startup founders looking to kickstart their startup development. No matter if you have just a few or a thousand questions when it comes to building a successful startup and attracting your first investment, we will help and guide you through the process. This 4 week equity-free training and mentoring program is led by the experts from FIRSTPICK, an early stage venture capital fund focused on Baltic tech founders.
The program includes:
4 workshops
Weekly one-on-one mentoring sessions
Online support
Online platform for self-study
Experience-sharing sessions between programs participants and experienced founders
What you will learn:
Top reasons why startups fail and succeed
Startup development phases and the path to product-market fit
How to use different types of experiments to validate your business idea
Market research and competitor analysis
Fundraising process, options and how to prepare
Effective pitching for investors
Up to 15 founders/teams will be selected to participate in the program. Selected participants will be informed via email.
Program starts: November 21st , 2022
Program duration: 4 weeks
Deadline for Applications: 2022-11-08
📣APPLY UNTIL DECEMBER 8  |WRUP UP OF 2022 & VILNIUS TECHFUSION STARTUP AWARDS|STARTUP LITUANIA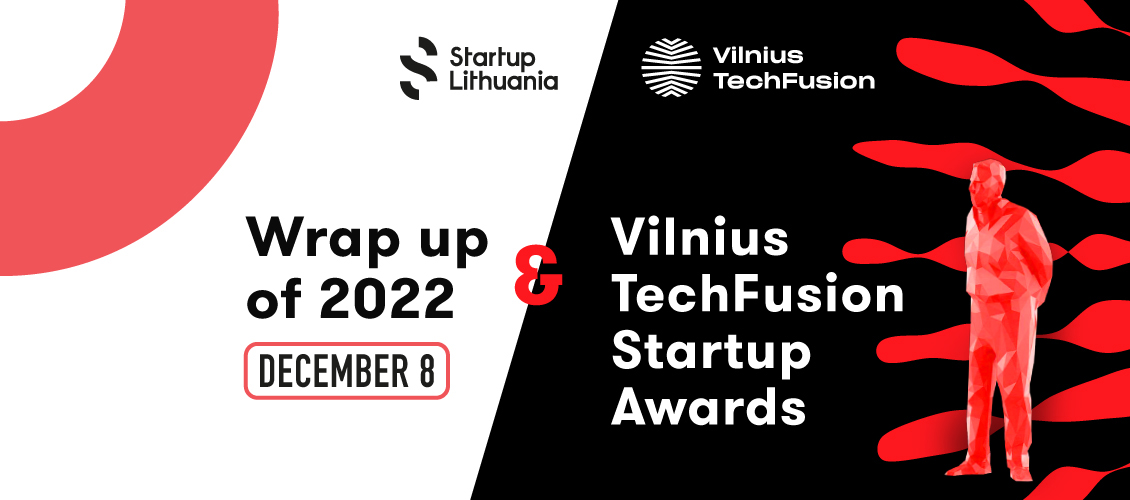 We are excited to announce that registration to the Wrap Up of 2022 & "Vilnius TechFusion" Startup Awards is now open! Join us and let's celebrate the record year for Lithuanian startups together!
Very limited capacity
 Only 300 
Keep in mind, that due to the limited capacity at the event's venue, we may not be able to host all of you. Don't wait till the last moment
 The registration will be automatically locked after we collect first 300 attendees
PROGRAM:
 18:30 Wrap up & Startup awards (The priority for live attendance is given to startups and members of the Lithuanian startup ecosystem) Link to watch Wrap up & Startup awards TBA
 19:30 Networking part
Join the Wrap Up of 2022 & "Vilnius TechFusion" event to follow the details