Startup of the Week: ViaCorex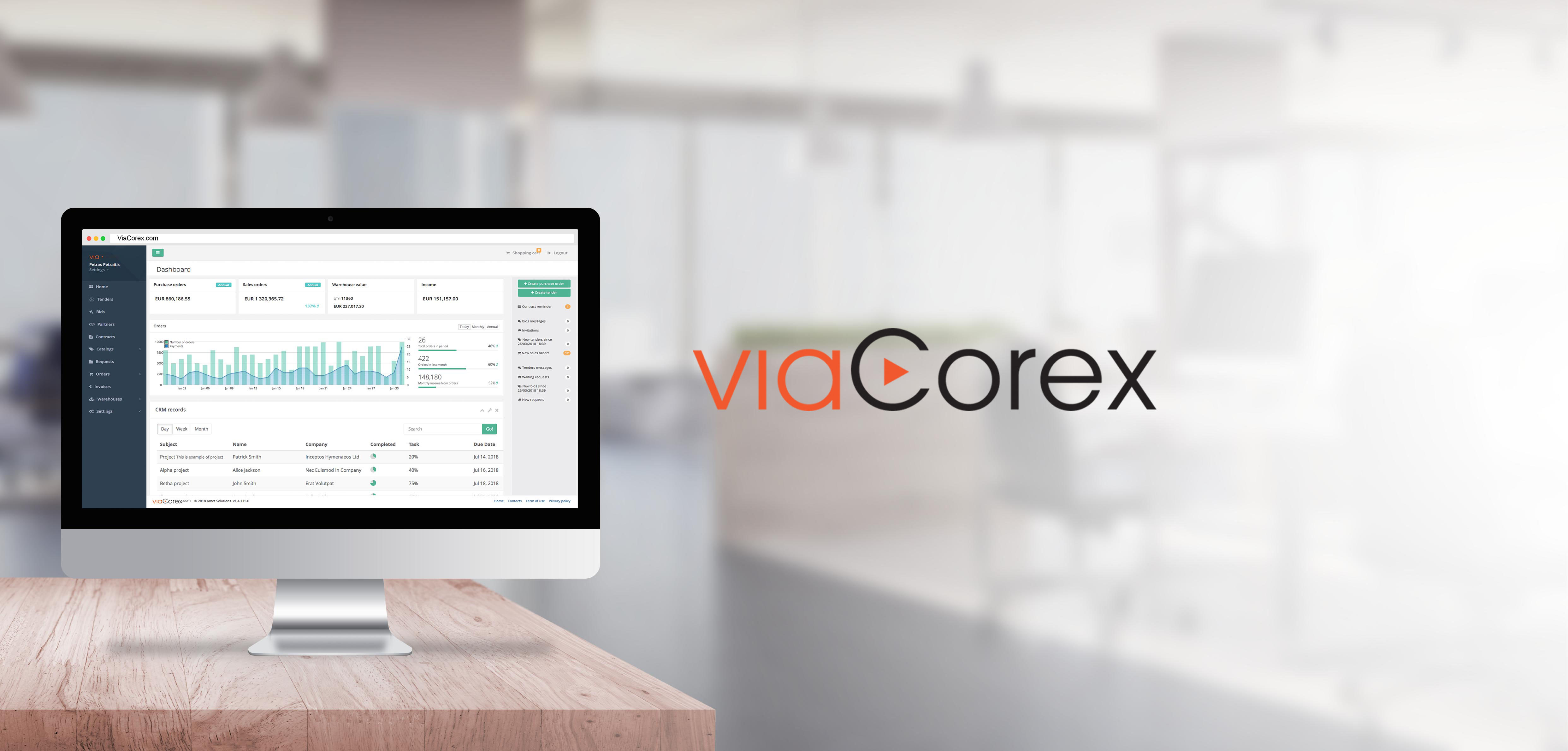 Do you know what is ViaCorex and how does this Startup work? Let us introduce Julius Dargis – CEO of ViaCorex who presented their B2B co-operation platform for SMBs. 
1. So what is ViaCorex? How does it work?
ViaCorex is a B2B co-operation platform for SMBs that automates sales processes for sellers (Back-Office) and gives Amazon-like experience for buyers (B2B eCommerce). Our platform binds B2B partner's relations in person & online which leads to effortless and greater sales with way fewer efforts for both partners sides. ViaCorex works as a one-stop sales processes streaming portal, e.g. manufacturer – distributor or distributor – client, which provides a real-time sales process management, data transfer, communication channel, and back-office management semi-automated solution.
2. What are your competitors and competitive advantages?
There are few competitors worldwide that have a similar solution and that are present in Europe market as well. However, their strategic targeting is towards the large companies. Thus, their products (solutions) are expensive, e.g., only implementation costs can be up to half a million euros (While our solution implementation cost is up to 1K euros).
3. What were the reasons behind coming up with this idea and launching this product?
The idea is based on a real business case. One of the ViaCorex founders has been operating a medical devices distribution business for more than 20 years. Once the company reached its natural limitations of sales growth due to an overload of sales processing work as well as witnessing the stagnation of effectiveness of business processes from suppliers side (manufactures), the CEO of the distribution company looked for solutions to make operations leaner. The goal was to remove loads of non-valued added process from sales reps routine, semi-automated data transition to the back-office and at the same time make both sides naturally stay closer in business relations and communication.
Based on that, adding process by process, the ViaCorex solution as a platform was created, where every feature has a meaning to cut down useless sales processes that were managed in the real-life business case…     
4. When exactly did you launch, what were the main challenges before launching?
The proper version of the ViaCorex platform was developed a few months ago. The significant challenges before launching were to draw and build the most efficient pattern of business partners collaboration scheme on our ViaCorex platform, however, once we achieve that easiness, we got a profound effect. Current users love it.
5. What are your target customers? Both regarding user profile and geography?
We target mass market – small and medium companies which still process their orders manually, which is estimated to be rough ~85% of the total EU SME segment.  Our initial target is medical device industry's manufacturers in European Union.
6. What are the main challenges while working on this product and how are you overcoming them?
We would define a few significant challenges:
a. Lack of knowledge and understanding in the SME segment of possible solutions to make their businesses much more effective and thus more competitive. Usually what we see that CEOs or Head of commercial departments are always busy running after projects and sales and it never stops, cause in fact what they are continually doing is "putting water on burning processes…" 
To overcome this, we started a long-lasting educational campaign of posting articles and insights at Linkedin, Facebook, and other social media channels. We want to educate our target group and explain that doing business is not being on the constant run on catching up with burning processes, but instead stopping for a while to cut down the useless operational procedures.
b. Another challenge is to make our clients cope with their somewhat currently disordered SKU catalogs, prices lists, CRM data, etc. so it would be sorted out to be loaded into the ViaCorex platform. Once they spare some time for it, the rest becomes the journey of excitements of discovered values brought by ViaCorex.
c. Lack of marketing and sales force team to start picking up clients much faster. To overcome this, we strive to attract investors so we would get a strong team for sales and marketing.
7. How are you funded? Do you seek extra funding?
Co-founders have already invested 200K euros into this project, mainly product development, and at the current stage, we are seeking for extra investment to build up a strong international sales team and start a global marketing campaign.
8. Please introduce your founders, your core team and your broader team?
Our co-founder and team member have remarkable business experience and understanding of the core issue ViaCorex was created to solve.
Vytautas is an entrepreneur having a successful presence in various businesses. One of it Vytautas is a sole owner of medical devices distribution business that operates in the Baltic States for more than twenty years. Vytautas has strong business development officer skills as well as highly developed visionary approach.
Julius has 20 years of solid experience in sales, mostly B2B sector. Julius has a strong understanding of product development architecture and carries developed skills in B2B SAS integration processes. Vytautas and Julius have known each other for more than 25 years, so there is a rock-solid level of understanding and trust between the core co-founders of the project.
This year Andrius joined our team. His outstanding knowledge and experience in SEO marketing let us finally become seen and be noticed on web media social networks with barely any investments. Andrius is young though highly motivated and talented team member that we were fortunate to get on board.
Also, we have highly experienced Chief technology officer Darius along with his whole group of IT developers. Darius has been part of our project since the very beginning. Darius and his team skills empowered our ideas to be transformed into the real working product in the most productive way.
9. How has business been so far? Could you share some numbers to illustrate this (users, sales, etc.)?
It took us more than 2 years to develop a ViaCorex platform to the extent that it would be ready to be used by business to solve their significant pains and deliver gains in one shot. ViaCorex product reached this level a few months ago, and thus then we were truly ready to market and position it for our clients.
Until now we managed to reach 20% growth rate and get first paying customers. At the moment we are lacking money for sales, marketing, and brand awareness, that's the main reason why we are raising 200k euros.
10. Future plans, ambitions? Directly speaking – what's next?
We seriously joke that we will disrupt conservative B2B sales industry by shifting them into the ViaCorex experience. And we are actually right in a sense that once ViaCorex will reach the critical mass users effect it will undoubtedly become the core tool for overall B2B sales, orders, communication, finance management, and even news streaming portal. The vision is to make it a really BIG thing.
To answer your question – we are undoubtedly ambitious, as soon as we feel comfortable with the sales in the European Union, we plan to expand to other similar revenue potential markets and exponentially grow our innovative business.
Thank you for your answers!