Business–Leadership Mission. JCI World Congress, Amsterdam, 2017
The 2017 JCI World Congress or WeDO 2030 will be held in Europe, Netherlands on 6-10 th of November, 2017.   The Congress is organized together with headquarters of the United Nations and unites several thousands of youth leaders, professionals,  businessmen.  The main venue will take place in Amsterdam, separate activities -Utrecht, Eindhoven, Hague and Rotterdam. Between main speakers are former Secretary-General of the United Nations Kofi Annan, one of the TinQwise owners Joost Uitdewilligen, one of the most famous business negotiator in Germany  Friedhelm Wachs and etc.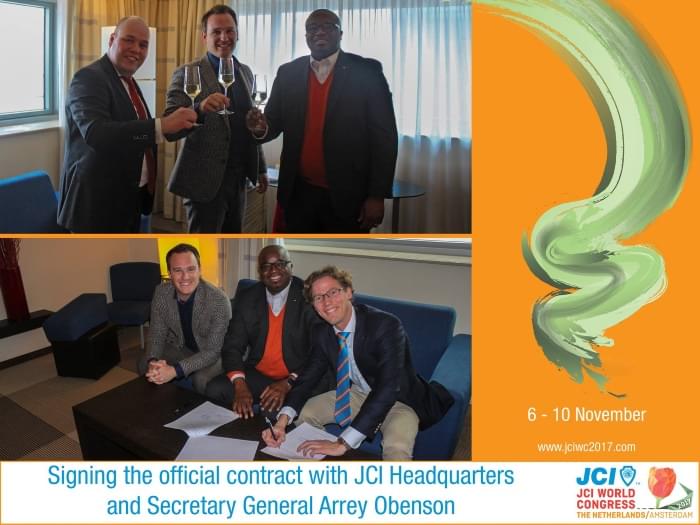 The WeDO 2030  program is a five-day program full of events centered around four program themes: education, employment, social equality, and climate change. Participants choose one of these themes for the whole five days, or spend one day on one theme and the next day on another one. Each day will consist of keynotes, JCI and UN general assembly, TOYP ceremony,  trade-fair, workshops, trainings, business forums, round table discussions, company visits related to the four themes.  There would be a broad entertainment program, including excursions, local food degustations, sports, parties and other activities such as final JCI Public speaking tournament 2017.   Also, the children  program and all-day  nannies services is available.  At the end of each day, participants will have met new people, will have new insights and inspiration, and will have gathered more tools to create impact in their own community.
For more info: www.jciwc2017.com,  https://www.youtube.com/watch?v=uhXDnntJkeU,  about JCI  –  www.jci.cc.
If you would like to join JCI Lithuania delegation and be part of   the  local positive change or to know more about JCI Lithuania guests program in 2017, please contact JCI Lithuania member Jūratė Mažeikytė, jurate.mazeikyte@jci.lt or  +37067435185.
The 2017 JCI World Congress or WeDO 2030  – The real Leadership,  New Business  possibilities and the best Holliday, all in 1! Let's  accelerate the positive impact to Your life and  society.
Registration: https://www.jciwc2017.com/registration/.
Full agenda (updated daily) –  https://www.jciwc2017.com/program/.