GovTech Leaders 2023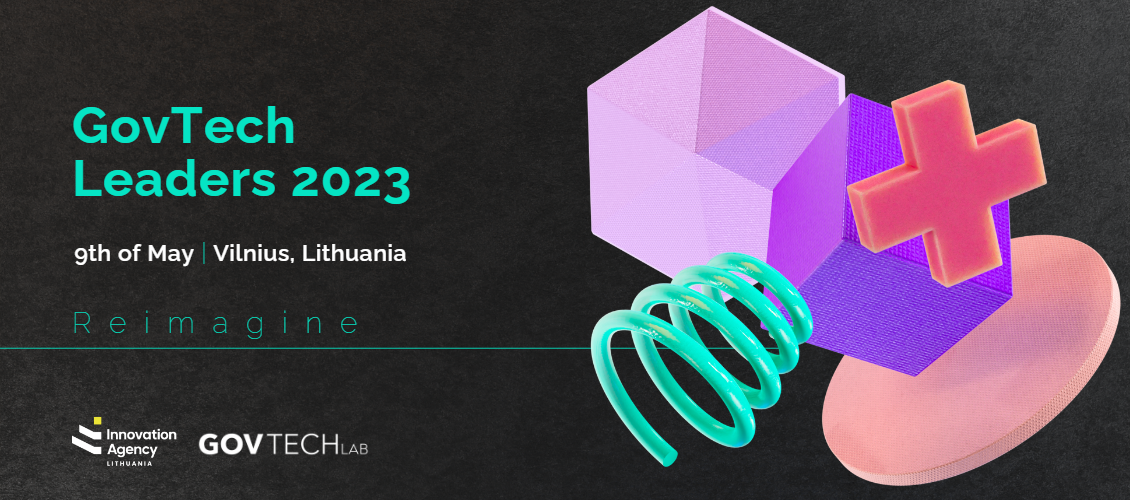 Save the date! GovTech Leaders are back on the 9th of May, 2023 in Vilnius, Lithuania.
GovTech leaders, followers, challengers and observers – every public sector innovation enthusiast will find their place at the GovTech Leaders 2023!
Don't miss out on the biggest GovTech fiesta in the region – mark the 9th of May, 2023 in your calendars – and join us in Vilnius! Secure your spot and register now >>
This year's conference is all about R E I M A G I N E ! 
Take a look at the preliminary programme of the conference:
🟪 CONFERENCE OPENING
 Eglė Markevičiūtė | Vice-Minister of the Economy and Innovation of the Republic of Lithuania
🟪 REIMAGINE FUTURE
Opening Fireside chat: Future of the [Digital] Government
Moderator: Matas Maldeikis | Member of the Parliament of the Republic of Lithuania
Audrey Tang | Minister of Digital Affairs of Taiwan
Discussion: The Future of GovTech
Discussion moderator: Arūnė Matelytė | GovTech & Digital Government at OECD, Co-founder of GovTech Lab Lithuania
Erika Kuročkina | Adviser To The Minister at the Ministry of the Economy and Innovation of the Republic of Lithuania 
Kimberly Johns | GovTech Global Lead and Senior Public Sector Specialist at the World Bank Group
🟪 REIMAGINE ENGAGEMENT
Keynote I: Gamification of Government Services: Engaging Citizens Through Play
 Jess Taylor | Associate at PUBLIC
Keynote II: Citizen Engagement in Public Services: Driving Participation and Collaboration
Demos
Discussion: Beyond Simply Asking: What Are Unique Ways to Involve Citizens in Building Better Public Services?
Discussion moderator: Ieva Dunčikaitė | Project Leader at Transparency International Lithuania
Ave Hababuk |  Project Manager at Public Sector Innovation Team of Estonia
Ieva Kimontaitė | Open Government Initiatives Project Coordinator at the Office of the Government of Lithuania
Catherine Nikolovski | Executive Director at Civic Software Foundation
🟪 REIMAGINE TECHNOLOGY
Keynote I: How to Manage the Country in Times of Crisis?
Valeria Ionan | Deputy Minister for Eurointegration at the Ministry of Digital Transformation of Ukraine 
Keynote II: Innovating the Public Sector: The Role of Startups
Sofia Silva | GovTech Innovation Programs Associate at PUBLIC
Demos
Discussion: In Search of Innovation: What Are The Ways for Public Sector to Reach/Engage with Startups?
️Discussion moderator: Dr. Eszter Czibor | Head of Research at StateUp
Aron Hausler | Innovation Precincts Manager at the Office of the South Australian Chief Entrepreneur
Guilherme Dominguez | CEO of BrazilLAB
Ieva Žilionienė | GovTech Policy Lead at Infobalt
🟪 REIMAGINE PEOPLE
Keynote I: The Future of Government Workforce: Upskilling and Reskilling for the 21st Century
 Jonnie Haddon | General Manager of Government Innovation at Creative HQ
Demos
Discussion: Future Public Servant. Skills vs Mindset?
Discussion moderator: Elijus Čivilis | General Manager of Invest Lithuania
Monika Merkytė | Head of Create Lithuania Programme
Alexander Holt | Head of Emerging Opportunities and Partnerships at the Digital Directorate of the Scottish Government
Dr. Irena Žukauskaitė | Selection Specialist at the Public Management Agency, Associate Professor at Vilnius University
Secure your spot and register now >>