Startup and Corporate Partnership: Practical Guide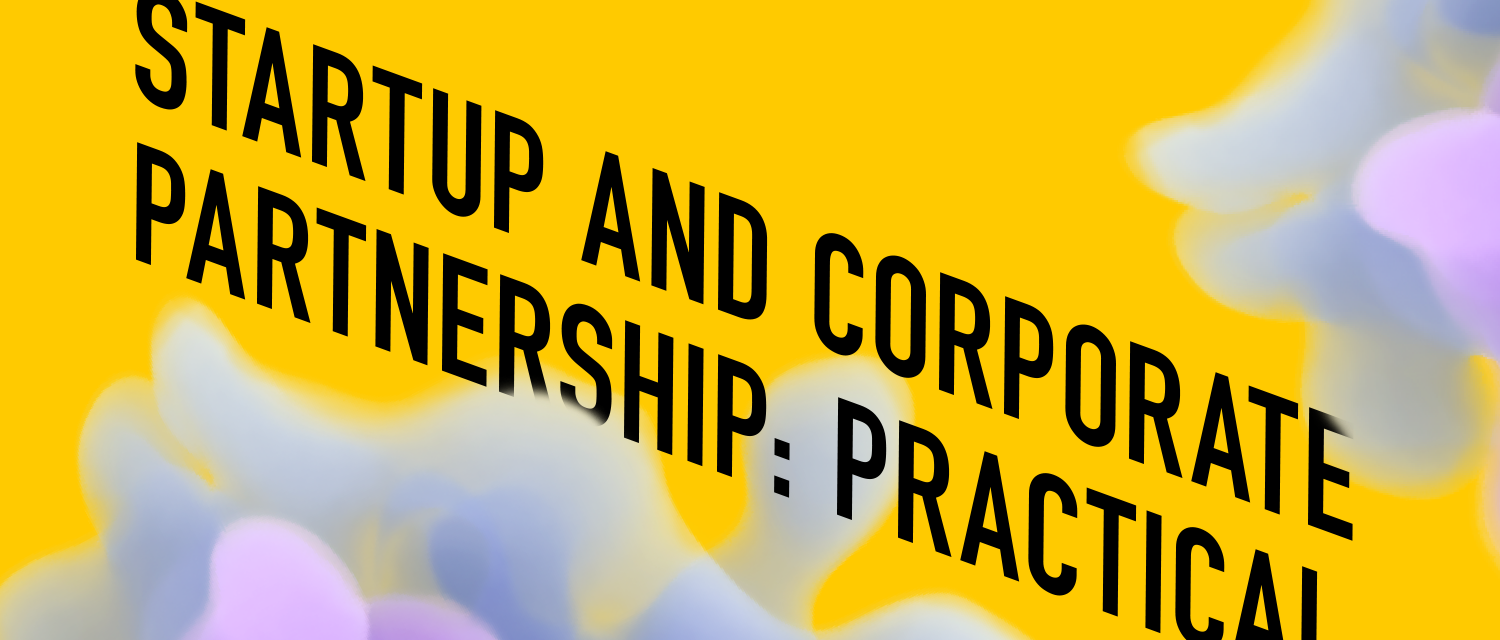 What benefits corporations should expect to get from innovative businesses and how to maintain good relationships? What are the ways to approach corporations and continue building customer portfolio? We tried to find answers to these questions during one of Startup Fair discussion sessions. Six specialists who work with both corporations and startups guided our way to useful insights and shared the best practices from different organisations across the globe.
Talking about current market situation, all of them notice that COVID-19 definitely affected a lot of companies and also created a lot of uncertainty for many organisations – at the moment, we have no idea, how the future will look like. A lot of projects got postponed, and yet we can see a lot of room for new initiatives and corporations are focusing on good relationships with startups they already have connections with instead of starting new ones.
Some corporates had a long response time during COVID-19 and no new engagement. At the same time, in some countries, things got quicker, especially when startups offered useful products, thus solving urgent crisis. For example, Carolina Alex and her teammates from 27 pilots started a platform called Startups Against Corona and noticed that over 60 organisations have registered during the three months. Corporates from different industries: retail, food, health and so on are interested in the solutions that startups can offer.
She also saw an excellent push for digitisation, like contactless paying and so on – businesses understood it would be difficult to survive in the market if they didn't digitise their business in a crisis like this. Talking about Lithuanian market, Arvydas Plėta from Katalista Ventures the economy was booming for some time and a lot of corporates were over self-confident, thinking they don't need any help or new solutions. But after the crisis, the tables have turned, and a lot of them are looking for innovations.
So, let's get to the essential question: what are the benefits of such relationships between startups and corporations? As specialists mentioned during the "Startup Fair 2020" discussion, on the corporate side, there is a need for a solution. Remco Temmink, from The Unknown Group, says it is essential for corporates to stay relevant, so that's why it is vital to bring new solutions. It's about gaining a competitive advantage. What is interesting, sometimes even the biggest corporations forget about the competition and start to work together to solve their problems. According to Arvydas, we, Lithuanians, are working with quite small corporates and small startups, so for the startups one of the biggest benefits is that they can have success cases, connections and also sometimes corporations can become their development partners.
Let's say you have a startup and want to develop a connection with a corporation. What are they looking for these days? Well, usually they are searching for mature startups that can offer practical products – they are not coming with only a demo, but with an actual, perfectly functioning product or its prototype. So, the pilot is enough at first – to see if it's working as expected and then you can decide together what steps to take. Also, it is better if the startup already has funding, so they need to have an investor. But… what if your startup is at the early stage? How can it grow to a partnership with a corporate? Firstly, Remco Temmink from The Unknown Group says, you have to think which corporate would fit you and what kind of problem can you potentially solve?
It is also crucial to understand that every corporation and government has its system. There are two ways to enter. One is when they notice a problem and are actively looking for a solution. Another is that YOU approach the organisation – this road is rougher. In both cases, you have to have a prototype. An idea is not always enough – it has to work technically. Corporates also want to invest in innovations; for example, they can invest in a platform that will connect them to the community.
Arvydas notices that in the beginning, every company is speaking about attracting startup and what they really mean is the need for unique solutions. That means every startup has to adapt – the willingness is essential – as long as startup wants to change something, it's easy to get in a relationship with a corporation. Also, companies sometimes expect to get a solution… for free. What to do in that case? Arvydas says he notices that it is good for startups to give something for free or with a significant discount, but use the corporate as a playground. Remember – corporates are searching for reliable partners for a lot of years. It may seem it's a long journey, and it's not worth it, but remember – one you're in, you're there for a long time.
What we can see today is that new opportunities have opened up and also the corporations are more open for innovations than before. Maybe it is your time to shine and put big clients in your basket? Probably yes! But remember: always offer only what you can achieve. Also, you have to understand that when you want to act fast, the corporates usually prefer to take it slow. So… don't push, give your clients space to think about your proposition and, hopefully, succeed!