KITA X LG H&H Open Innovation (For International Startups)
KITA X LG H&H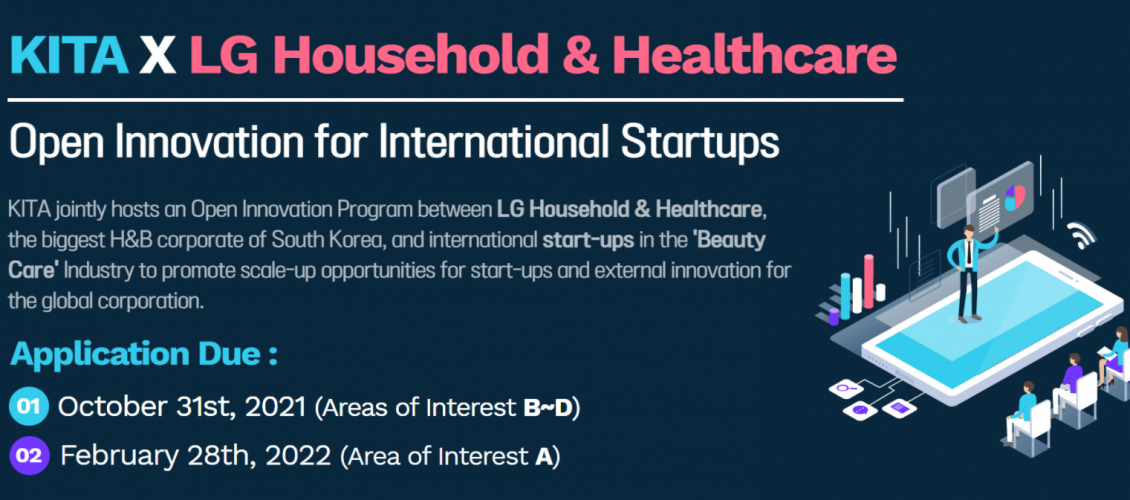 KITA jointly hosts an Open Innovation Program between LG Household & Healthcare, the biggest cosmetics & healthcare company of South Korea and international startups in the 'Bio/healthcare Industry'.
LG H&H seeks to collaborate with startups with following areas:
A. Companies that have or are preparing regenerative organic certification;
Companies that deal with farms, raw materials, and ingredients for food, beauty and personal care products;
Companies that have organic certification.
B. Microbiome (skin, gut, etc.) and beauty-related genetic diagnosis/analysis/differentiated business model;
C. Research on skin immunity-related efficacy evaluation method (lactic acid bacteria new function research);
D. Research on eco-friendly cosmetic raw materials such as bio-surfactant/ethanol.
Benefit for selected startups:
Joint Research / Commercialization;
Equity Investments by LG H&H;
Access to the information and DB that affiliated companies of LG hold;
Specific benefits will be discussed at the business meeting between the selected startups and LG H&H.
Application form: https://innobranch.com/challenge/view.do?idx=163 
Deadline for Applications: 2021-10-31