World's Largest Vacation Rental Metasearch HomeToGo Secures Undisclosed Amount in Series C Funding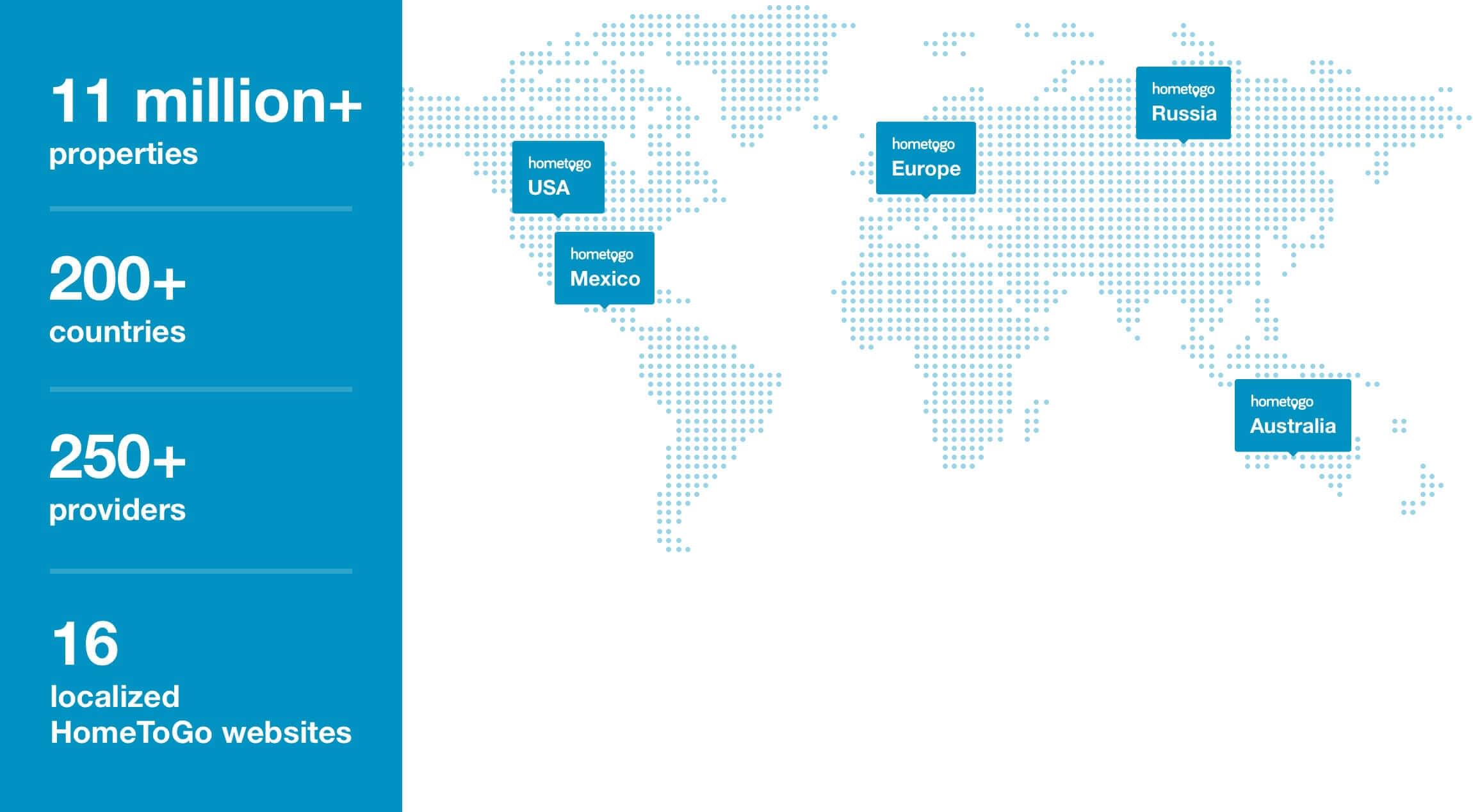 Berlin, October 2017 – HomeToGo, the world's largest metasearch engine for vacation rentals, providing over 11 million offers from more than 250 providers worldwide, has secured another sizeable investment in a Series C funding round. This injection comes from current investors Insight Venture Partners (leading the round), Acton Capital Partners and DN Capital, as well as from Global Founders Capital who is a new investor in the company. This new round of funding provides HomeToGo with additional capital in a highly competitive, marketing intensive landscape, supporting further expansion plans and product development.
Founded in 2014, the Berlin-based company has succeeded in integrating more than 250 partners including Booking.com, VRBO, HomeAway, TripAdvisor and Tui, among others. In three years, HomeToGo has successfully launched localized websites and apps in Europe, North America, Australia and Russia. HomeToGo became the largest metasearch for vacation rentals sending currently more than 20 million users from all over the world to its partners every month.
"We've seen a lot of travel meta-search businesses over the years, but never any with such strong retention as HomeToGo. The strong traction is also due to HomeToGo's massive investment in brand, predominantly in TV ads, rewarded by a large base of loyal returning users. In order to make enough noise around vacation rentals in the highly competitive travel sector — where annual marketing spend is in the billions — one needs deep pockets as well as the best in class product to succeed," said Harley Miller, Vice President at Insight Venture Partners, who has joined the board of directors of HomeToGo. "We are happy to continue our support of HomeToGo as the clear market leader and single global metasearch brand for the vacation rental market."
"Vacation rentals are a very fragmented vertical in the travel space that is costly and challenging due to the fierce competition across all marketing channels. The additional capital will help us strengthen our position and continue our global growth in this intense marketing game as HomeToGo is already one of the biggest TV spenders in the travel market." said Patrick Andrae, CEO of HomeToGo. "We are proud of our achievements, made possible by the continued support of our high-class investors and the dedication, commitment and effort of our great team at HomeToGo."
About HomeToGo
HomeToGo is an independent vacation rental metasearch engine that allows you to quickly and easily search and compare listings from over 11 million offers in over 200 countries. HomeToGo offers the world's largest range of vacation rentals and provides a sleek user-friendly interface for consumers to discover a large choice of accommodations from more than 250 different providers, including Booking.com, VRBO, HomeAway, TripAdvisor and Tui. With features such as smart filtering, users can find their ideal vacation rental by sorting according to their preferred destination, travel dates, budget and amenities. Headquartered in Berlin, the founding trio comprises of Patrick Andrae, Wolfgang Heigl and Nils Regge. The company currently employs more than 150 employees and operates local sites in 12 European countries, the US, Australia, Mexico and Russia.
About Insight Venture Partners
Insight Venture Partners is a leading global venture capital and private equity firm investing in high-growth technology and software companies that are driving transformative change in their industries. Founded in 1995, Insight has raised more than $16 billion and invested in over 300 companies worldwide. Our mission is to find, fund and work successfully with visionary executives, providing them with practical, hands-on growth expertise to foster long-term success. For more information on Insight and all of its investments, visit http://www.insightpartners.com/ or follow us on Twitter: @insightpartners.
About Acton Capital Partners
Acton Capital Partners is a Munich-based growth venture fund for internet companies. It focuses on startups in the fields of marketplaces, e-commerce, e-services, digital media and SaaS. Acton Capital Partners invests in Europe and North America. The team has been working together successfully for many years and has invested in more than 65 companies since 1999. The most renowned investments include AbeBooks, Alando, AlphaSights, Ciao, Elitepartner, Etsy, HolidayCheck, Linas Matkasse, Lumas,mytheresa.com, OnVista and windeln.de. For more information, please visit www.actoncapital.com.
About DN Capital
DN Capital is a global early stage and growth capital investor focused on Seed, Series A and select series B investments in marketplaces, fintech, SaaS, digital media, e-commerce, mobile applications and software companies. The firm was founded in 2000 and has operations in London, Berlin and Silicon Valley. DN Capital's previous funds are top performers and the firm is one of the lead investors in companies such as Endeca (sold to Oracle), Shazam (one of the world's leading mobile app), Auto1 (world's largest used car marketplaces), Purplebricks (IPO London) and Quandoo (sold to Recruit). The professionals at DN Capital bring over 75 years of private equity experience to their investments, and actively work with portfolio companies to steward their growth through the various stages of development. Additional information about the firm and its portfolio companies can be found at http://www.dncapital.com.
About Global Founders Capital
Global Founders Capital (GFC) is a globally oriented, stage agnostic venture capital firm that empowers gifted entrepreneurs worldwide.The current portfolio includes Away, Goodlord, SpotHero, Freighthub, Marley Spoon, Slack and many more promising online businesses. Previous portfolio companies include Facebook, LinkedIn and Trivago. Global Founders Capital has offices in Berlin, London, San Francisco, and Paris. More information via www.globalfounders.vc.