VR Barbershop: Winners of Last Year's Hacker Games – Interview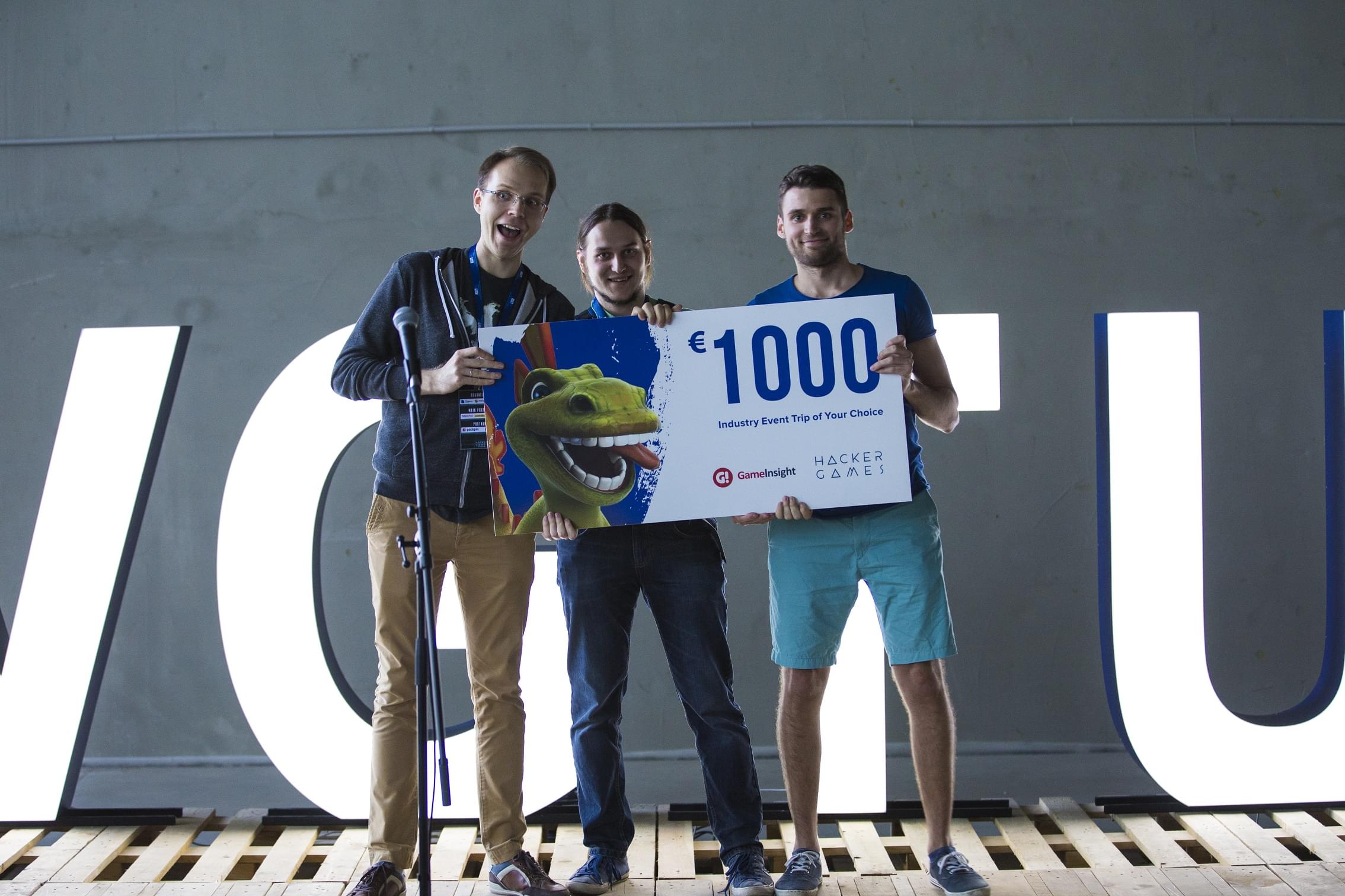 Photo by Augustinas Grikis
Let us introduce Tomas Činga and Dominykas Djačenko, two outstanding game developers, whose VR Barbershop game won them 1st place in last year's Hacker Games. In this interview they give useful tips on how to develop a killer-game and share insights on the hottest games of last year. They also reveal how they used the prize money provided by Game Insight and what this experience has taught them. Enjoy!
Congratulations again on winning the most competitive track of Hacker Games, Games track! What do you think made your game stand out?
Tomas:  I think it was virtual reality that made it different; also the theme we picked – hair salons, which are on every corner in Lithuania, provided a funny experience.

Dominykas: The whole virtual reality experience definitely made our game stand out. Due to our theme being super funny, we could also present our game in a fun and engaging way, which definitely helped. We also tried to keep in mind best practices for VR games, so people who tried the game before the presentation always left with a smile.
Could you tell us more about the idea behind the game? Where did you get inspiration to create it, in the first place?
Tomas: To add the the last answer, we also tried to think of an interesting experience the player would have had, and thus a VR hair-cutting game idea popped to mind.

Dominykas: We had wanted to create a virtual reality experience for quite a while for a game jam, but never had the actual means until Hacker Games. It was our actual first foray into developing virtual reality. We just wanted to create something fun that can't be done with simply mouse and keyboard. Due to the highly interactive nature of VR, it is possible to create many different things that players can intuitively interact with, and a barbershop offers a lot of knick knacks to do exactly that.
What was your overall experience participating in Hacker Games? Could you share some things you've learned in the process? Any tips for the newcomers?
Tomas: The experience was very positive.

Over the course of multiple Hacker Games and game jams you learn to focus on what's important. I'd suggest they try to achieve an MVP (minimal viable product) as early as possible and then polish the game to make it fun. Usually an idea in your head sounds better than it is in reality, and thus getting to the core of it sooner leaves you more time to iterate and make it more robust.

Dominykas: Obviously it's a very positive experience, that's why we keep coming back. I love the atmosphere and the people, and the format is also great. Lots of different products and ideas come to life in such a short time, and that's really exciting.

Like Tomas, I also believe getting an MVP is super critical, as that allows you to improve your game by polishing and fine-tuning your idea. Due to the limited amount of time, you can only do so much, but you have to make it count.

As a tip for new developers, I recommend working specifically on presenting the core mechanics of their game, because with a solid foundation you can communicate possible expansions (that may or may not exist yet) on that idea much better.
You have received 1000 EUR for an industry trip from Game Insight. What event did you choose to spend it on and how did it go?
Tomas: We went to the Ludicious game festival in Zürich, Switzerland. It lasted 4 days, they had great speakers from Europe, USA, Canada and other parts of the world. We mostly attended talks we were interested in, tried out games presented in exhibition area (where a couple of game contests were going on), and interacted with other game developers.

Dominykas: I was really impressed by the lineup of speakers they had and the variety of topics, from business to art to philosophical topics.

Even though the caliber of the speakers was immensely strong, it still felt like a tight-knit conference. Everyone was approachable, friendly and easy to communicate with. The exhibition area featured some up-and-coming indie games with very interesting game-play mechanics and ideas, so that was definitely super exciting!
I think it is safe to assume that you both love gaming. But what it is about game development that excites you?
Tomas: Making your ideas come to life in video game form is very exciting and satisfactory. There are so many different genres with new ones appearing all the time (e.g. battle royale). It keeps game development and the industry fresh and interesting. I think many of us have an idea of a game that we would want to play that's not been made yet, so game development is the way to achieve it.

Dominykas: I've always seen game development as a huge technical challenge. Making various, often complicated, systems interact in a single unit under very tight performance requirements has always been really fascinating to me. This goes from AI to the rendering pipeline, where everything has to work in unison or it all falls apart. Of course, these kinds of restrictions breed interesting ideas and game-play mechanics; I can't get enough of figuring out what might or might not work together!
What games did you enjoy playing in 2017?
Tomas: The games that I've played the most were Assetto Corsa, Kerbal Space Program, Rocket League and Battlerite. I seem to be getting most enjoyment from multiplayer/ competitive games. Single player games don't keep my interest for a long time anymore.

Dominykas: 2017 was a really great year for gaming! I loved playing through NieR: Automata, Lone Echo, and Zelda: Breath of the Wild. My go-to competitive game was and still is Battlerite. I have way more single player games in my backlog than anyone could ever play in a lifetime, so I try to minimize playing competitive games nowadays.
So what's next in your plans? Any game developing projects in mind?
Tomas: I've got some ideas brewing in my head. I am trying out various prototypes to see if any would make for an interesting game. If that takes me anywhere is a question to be answered in the future.

Dominykas: Game development nowadays is actually more of a hobby of mine that I keep limited to jamming and events like Hacker Games. This keeps my mind fresh, I love to see new game mechanics or ideas evolve in record time. I will definitely continue to keep coming back to Hacker Games!
Thank you for a great conversation and good luck with your future plans!