Vilnius-based Online Yacht Concierge Services Provider SEARADAR Raises €400K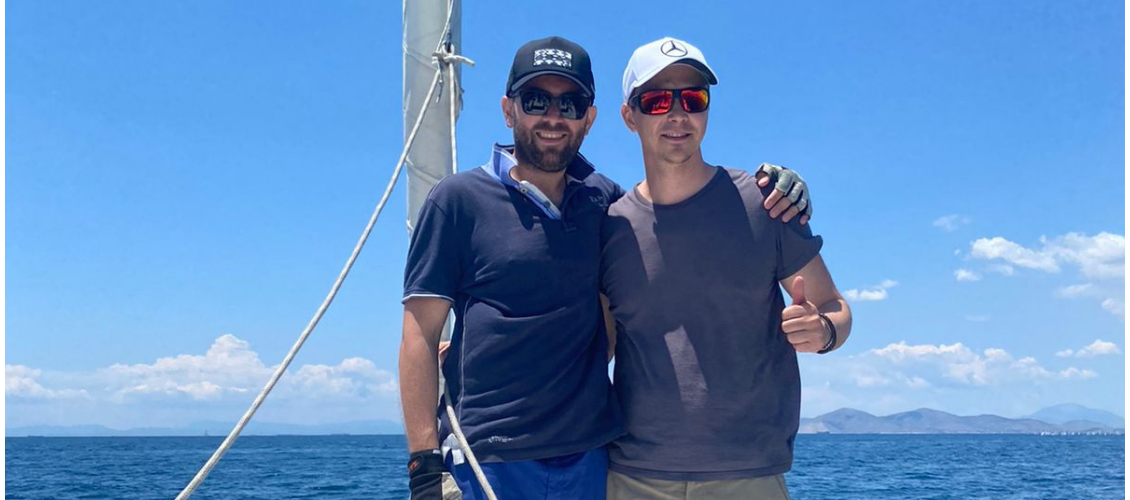 SEARADAR, a startup that relocated to Lithuania through a Startup Visa Lithuania program, running an online yacht booking and concierge services platform for skippers, has finally announced that they have raised a seed round of €400K in spring 2021. The round saw participation from startup accelerator Baltic Sandbox, former Microsoft Russia executive Dmitry Marchenko, Estonian business angel Dmitry Sumin, among other private investors from Bulgaria, Poland, and the UK. The company will use these funds to further innovate its platform, which is already forecasted to exceed gross merchandise revenue of €1M in 2021.
The company, led by serial entrepreneur Dima Beznasiuk and experienced skipper Max Terbov, aims to make yacht rental easy, hassle-free, and secure for the more than 2 million active licensed captains in Europe and CIS. Today, the platform already lists more than 20K yachts, sailboats, and other vessels docked at ports in Croatia, Greece, Italy, Thailand, and other popular destinations.
"What people unfamiliar with the space don't realize is how affordable yacht holidays really are. If a skipper goes on holiday with his friends and family for a week, they can end up paying as little as €400 per person! And sailing the Mediterranean is way more exciting than spending that week poolside at some hotel," says Dima Beznasiuk, the company's CEO & co-founder.
Searadar aims to bring the same level of convenience and confidence to yacht chartering that holidaymakers expect from car rental services. As renting a yacht has always been a more complicated process and captains expect everything to be ready before their journey, a simple marketplace approach would lead to more chaos than merit. Thus, the company took a more personalised, "concierge" approach.
"Simply having a wide selection of boats to rent was never our end goal. The important part of our business is making it easier to not just find and rent a boat but to customize your trip. That's why we have people dedicated to consulting and guiding our users. Ultimately, we want our platform to be a start for their next adventure, and making it a pleasant start is what we're aiming at," says co-founder Max Terbov, who has already turned his lifetime hobby into a business with his own yachting events company.
Searadar provides customers with multiple touchpoints – from its main website and a number of tailored landing pages to Messenger, WhatsApp, and Telegram chatbots. In addition to competitive prices, SEARADAR offers its users a loyalty program that provides redeemable miles for every booked charter, referred friend, and yacht review. SEARADAR also helps handle all the day-to-day yacht rental – from crew lists and insurance. In addition, it provides 24/7 live customer support.
The total amount raised during this round is €400K. Investors include Vilnius-based accelerator Baltic Sandbox (SEARADAR are their alumni), former Microsoft Russia executive Dmitry Marchenko, Estonian entrepreneur and investor Dmitry Sumin, and several other business angels from Estonia, Poland, and the UK.
"It was about time that someone disrupted the rather conservative yacht rental space. It's great seeing SEARADAR's team implementing automated processes that work for the likes of Booking.com and AirBnB, while adding a much-needed personal touch to create a first-of-its-kind online concierge platform for captains," says Sandra Goldbreich, CEO and co-founder of Baltic Sandbox.
Searadar was founded in 2017 by Dima Beznasiuk and Max Terbov. Beznasiuk, a seasoned tech entrepreneur, had previously founded Empana – an experience gifting company, and Turbodealer – a second-hand vehicle marketplace. Terbov, a life-long skipper, is also the founder of Atlantis Sailing Challenge – a yachting events organizer. The company has its HQ in Vilnius, with colleagues working remotely from the UK, Greece, Russia, and Ukraine. It projects to post €1 million in gross merchandise revenue in 2021.