The Pitch Battle competition at Startup Fair is a chance for startups to meet 150 investors and win prizes worth EUR 40 000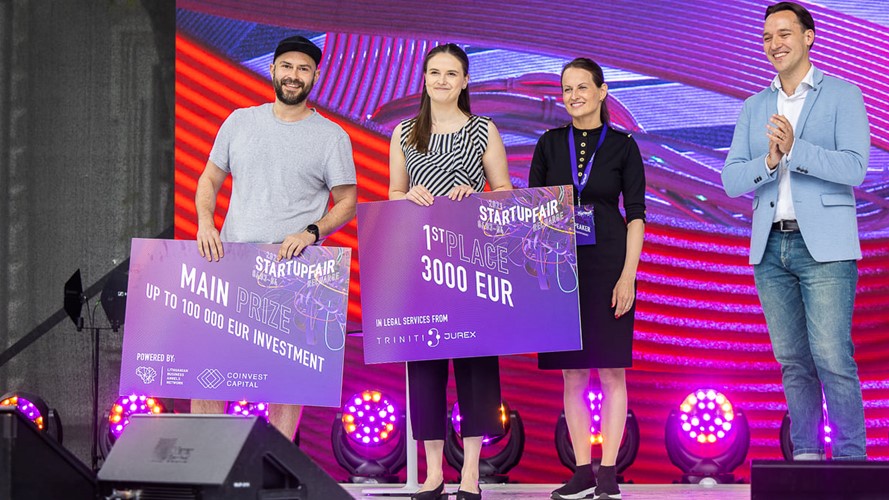 The Pitch Battle competition that will take place on 26 May at the international and largest Lithuanian startup ecosystem event Startup Fair. Connect 2022 will bring together Lithuanian and foreign startups who will pitch themselves to international investors and compete for the title of the best startup and the chance to win prizes worth EUR 40 000. In search of investment opportunities, over 150 investors from different countries will come to this year's competition, and startups are invited to register for it by 9 May.
"Lithuania welcomed another new unicorn a few weeks ago, with Nord Security joining Vinted. I believe that Startup Fair. Connect 2022 startups have the potential to breed even more unicorns for Lithuania. I wish you to successfully use this event as a space to showcase your new, ambitious and useful projects as widely as possible. Most importantly, be bold and believe in your ideas," says Aušrinė Armonaitė, Minister of Economy and Innovation.
"This year Startup Fair. Connect 2022 will be attended by over 150 key investors from Lithuania, Germany, Taiwan, Austria, Finland, Estonia, Latvia, Poland, Turkey and other countries. This is a truly unique opportunity for startups to have face-to-face meetings with a number of the most important investors: to present their innovative ideas and businesses, get professional feedback and, of course, attract attention and maybe even raise investment," says Roberta Rudokienė, Head of Startup Lithuania. 
This year, the most promising startups in the Startup Fair Pitch Battle will share prizes worth EUR 40 000 from SME Finance, Cloudvisor, Httpool, Funderbeam, Triniti Jurex, Vinted, Tesonet and TechBBQ. The main prize money of EUR 7 500 will be provided by SME Finance, currently the largest non-banking financing technology platform in the Baltic countries.
"Startups constitute one of the most important parts of our ecosystem, and SME Finance has always actively supported their growth. SME Finance started as a startup not so long ago, just six years ago, so we are very familiar with all the challenges that this market presents. Knowing the financing challenges that startups face, we offer exactly the financing tools they need – we look at the potential of the company, rather than at its historical performance. We need to create all the conditions for startups to grow freely, that's why we want to be part of the Startup Fair Pitch Battle and enhance the successful beginning of startups' growth," says Mindaugas Mikalajūnas, Head of SME Finance. 
Enjoying the attention of a number of investors 
Last year's Pitch Battle startup competition was won by Cogastro, a Lithuanian startup that developed the world's first app for monitoring and managing insect farms. The startup received funding of EUR 500 000 from venture capital fund CoInvest Capital and members of the Lithuanian Business Angel Network (LitBAN).
Mantė Šidlauskaitė, the founder and head of Cogastro, has no doubt that the Startup Fair Pitch Battle helps startups to attract the attention of investors, test their strengths and find out how experienced investors evaluate their business idea.
"Startup Fair Pitch Battle has helped us raise investment 10 times faster than conventional investor search methods. The event also gave us the opportunity to introduce Cogastro to a wide community of Lithuanian and foreign startups and to attract the attention of a number of investors. Thanks to them, we not only received a significant financial injection, but also gained experience and knowledge, which is crucial to ensure the company's further growth. We would definitely recommend every startup with a dream to grow and looking for investors to attend the event," says Ms Šidlauskaitė.
When asked what helped them win the Startup Fair Pitch Battle, Mantė talks about her team and their motivation.
"Your team and motivation are one of the most important ingredients for success. You also need to be able to prove that customers will appreciate what you have developed and pay for the product or service you have created."
Cogastro is pleased to have used the investment to build an international team, attract talent, improve processes and strategy, streamline sales channels and develop the product.
Special training with a world-class pitch coach
Gleb Maltsev, world-class pitch coach, will teach you how to professionally present your business ideas to a panel of international investors and get their attention just before the Startup Fair Pitch Battle.
"I've trained thousands of founders over the past ten years. Most audiences only see the headlines, announcements, and awards they herald. They don't realize that most founders put in hours of preparation before stepping on stage or starting their raise. The same is true for the back-to-back meetings with investors. You can't control whether you get a term sheet from a particular fund or whether you win a pitch competition. Instead, you can control the systematic process of preparation and building relationships with investors at those events. To achieve good outcomes over time – like counting cards in Blackjack – you need to learn, analyze, and trust the method. It's about having a system for long-term growth." – says Gleb Maltsev
This training on 24 May is open to all startup founders who will learn how to pitch to investors and will have the opportunity to receive professional feedback. You can register for training here: https://www.eventbrite.com/e/data-driven-pitch-workshop-tickets-327365126907  
Registration for the Startup Fair Pitch Battle competition is open until 9 May here: https://www.startupfair.lt/pitch-battle  
Pick up a ticket to the Startup Fair event here: https://bit.ly/StartupFair2022