Startup Sesame First Annual Report & Fourth Call or Entries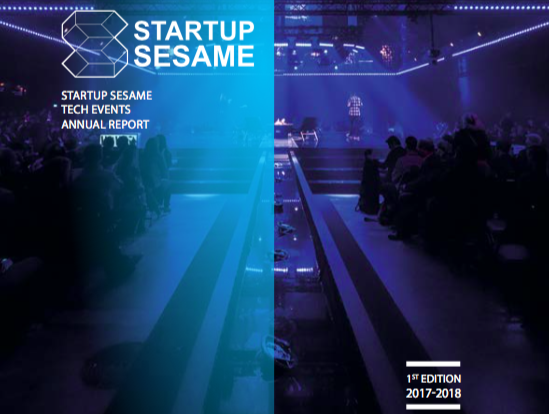 Startup Sesame announces first annual report and new DeepTech track as call for applications for Season 4 of the event acceleration program opens.
91% of Tech event participants surveyed, report that attending events was beneficial to their business, 21% attended over 6 events during the past year. This first Startup Sesame annual report – "Why Tech events matter" – highlights a breakdown of Startup Sesame partner events (30) in 2017.
"Startup Sesame believes that connections among international ecosystems encourage startups to push beyond their limits and develop powerful local and cross-border networks. Tech events are incredible connection catalysers if you choose the right ones for your business, at the right time."
"Startups, especially those founded by first time entrepreneurs experiencing events for the first time via Startup Sesame, are experiencing 30% growth in their valuation after one year in our program thanks to event exposure and network business connections" says Ben Costantini, Co-Founder and CEO of Startup Sesame.
Since 2015, Startup Sesame's event acceleration program has granted some of the most promising entrepreneurs in Europe premium access to 30+ global Tech events.
In addition to existing Mobility, Entertainment and Europe tracks, Startup Sesame's Season 4 program includes a selection of events focused on DeepTech targeting IP-intensive startups such as Hello Tomorrow, Robotex or World Summit AI. Applications for this year's batch are open until March 1st; startups can apply here.
Each of this year's selected startups will receive a personalized curriculum aimed at helping them identify which conferences are most relevant according to their business objectives. Teams will also benefit from pre-event coaching, including event strategy guidance and networking best-practices.
Season 4 startups are invited to connect and collaborate with a pool of 30+ mentors from around the world including Carolina Brochado, Chris O'Brien, Bindi Karia, Rochard Muirhead, Barbara Belvisi, Renaud Visage, and many more. 
The annual Kick-Off for this Season 4 batch of startups, mentors and event organizers will take place in Valencia, Spain – March 29th-30th – in collaboration with VIT Emprende.
Startup Sesame alumni include: Gameway, CitizenLab, Combyne, Cyborg Nest, Letz.do, Look Live Media, Citron, POMP, Soundsgood, Limitless, WARM, Zify, OpenBack, MysteryVibe, WeFarm, 30minMBA, EverCharge, Faraday Motion, Talent.io, Zettabox and Ingenious. All of which benefited from privileged opportunities offered by the Startup Sesame team, mentors and events founders. Discover more about who they are and what they did here.
For more information contact : info@startupsesame.com
___________________________
About Startup Sesame
Launched in 2015, Startup Sesame became the first European event acceleration program for startups and is now the largest alliance of Tech events collaborating closely with 30+ partner events: Slush, Pioneers Festival, TechOpenAir, 4YFN, EcoMotion, New Mobility World, Mondial Tech, Challengers, Symposium, Stockholm, Leaders Paris, EuropaVox, Sonar+D, SF Music Tech, Arctic15, South Summit, Lisbon Investment Summit, TechChill, World Summit AI, Pirate Summit, Web2Day, Autonomy, France Digitale Day, DigitalK, Webrazzi Summit, InfoShare, STHLM Tech Fest, BDL Accelerate, WORLDZ, Robotex and Hello Tomorrow.
Startup Sesame is an event acceleration program supporting startups looking to develop cross-border connections and to grow their business internationally. Selected startups become "Sesamers" and join a community of Tech event insiders. They get premium access to conferences and tradeshows, visibility, guidance and mentoring sessions with a pool of international experts.
For more information:  www.startupsesame.com