Startup of the Week: Workis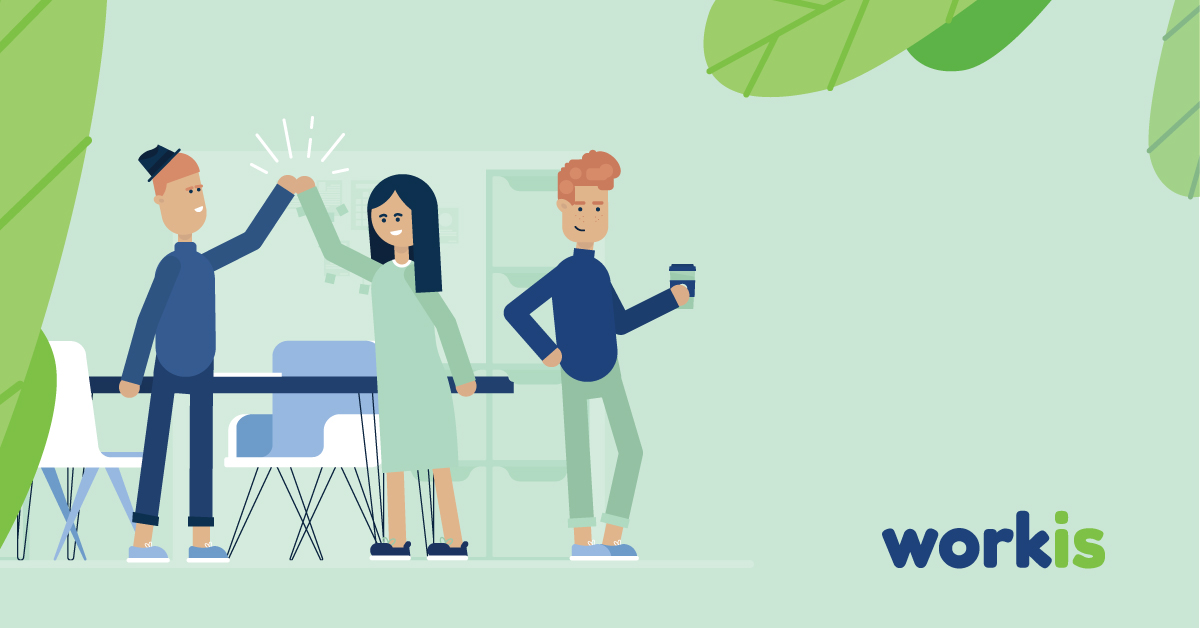 We all know the struggle when looking for a job. This is why we decided to have an interview with Workis team who found a solution how to save time and find a job faster. Workis – is a platform for temporary jobs, perfect for people who need it immediately. 
So what is Workis, how does it work?
Finding a short-term job or a good candidate for a temporary position can be frustrating. Often it is inefficient, poses regulatory challenges or simply just not worth the hassle. Imagine a world where finding a weekend shift or hiring someone could be as easy as ordering a pizza. 
Workis combines innovative technology with 14 years of expertise in human resources and all its legal aspects to provide you with a one-stop shop HR solution, whether you seek or offer work. 
For employer: 
Fills in the system precise wage, date and working time of expected job 

Reviews and selects the most candidates based on rating

Instructs workers in working place upon arrival 

Approves worked time in the App/Platform 
Evaluates employees for future reference 

Pays the bill for the service 
For employee:   
Registers at 

www.workis.online

 

Fills in personal details, uploads medical certificate, passes the safety instructions 

Applies for the position 

Upon confirmation, signs working contract with an electronic signature 

Arrives in a workplace and does his job 

Receives salary till next Tuesday.

What are your competitors and competitive advantages?

As a marketplace for jobs, we do not have direct competitors in Lithuania yet. To some extent, old-school staffing agencies are competitors from the client's perspective. As our client's put it – with Workis You do not get all the bells and whistles of typical staffing agency (like 5 cv's per position with recruiters' comments and recommendations), but You get people for the job and you get them within one day, instead of 5 to 10 days, which is usual for typical agency.

The most important, yet unexpected effect workis.online has had is that it effectively showed there is no shortage of employees, with 95 percent of shifts being filled within 24 hours from publishing.

From the employee's side, we are competing with every other part-time or short-term job on the market. What is clearly different with Workis are three things – firstly, a choice to have own schedule, at chosen location/job. Secondly – fast payments, salary is paid weekly, so no more waiting for next months paycheck. Finally, with workis.online it is always legal, with all agreements being digital and all taxes paid.

What were the reasons behind coming up with this idea and launching this product?

Workis.online is part of Biuro Baltic group, the largest staffing company in Baltics. A significant part of the contingent labor force consists of young people which were not satisfied with the way we operated. An example from our life prior to workis.online launch – it's Friday afternoon, our client has ordered 40 workers for the weekend to work as stagehands and similar in Siemens arena Vilnius. Our recruitment consultants were busy all week calling and arranging who could work and on Friday employees come to sign labor agreements, get onboarding training and etc. So we had 20+ young people at our office the whole day. Most of the time they were waiting for something and doing something on their smartphones. This sight was just so wrong. This workforce of tomorrow could arrange most of their life via smartphone, so why employment should be so old school.

When exactly did you launch, what were the main challenges before launching?

Beta was launched in September 2017, while in all of Lithuania we launched in February 2018. The most challenging was to find a model which balances the legal requirements, interests of job seeker and client. We were a little bit afraid of hurdles we have before job-seeker – safety training and test, health check, getting a mobile signature or smart-id, and in the beginning, it was a difficult sort-out onboarding experience.
What are your target customers? Both in terms of user profile and geography?

As a marketplace for jobs, we must manage both sides of the equation – supply of quality jobs and availability of job-seekers. The imbalance would lead to a decline in both sides. From the Client side, we want to be a go-to place for all short-term staffing needs for usual employers of students – restaurants, hotels, call centers, retail, and warehouses. From the job-seeker side, we are naturally reaching younger, internet enabled audiences, although we do see interest from more mature audiences seeing workis.online as an opportunity for extra cash, an alternative to driving uber.
What were the main challenges while working on this project and how are you overcoming them?

Labour relations, payroll taxes, general data protection regulation, occupational health, and safety are inherently very complex and intertwined subjects and workis.online, on one hand, has to be fully compliant, on another hand it has to be simple and easy to use. That's a constant challenge which we tackle with the cross-discipline team of IT, legal, HR and process improvement competencies.
How are you funded? Do you seek extra funding?

For now, we are funded by Biuro Baltic group. We are learning lessons of expansion to Latvia and Estonia, and afterwards, we'll look for other expansion options.


Please introduce your founder, your core team and your broader team.

As workis.online is the start-up with Biuro group, ambassadors for workis.online service are Biuro team. The core team of workis.online is Rimantas Kuodys, Product owner, Benas Krencius, the engineer, Jurgis Kovas, manager.

How has business been so far? Could you share some numbers to illustrate this?

We reached 45 000 system users already. We are happy that already 2000 of them tried to work in one place or another. That's huge for us as the platform is running at full speed for 8 months only. Every month we have approx. 20 000 worked hours, which averages to approximately 100 employees daily working over the platform.

Future plans, ambitious? Simply speaking – what's next?

We are working hard to bring more employers and employees into the platform across Baltics. Our vision: Workis – one platform for HR managers to plan and manage short-term workforce while for candidates it should be a place to kickstart their careers, acquire experience, try out different options or simply earn some extra money.


Thank you for the answers!