Startup of the Week: Reneza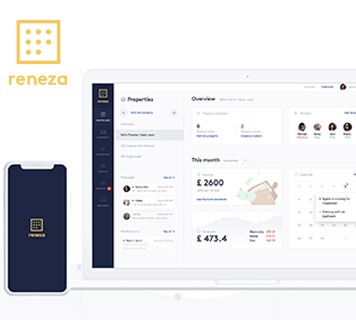 This week we want to present Lithuanian startup called Reneza. It is an online letting agent simplifying long-term rentals for landlords & tenants across the United Kingdom. Reneza transforms outdated and complicated rental process to one that's intuitive, simplified, easy-to-use and transparent with the help of technology, 24/7 customer service and ongoing rental revolution. As the team of Reneza says: we are on a mission to create digital-first experiences for landlords & tenants across the globe!
What are your competitors and competitive advantages?
We are operating in a very crowded space, facing over 18,000 traditional high-street agents scattered across the United Kingdom. However, all traditional agents are operating in an old-fashioned way by renting offices, employing in-house agents, managing properties manually and charging outrageous fees for the same quality service. Landlords are constantly faced with high-fees, outdated rental processes and changing legislations, which are driving them to search for service alternatives. Reneza approach for improving rental market is focused across three main areas: pricing, transparency and quality. We bring lowest price to the market, by keeping same high quality service. Our service is fully customizable and landlords can pick & choose how much they want Reneza to manage. Tenant find is provided for free, followed by a fixed monthly fee subscription for end-to-end property management.
Our intuitive platform brings transparency and simplicity for both landlords and tenants. For example, landlords get to track their properties, rental payments, repairs while we are managing them wherever they are. While tenants enjoy renting out a property, paying rent online, bills (feature coming soon) and highlighting any upcoming issues through the application.
Quality comes with an experienced team of property professionals guiding and looking after our customer's properties and tenants. Automated management processes allow us to focus on keeping our customers happy rather than dealing with manual admin tasks.
What were the reasons behind coming up with this idea and launching this product? 
We wanted to build an experience that we would be genuinely happy with as owners and tenants. By listening to other property professionals and combining our experiences, Reneza was brought to life. 
When exactly did you launch, what were the main challenges before launching?
Idea of Reneza was born in early 2018, with an actual launch taking place around December, 2018. I would say, biggest challenges were building a strong operational back office team in Lithuania and finding effective sales strategies for acquiring customers across the United Kingdom with low acquisition costs.
What are your target customers? Both in terms of user profile and geography?
Our target customer is a property owner, which varies between a single or portfolio landlord. At the moment we are able to manage properties only in United Kingdom, however we do have couple of overseas landlords for whom we are managing properties for.
What are the main challenges while working on this product and how are you overcoming them?
Our service solution sounds pretty simple, however as our business is built on economies of scale, in the back-end we are always trying to automate operational processes. Starting with automated listings, to pre-filled contracts or automatic late payment chases. We are always working on simplifying processes internally. 
As well, educating potential customers and explaining how our service is this "cheap". Many landlords are used to paying outrageous fees and are hardly believing that property management solutions such as ours exist. We are investing a lot on user guidance, as well we have started meeting portfolio landlords face-to-face for on boarding.
How are you funded? Do you seek extra funding?
Reneza is a self-funded startup. Although, we are currently seeking for a Seed investment by 2019 Q3, to help us scale the business.
Please introduce your founders, your core team and your broader team?
Kipras Gajauskas (Co-Founder, CEO) – Extensive property management know-how, having successfully created a property management company in London, Kipras is married to business.
Benas Baltramiejunas (Co-Founder, COO) – Expertise in analytics, project management and business planning. Loves numbers.
Pijus Bratcikov (CTO) – Genius technology enthusiast, teaching programming since 15 years old. Logical approach to everything.
Aside of the above core team, we have 9 team members supporting us with operations, sales, development, marketing and other areas.
How has business been so far? Could you share some numbers to illustrate this (users, sales, etc)?
We are currently managing over 50 properties across the United Kingdom, with over 70 properties currently listed across major portals for which we are searching for tenants. As well, a pipeline of over 300 properties to be on-boarded over next 6 months.
 Future plans, ambitions? Simply speaking – what's next?
Aside of focusing on B2C sales for the moment and investment raise, on a side we are working on our service proposition for B2B sector (developers – build to rent) with a slightly different approach through the lens of technology.
As well, aside of scaling across the United Kingdom, we see market gaps across other Western European countries where our products could potentially be applied in the future.  
Thank you for your answers!