Startup of the Week: ZitiCity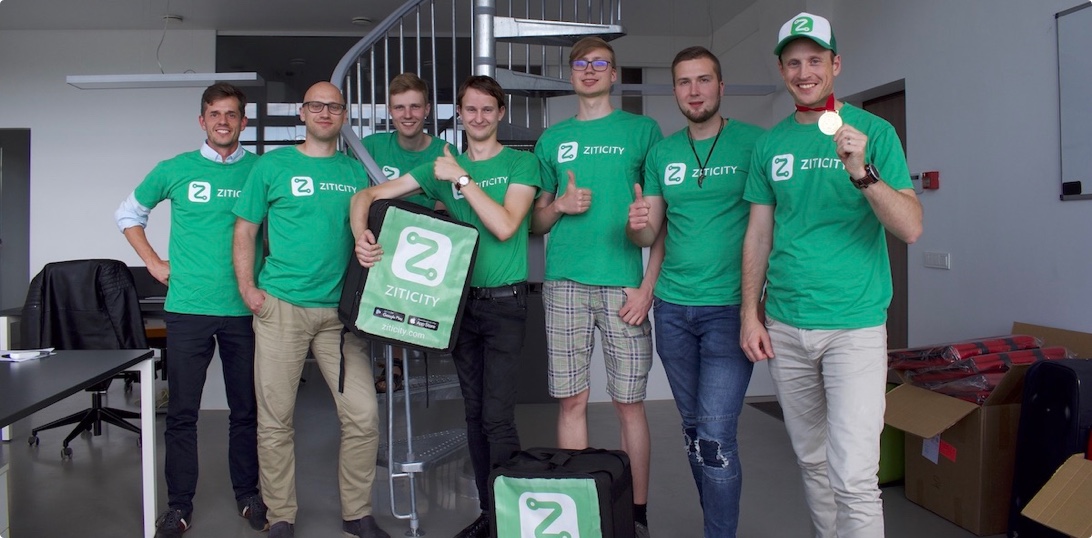 "Amazon became the biggest online retailer in Europe. They are investing $800 million to enable free one-day shipping for Prime members. This means even more consumers are going to get used to having whatever they order show up at their doorsteps in 24 hours or less. Never has the need been greater for the rest of e-commerce to stay competitive and meet these changing customer expectations. We are privileged to enter the market at this particular time and give merchants even better tool to compete – 42-minute delivery." – ZITICITY Co-founder and CEO Laimonas Noreika explained.
So what is ZITICITY? How does it work?
ZITICITY is a last-mile delivery platform connecting customers with local couriers who can deliver anything from anywhere instantly.
We help merchants to fight Amazon menace in Europe with a platform that connects their e-commerce stores with gig-economy workers trained for fast package delivery. 
Purpose of ZITICITY is to help local businesses to stay competitive with e-commerce giants like Amazon and Alibaba. As a business owner in Lithuania, you cannot compete with these e-commerce giants on product prices. So why as a customer I should buy from a local merchant? Local merchants have an underutilized asset – products close to their customers. 
ZITICITY has been a massive success in Lithuania and Estonia, where it reached the average delivery time of 42 minutes. Now expanding to Paris!
What are your competitors and competitive advantages?
Unlike competitors, ZITICITY provides the on-demand solution that optimizes and distributes deliveries in real-time without usual distribution centers that would cause major delays.
Also, we are using already existing urban infrastructure – people and their means of transportation (cars, bicycles, e-scooters, shared mobility, etc.) to deliver goods. Anyone can join the platform, become a courier and earn money delivering packages on their free time.  
What were the reasons behind coming up with this idea and launching this product?
Before starting ZITICITY, none of the co-founders had previous logistics experience. We are experienced in marketing, product management and software development.
We just had to build the company out of personal frustration – why it takes 1-2 days to deliver a package from the store that is just 3 kilometres from you!? We quit our well paid corporate jobs to fix this.
When exactly did you launch, what were the main challenges before launching?
We started ZITICITY in December 2017 as B2C business – an app that allows you to buy and get any item in a city within 1-hour. In October 2018 we saw much greater demand in the B2B segment – last-mile logistics for businesses. After making a switch, we grew delivery volumes x13 in 11 months.
What are your target customers? Both in terms of user profile and geography?
Restaurants, e-commerce stores, traditional logistics companies, offices, flower shops, grocery stores and any other business that need delivery in the same city.
Currently, we are strengthening our positions in Vilnius, Kaunas and Tallinn, and launching our biggest market yet – Paris. 
What are main challenges while working on this product and how are you overcoming them?
One of the most exciting challenges is to constantly look for a balance between the supply of couriers and demand from clients. In-house we have built sophisticated courier onboarding and scheduling tools, incentives management system and automated communication channels. These powerful tools allow us to mobilize hundreds of ZItters once demand peaks. 
How are you funded? Do you seek extra funding?
In June we have raised €315,000 Seed Round led by Estonia-based early-stage fund Superangel (with Bolt (ex-Taxify), Transferwise and Skype founders as investors) and participation by Practica Capital, Startup Wise Guys, and angel investor Mikko Silventola.
Previously attracted angel investment from one of the early Uber's engineers Maksim Golivkin, who now leads the engineering team at Instacart. In January, we graduated from Startup Wise Guys B2B SaaS Batch 12 acceleration program in Tallinn, Estonia.
Please introduce your founders, your core team and your broader team?
Laimonas, CEO. Focuses on sales, recruitment and strategy. He can find a common language with a small flower shop on the street corner and the largest enterprise clients like Telcos and Pharmaceuticals. Now he invests most of the time on inspiring A-players to join ZITICITY, so we could scale our organization. 
Karolis, CTO. Focuses on designing and developing all of our products and ensuring that they run 24/7. And that also includes creating sophisticated tools for our operations team so that they stay sane when they need to look after a fleet of hundreds of Zitters and deliveries daily.  He managed to develop different kinds of products in a startup-paced environment – multiple mobile apps, web apps, e-shop modules, APIs and the whole backend with a number of integrations. What's important to mention is that he managed to do all of this without staying in a single place for more than 3 days because he was backpacking for 9 months in Asia. 
Vytautas, COO. Before joining this team he worked as a marketing manager in big international companies. He learned how to deliver an amazing customer experience and how to communicate the product values. At ZITICITY he had to learn new things as well – like urban logistics. Every day we deliver hundreds of packages and he makes sure that there are always available Zitters to pick them up. In summer, he recruited 200 hundred Zitters in 4 weeks when we launched a new city.
How has business been so far? Could you share some numbers to illustrate this (users, sales, etc)?
In the past 11 months, we grew delivery volumes x13 and now delivering hundreds of packages every single day.
Future plans, ambitions? Simply speaking – what's next?
Make deliveries fast and affordable in the most exciting cities worldwide.
Follow our previous "Startup of the week" articles here.