Startup Of The Week: VULKAZA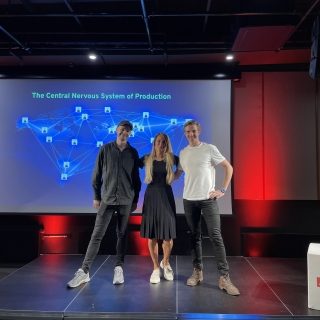 Would you like to focus on growing your business and let someone else take care of your on-demand production and shipping to your customers? That is something that our startup of the week Vulkaza can help you with. Their journey started by tapping into the 3D-printing community to make reusable face shields during the pandemics, and now they are an on-demand production platform powered by a global network of 3D-printers to sustainably produce products for e-commerce. Let's read their story:
Tell us about your startup. What is Vulkaza and how does it work?
Vulkaza is an on-demand production platform powered by a global network of 3D-printers to sustainably produce products for e-commerce. With disruption in supply chains, tax wars, and global crises, now is the time to reimagine manufacturing and supply chains. Starting with 3D printing, we're building a fully automated self-service platform where creators, artists, and e-commerces can create or tailor designs and push products to their web shops through our integrations with main e-commerce platforms. Once sold, orders are passed to the makers' app, where Makers, just like Uber drivers, pick up orders, 3D print them and ship to buyers, all within the same country.
In this sense Vulkaza offers a dropshipping service of custom and unique products where SMB or micro-entrepreneur can express their creativity in product design while focusing on growing their business.
On the other hand, by using underutilized 3D-printers around the world, and producing from plant-based materials Vulkaza is leading the sustainable industrial revolution.
What are your competitive advantages that work? What are your competitors?
As multi-side platform we have competitors on both sides – 3D printing as well as supplying products for e-commerce on-demand. On the 3D printing side all the biggest 3D print on-demand companies are focusing on very technical customers and mostly produce spare parts or prototypes for industries ranging from automotive to aerospace, healthcare and similar. Our key value proposition is elevating product design and 3D printing from just prototypes to end-products and doing it for non-technical users so the only thing that they have to worry about is picking a preferred design and marketing their products. In this sense, we're going after completely different customers and thus don't really compete with 3D printing services.
Looking from our customer's perspective, there are quite few options when it comes to sourcing products on-demand. Print-on-demand is a well established industry growing at 26% CAGR with platforms for other types of products on-demand popping up every day. We believe that our product range, unique design features, product customization at low quantities, same country production and shipping are all complementary to this space. We can even see ourselves offering some products via print-on-demand platforms so that they can diversify their product portfolio in the future.
What were the reasons behind coming up with this idea and launching this product?
The concept of Vulkaza was born during the first corona crisis. As the world was running out of essential protective gear and borders were closed, makers joined forces and 3D printed millions of head holders for shields made from commercially available office supplies. This was a self-organized initiative by maker communities that took place in pretty much all the countries around the world. After the crisis, without the single need uniting the makers, the community has kind of disintegrated and gone back to working individually. Vulkaza CEO, Ap has bought 7 extra printers during the pandemic and when he joined an early stage business acceleration program by Antler VC, he was looking for the best ways to put his printers as well as the global maker community to work. During the program, Ap met the two co-founders Odeta and Oyvind who fell in love with the concept of distributed manufacturing. With experience in marketing, business and e-commerce, Odeta immediately saw an opportunity to use this global network of idle production capacity to make products for e-commerce and creators and so the current Vulkaza business model was born. With Oyvind being experienced in mobile apps, connecting out of the box tech solutions and UX, it's a no-brainer that we're building a self-service platform to execute our business model.
When exactly did you launch, what were the main challenges before launching?
Vulkaza 1.0 was established by Ap in May 2020 during the 3D printing of the face shields. And Vulkaza 2.0 as it is today was conceived during the 10-weeks Antler program between August and October in 2021. Antler is on a mission to fundamentally improve the world by enabling and investing in the world's most exceptional people, building complementary co-founder teams, supporting the teams with deep business model validation, and providing a global platform for scaling. The 10-weeks program is structured around defining a business model and validating the business idea with customers. So by the end of the 10 weeks program, with support by mentors and advisors from Antler we had overcome most of the typical challenges that early stage companies face. Antler has acknowledged our progress and from 50 people in the program we were one of the 7 teams to get an investment from Antler and our mentor Jonas Rinde followed by a soft-funding from Innovation Norway. 
What are your target customers? Both in terms of user profile and geography? Do you have some already?
Our ideal customers are e-commerce companies who are looking to source and sell unique designs or custom items without holding stock in the biggest e-commerce markets – US, Canada, UK, Australia, Germany. We're focusing on small to mid-size e-commerce businesses in home decor or accessory spaces. Etsy sellers, designers, artists, early stage dropshippers are all our ideal customers. We're currently working with Norwegian artists like Jonny Hurts, Ramus Stride, also some design studios, e-commerces in Lithuania, Canada, US, Norway. We have also 3D printed quite a lot of merchandise to startups and companies of our friends across the world, but decided to keep this side of the business for later, when the self-service platform is fully operational and customers can design merchandise themselves. 
What are the biggest challenges while working on this product and how are you overcoming it?
As a multi-sided platform we face multi-sided challenges across the board and we simply love them all. We've had quite a few funny stories with makers who decide to print in some random colors or use not so good looking used boxes for shipping. Luckily, we knew that there will be various problems with managing a distributed network of manufacturing and have planned test prints and skill testing early on. We're collecting every such instance into a guide while also planning platform features that help us to overcome challenges related to production. Having said that, there is no doubt that more anecdotal and not so funny challenges will arise on the production side. The most important thing we can do is plan and build to contain those surprises before our makers start printing for customers.
On the customer side, 3D printing end-products on-demand for e-commerce is a very new concept. This simply has not been done before at scale in a systematic way. As such, we have to be very creative and very persistent in marketing and selling Vulkaza. Lucky for us, the timing is perfect. With disruptions in supply chains and explosion in retail e-commerce, the creator economy, we believe that now is the time to introduce the concept of Vulkaza to the world of creative people looking to monetise their audiences through their own products.
Tell us more about funding. How did you get it? Do you seek extra funding?
We've got funding from Antler along with Huddly co-founder Jonas Rinde and soft-funding from Innovation Norway in November 2021. We're now raising a pre-seed round to double the team, 3D print 100 000 products and onboard 4000 makers within the next 12 months while heavily focusing on the self-service platform.
Please introduce your team!
We're 3 co-founders who met during an acceleration program by Antler VC. We've been working together since late September 2021 with Antler's investment in November 2021.
Before establishing Vulkaza, Ap Mossevig – CEO has accrued expertise in hardware and software development, business development, product management, solution architecture, and lately 3D printing. As the Corona crisis hit the world, Ap played a key role in printing and delivering a significant part of the 40 000 protective face shields to hospitals and care homes around Norway. Ap is the 3D-printing guru well-versed in both design and 3D printing. As the CEO, he's focusing on investment, hiring, legal and all things related to 3D printing – quality control, maker network growth, product design process.
With multiple startups and a career in a marketing agency under her belt, Vulkaza COO Odeta Iseviciute adds experience in marketing, sales, business strategy, product development, and business operations. Her latest experience in e-commerce and digitizing a user onboarding journey at a bank added an insight that lead us in defining a unique model for utilizing 3D printers. Odeta is also a judge and a mentor at WSA and Red Bull Basement programs, and TEDx organizer. Odeta is focusing on defining and executing business strategy, sales and marketing, partnerships, defining our platform user journeys, and order execution.
With a master's in Interactive Design, Vulkaza CTO Øyvind Byhring is our tech-guru who has built software for successful startups. He was the first employee of Poio which was bought by Kahoot! in 2019. His skills lie in interactive design, front and back end development, building apps as well as leading teams. Øyvind is especially good at finding and connecting digital solutions that have been built to save time, resources, and money on software development. At Vulkaza Øyvind is overseeing and hands-on building the self-service platform that will allow us to scale our business without scaling operations.
The one and only our super-star content guru Gabriele is juggling many tasks from managing our freelancers and making sure that we tell the world about our customers, to growing our social media following and looking for more engaging and interesting ways to reach out to potential customers. From joining us in January, Gabriele Jasinskaite has been crucial in helping across marketing, sales and content creation as well as communication.
Kahina Belaidi, a brilliant back-end developer, joined us in April. Her experience in cloud computing, AI and backend infrastructure is instrumental in building and scaling the infrastructure required for our automated self-service platform that is a modular system driven by API integrations.
Strong startup culture isn't something that can be created overnight but it can be worked towards with some conscious moves. What are your moves towards this?
To add to the complexity of building a startup culture, we are a remote-first company with co-founders and employees in 3 different countries. With so much stuff happening all the time in so many areas it is quite difficult to set time aside for building culture. That's why we use Teemyco – a remote work app that makes working remotely a bit more like a real office, we have daily company standups and regularly chat up across teams, on Fridays we share our successes, deltas and learnings and hold a monthly game night. More importantly, building the right culture for us starts with hiring the right people who thrive in taking responsibility and getting things done without management and supervision. We're looking for doers who are self-starters and are not shy to share their ideas, take the lead on constantly improving things and embrace feedback culture as a way to learn. In return we give full trust, minimum supervision, exciting projects, freedom to define the roles and career opportunities, flexible and remote work culture, company share options and a chance to change the world.
Bonus question: what's next? Tell us about your future plans.
We have very ambitious plans across the board. Besides launching the beta version of our customer facing self-service platform in a couple of weeks, we see ourselves as a digital platform which will be continuously growing and taking shape throughout our lifetime. On production side – 3D printing is just the beginning, we plan to start connecting laser cutting and CNC in a couple of years, followed by all means of distributed manufacturing. Opening up our platform for developers of design and other production related apps will really help us to establish ourselves as a go to place for any small scale production needs for both businesses and consumers alike.
On the customer side, we're still looking for the product market fit and along the way are onboarding very exciting and interesting customers from artists to product designers, to Etsy sellers, dropshippers and small to mid size e-commerces, all the way to corporate gifts and merchandise companies. Our vision is that anyone can create an account on Vulkaza, find designs or design tools and get their products made locally either for personal or business needs.
All of this wouldn't be possible without growing our team and we're looking to hire quite a few roles in Lithuania over the next 12 months.
Thanks for sharing!