Startup Of The Week: SearchNode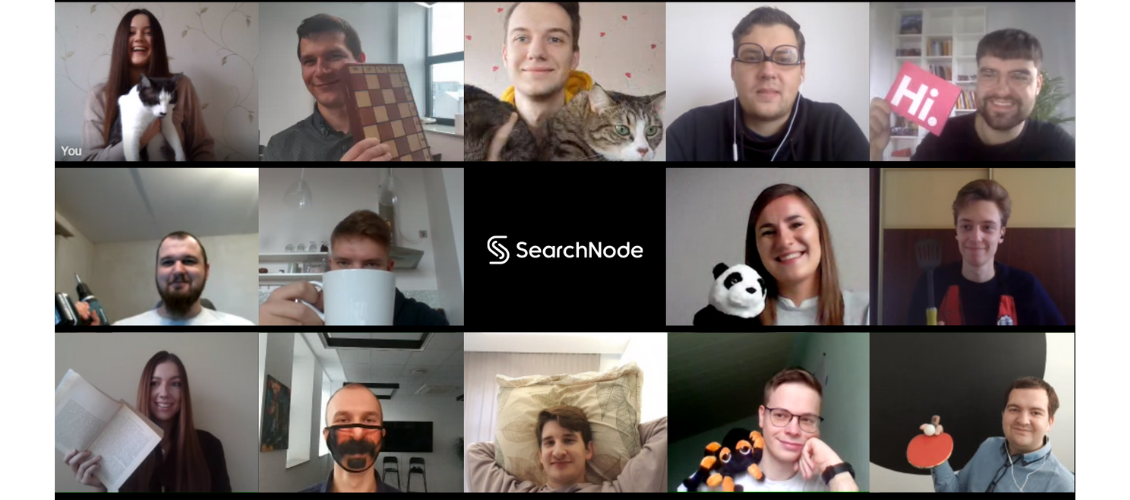 They started working on this idea in the 2013 summer during the high-school summer holidays, as they were 16-17 years-old teenagers. After that, they got their first client already in 2014.
**DRUMS** This week Startup Lithuania introduces a startup that runs an intelligent SaaS search solution that solves the pain-point for the eCommerce market, our Startup Of The Week – SearchNode! Find out the main challenges that SearchNode has accomplished before and after launching their SaaS product.
Tell us about your startup. What is SearchNode? And how does it work?
SearchNode is an intelligent SaaS search solution for big eCommerce companies who want to optimize their site search for maximum revenue. Our product is combined of powerful search engine technology and professional services to ensure unlimited customizations and continuous search improvements.
SearchNode makes it easy to have relevant search experiences on websites with the help of an intelligent search engine, merchandising capabilities, powerful analytics, and unlimited custom solutions.
Our clients are big European eCommerce companies, such as Castorama, Decathlon, Hubo, Euronics, Douglas, Kesko Senukai Digital, Pigu Group, Sprinter Sports and many others.
What are your competitive advantages that work? What are your competitors?
We have two types of competitors. The first type is in-house teams building site search themselves using open-source technologies like Elasticsearch or Solr. The second one is other SaaS site search providers.
If to compare SearchNode to these alternatives, one could say it's a combination of both, as we offer eCommerce search on a SaaS basis, but we also provide clients with dedicated search experts, a.k.a. experienced team that you don't need to hire or manage.
Our main advantage over the in-house team is that we offer already-built product, dedicated search experts, and know-how. So instead of spending ~3 years of building advanced search experience, companies can achieve this in ~4 weeks. Also, with SearchNode, an eCommerce company doesn't need to dedicate at least 5-10 full-time people who work on search. Moreover, there is no risk of failing by hiring the wrong people or building a mediocre search engine. Fun fact: Amazon has ~300 full-time people who work only on search. 🙂
Compared to other SaaS providers, SearchNode has three main advantages:
We are rich in features, dashboards, and capabilities – a must for big eCommerce companies, while many SaaS solutions are suited for small-medium businesses.
We provide not only a SaaS product but also customization services by search engineers that give full flexibility and do not limit our clients with functionality. In search, there is no one-size-fits-all solution.
We are good at languages, and search is about natural people's language as no one can control what we write in a search box. AI helps us understand that in Dutch, boor machine and klopboorschroefmachine are the same things; in Spanish, Zapatillas deportivas and Zapatillas de deporte are also the same things; or in Lithuanian moteriški bateliai and batai moterims are the same things. All done automatically, without manual work for more than 30 languages. Most other SaaS providers don't have this capability.
What were the reasons behind coming up with this idea and launching this product?
Before SearchNode, I (Antanas) and Lukas had an eCommerce website where search suc*ed. We noticed that users are struggling to discover products, and we were basically losing money because of this. As we were networking with other eCommerce professionals actively, we realized that we are not the only ones experiencing such pain. At least in Lithuania, many online retailers were also losing money because of poor site search.
At that point, the entrepreneurial spirit sparked, and we invited the third co-founder Ringaudas and started building a SaaS product to solve this pain-point for the eCommerce market.
When exactly did you launch, what were the main challenges before launching?
We started working on this idea in the 2013 summer during the high-school summer holidays, as we were 16-17 years-old teenagers. There were many launches, including the prototype, MVP, and others. The first client went live with our product somewhere in 2014.
From today's perspective, I wouldn't say we had significant challenges before launching live. The main difficulties started after the launch. To start, we just needed to work hard, think a lot, do proper market research, etc. We talked a lot to our potential clients what helped to build a great product-market fit.
What are your target customers? Both in terms of user profile and geography? Do you have some already?
Big eCommerce companies and marketplaces, mostly in Europe, but we also have clients in Hong Kong, Canada, and the US.
What are the biggest challenges while working on this product and how are you overcoming it?
We learned quite fast that it's not enough to have a great product – its implementation is a crucial part. Although we have a powerful API, we also have a team of search engineers who customize and implement our product to our Clients' websites, ensuring fantastic end-results compared to simple API implementation.
Tell us more about funding. How did you get it? Do you seek extra funding?
We haven't raised any VC capital and happily continue bootstrapping. We are not looking for extra funding now, but after each milestone, we re-evaluate this opportunity. The next milestone is 2M in ARR, and we should reach it by the end of the year.
Please introduce your team! Don't forget to share some pictures. (at least, three. That would be great!)
Today we are a team of 14 and now hiring eight more people. We actually have some exciting positions waiting to be joined by great people in Kaunas, London, or remotely; you can check them here: https://searchnode.com/careers/
We are also opening an office in London now, where we just hired a VP Sales and soon will hire more people. So it's an exciting time for us.
Strong startup culture isn't something that can be created overnight but it can be worked towards with some conscious moves. So what are your moves towards this?
Firstly, we are transparent with each other and with our clients, partners, and other people. We believe that when everyone knows how things are going, there is much more trust and much less room for wrong assumptions. It helps a lot when things go not so well and definitely, helps celebrate when things go well. There is transparency on a personal level and organizational-wise.
Secondly, we care about emotional well-being. We believe that it's essential to take care of emotional health, the same way it is vital to take care of physical health. Therefore we have a rule of not creating urgency or panic. We understand that there might be bad days, weeks, or even months, so we allow our people to take holidays when they need them or slow down the performance during some bad periods. We also talk about good practices to keep emotionally healthy and invite guests to learn more on this topic.
In addition to that, we believe there is no such thing as impossible. If something looks impossible, we look for the solution – for that secret sauce that will make impossible – possible. It's like dreaming about landing on Mars – now it's impossible, but someone (Elon?) will make it possible one day. In our Kaunas office, we have a poster called "Mars explorers wanted", so we are looking for those who share this value.
Finally, we work hard, and we play hard. Everyone here is waiting for monthly parties when we are partying and having fun. During the pandemic, we moved to online parties, which are still better than no parties at all.
Bonus question: what's next? Tell us about your future plans.
Currently, we are on a journey from 1M to 10M in ARR. However, our ambition is to build the next Enterprise Software corporation but with the startup culture and replace old-school legacy software products from Oracle, IBM and others.
Thanks for sharing your story, SearchNode team!