Startup Of The Week: Planner 5D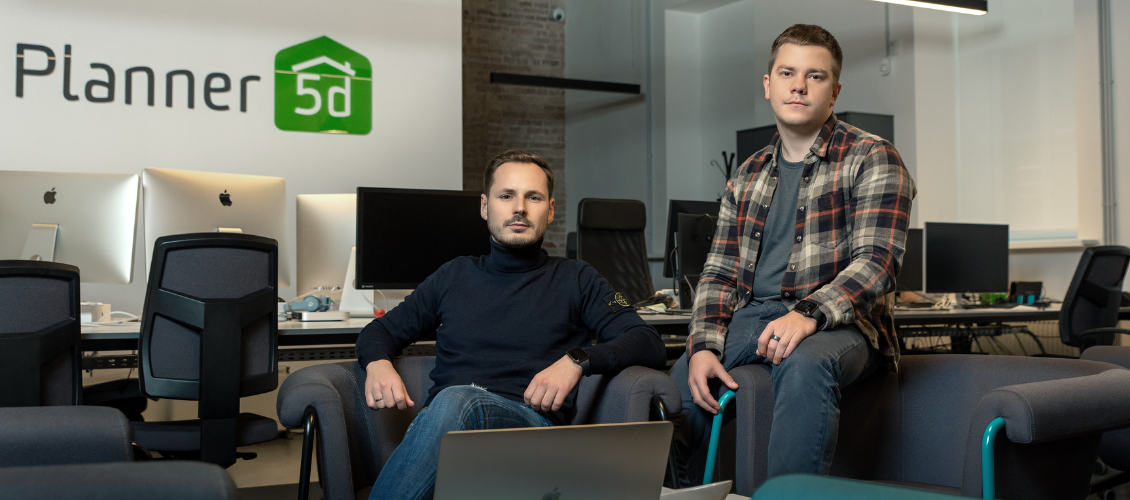 Meet this week's Startup of the Week – Lithuanian home-design startup called Planner 5D which is a user-friendly and effective app that helps you to create your own interior and landscape designs quickly and easily. 🏠 Read a great interview with Alexey Sheremetyev, Co-founder and Chief Product Officer of Planner 5D. ⤵️
Tell us about your startup. What is Planner 5D? And how does it work?
Planner 5D is a platform for home renovation where you can visualize your interior design ideas. We help people design their homes, specific rooms, or offices, get inspiring ideas, and automate their home renovation tasks.
Our platform is free to use with a set of premium features. You start by uploading your floor plan at https://planner5d.com and we create a digital copy of your home so that you can change it in any way you like. We use AI to suggest to users what to add to their plan, give ideas, and help to learn more about Interior Design in our School.
What are your competitive advantages that work? What are your competitors?
Today, Planner 5D helps more than 74 million users who have created over 160 million home designs. Planner 5D is available on all platforms including Web, iOS, macOS, Android, and Windows 10.
Our primary value is the ease of use – we focus on helping people to create their plans in a fast and easy way. Our catalog contains 6400+ decor items that you can add to any kind of project. We have a team of professional interior designers that are constantly adding new items and improving user experience in our editor. We also provide a lot of educational content so that our users know what to change, what the latest trends are and on top of that – study at our Design School to learn the basics of Interior Design and get a certificate.
I'd say we're the leading platform for interior design to compete with companies like Houzz that have gathered a large community of people interested in interior design and home improvement.
What were the reasons behind coming up with this idea and launching this product?
Back in 2010, I became a homeowner and realized there was not a single consumer-facing and easily-accessible tool on the market. Web technologies just reached a tipping point where such a product could run in the browser, making it instantly available on all platforms. We created the prototype and immediately found an audience interested in drafting designs for their own homes. In only six months after we started working on it full time, Planner 5D reached its first million users.
When exactly did you launch? What were the main challenges before launching?
Planner 5D was launched in September 2012 as a website.
We wanted Planner 5D to be a cross-platform tool that is easy to use for people with different skill sets. Another challenge was to make ready-to-use interior designs shareable and simple to embed on other websites, such as blog pages and social media.
Back then most venture capital investors didn't believe there was a significant growth potential for this product, because it seemed too niche-oriented. What actually happened is Planner 5D became the flagship solution for amateur designers, people interested in trying out different things and ideas for their own home. Ultimately, we found the right investors and the rest is history.
What are your target customers? Both in terms of user profile and geography? Do you have some already?
Planner 5D is largely used by amateur designers who are enthusiastic about their home improvements or redesign, but our platform is also used by professional interior designers. Our most passionate users take part in Design Battles, with almost 10,000 participants weekly. The Planner 5D user community counts 74 million people globally.
What are the biggest challenges while working on this product and how are you overcoming it?
We have an incredibly dedicated team at Planned 5D, and it helps us to overcome every challenge on the way. 
We're striving to build a seamless user experience for a large community of users. This implies technical excellence and strong cooperation between various teams. Another big challenge is to constantly experiment and build new features, always improve the product and keep it up-to-date with user demands and expectations.
The work of our R&D team enables us to introduce more AI-powered features to the platform.
Tell us more about funding. How did you get it? Do you seek extra funding?
Planner 5D raised $1.4M with the latest round in 2015. We've been profitable since then and focus on sustainable growth.
Please introduce your team!
There are currently more than 60 team members and no typical corporate hierarchies at Planner 5D. Our team works in 4 cross-sectional groups: Development, Product, Marketing & 3D Design. We're lucky to have a multicultural team with people from Lithuania, Israel, Spain, Russia, Belarus, and many other countries. A multicultural team helps to stretch our creativity 🙂 We have many open positions for iOS, Android, Full-stack, and JavaScript developers!
Planner 5D is now led by Andrey Ustyugov, who has been working together with the company for a long time and took the position of CEO in 2020. 
Strong startup culture isn't something that can be created overnight but it can be worked towards with some conscious moves. What are your moves towards this?
It all starts with recognition of the value each team member brings to the product. Our team is a fantastic group of individuals and we make sure to celebrate everyone's success and provide all support needed. We encourage cross-team collaboration and transparency in decision-making processes. Another important point is to have both ambitious and meaningful goals that are driving us. 
⭐️ Bonus question: what's next? Tell us about your future plans.
We are building a sophisticated interior design & home improvement platform, where people can learn, find inspiration and design their dream houses with just a few clicks (or taps on a mobile device!). Our mission is to create an environment, where users can find all the information they need in minutes, and connect to a community of like-minded enthusiasts. We are also planning to introduce more AI-powered features this year.  
Thank you for the answers, Alexey!
Find more interviews with promising Lithuanian startups here.