Startup Of The Week: myTU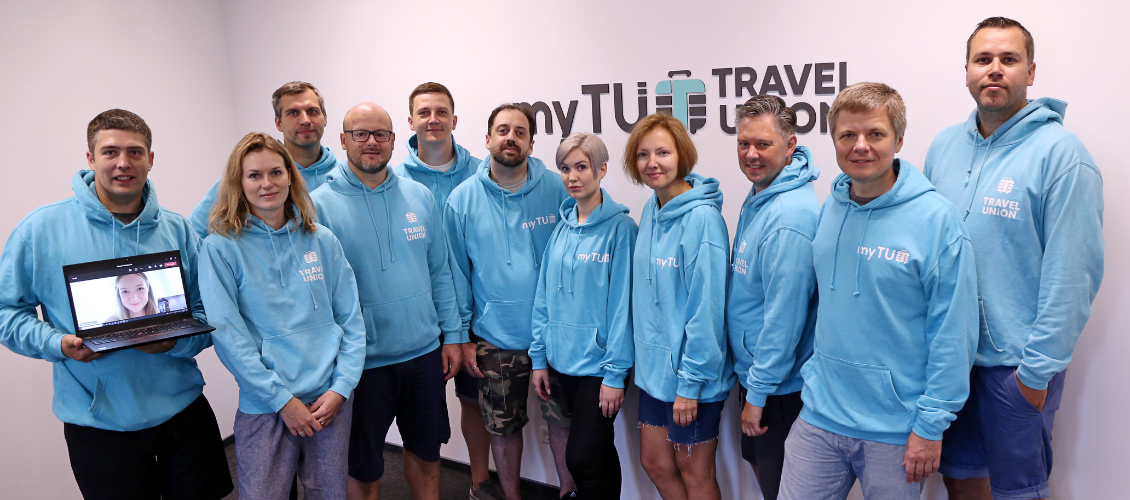 There are many great examples of startups that managed to rise during the pandemic. And this time we want to present one of them, a startup that managed to launch their business during the pandemic even though they are from the travel industry. To overcome this situation, they decided to adapt and change strategic direction by temporarily pausing the travel aspects. Take a look at our Startup Of The Week – myTU story and find out more!
Tell us about your startup. What is myTU? And how does it work?
myTU is a digital banking platform accessible via mobile app or website and providing a digital bank account, payments solution, and an innovative and rewarding loyalty programme.
myTU Mobile Banking is built for families with children, travelers, holidaymakers (www.myTU.lt), and myTU for Business is designed for all types of companies with a focus on those intersecting with the travel and hospitality industries https://mytu.co/for-business.html .
myTU Mobile Banking allows families to manage their finances on the go and for children to have their own accounts and be safely overseen by parents. For instance, we offer free IBAN accounts and payment cards for adults and kids starting from the age of 7 with full free access to all kid's personal bank account functionalities by both parents. Automated daily allowances, instant money transfers, ATM withdrawals up to 200 euros, and real-time monitoring of a child's financial activity are just a few of the free features offered to myTU users.
myTU also creates value for travelers by tapping into a network of tourism industry companies through #TIME, a loyalty rewards system. Consumers earn #TIME reward points for specified transactions and can convert points into cash or best deals from our partners.
Why do we focus on travel and hospitality you might ask? myTU is positioning itself to help revitalize the travel industry and help it recover after the Covid-19 collapse. With our hands-on and experienced angel investors, we know the inefficiencies and "pain points" of the industry very well and are able to address them through our payments and loyalty solutions.
What are your competitive advantages that work? Who are your competitors?
myTU's Mobile Banking starting point is a free, personal, digital bank account for private customers with access to a large package of free banking services for managing family budgets and tools for involving children in money management.
Of course, other digital banks exist, but myTU is being built to offer unique benefits to its account holders:
Our customers will become members of a community of travel enthusiasts with access to a universal loyalty network. They will benefit from unique discounts and promotions related to specific travel interests and spending habits. They are already able to gift and swap reward points with friends and family, convert them into cash (when a certain number of points is collected), and, for example, buy coffee in our partner coffee chains in Lithuania.
In terms of the business model, our key advantage is that we can significantly reduce banking costs for customers because myTU earns most of its revenue through its loyalty programme and earnings on transactions with partner merchants. myTU is able to pass on those savings to account holders and offer free and extremely low-cost financial services.
From the point of view of technology, our biggest advantage is an independently developed and running core-banking system. It allows us to adapt existing ones and create new products in an extremely short time.
Additionally, myTU's own payment system technology and engaged customer base provide travel industry companies with a market and method of accepting payments from customers, including the most modern and secure technology, such as payments using a QR code.
What were the reasons behind coming up with this idea and launching this product?
The initial idea was to become a payment and loyalty partner for companies working in the travel and hospitality industries – hotels, tourism agencies, duty-free shops, and other companies.
As a payments platform, we are able to provide a competitive payments solution to solve the problem of sophisticated and expensive settlements that plague the tourism industry. And as a loyalty programme provider, we can bring together multiple travel businesses and give them an effective and flexible tool for interacting with customers, some kind of a loyalty currency. This provides significant distribution channel cost savings and cross-marketing opportunities.
In this way, we plan to offer very attractive discounts to our private customers who will be able to pay for travel and tourism sector services with their loyalty points.
Despite our focus on the tourism sector, we are open to all small and medium European businesses looking for low banking fees and commissions and fast settlement as well as the benefits of #TIME loyalty programme membership.
When exactly did you launch, what were the main challenges before launching?
We received our Electronic Money Institution (EMI) license in June 2020 and launched our myTU mobile banking app in September 2020. The biggest challenge for us was that the travel industry suffered a complete collapse last year due to the Covid-19 pandemic.
To overcome this, we decided to adapt and change strategic direction by temporarily pausing the travel aspects of our business and instead of going ahead with mobile banking solutions for private customers, with a particular focus on families and children's finance management. 
Even though the Covid-19 pandemic came at the worst possible time, just as we were getting ready to launch a travel-related banking app, we did not waste time, adapted to the new realities, and focused on improving our product.
During the pandemic, we received an EMI license and "passports" to use it throughout the European Economic Area (EEA), launched a mobile banking app, rolled out SEPA and SEPA instant payments, IBAN accounts, became Affiliate Member of Mastercard, and developed online banking services for corporate customers.
Today we are gradually returning to our initial plans. We have started this summer season by focusing on myTU for a Business package of financial services for business customers.
What are your target customers? Both in terms of user profile and geography? Do you have some already?
We have two categories of customers – business customers and private customers.
myTU for Business will soon be launched first in the Lithuanian market. Business customers include all types of businesses, including those within the travel and hospitality sectors. We have already started integrating with our first travel partner in the EU.
As for myTU mobile banking private customers, now, we have almost 8,000 account holders from 33 countries, and they are growing fast.
Our priority markets, besides Lithuania, are currently Poland, Germany, and Spain.
myTU is currently open to all EEA nationals and persons with a residence permit in these countries.
What are the biggest challenges while working on this product and how are you overcoming it?
We had to adapt our business to fit the realities of the Covid-19 pandemic by pausing the development of travel industry-related services and concentrating on conventional digital banking, focusing on maximising the quality of service for families with children.
However, we also had an unforeseen advantage. The lockdowns and travel restrictions greatly accelerated digital banking acceptance and adoption throughout Europe.
Tell us more about funding. How did you get it? Do you seek extra funding?
We are happy to have business angels who contribute their skills, expertise, and knowledge and share their network. So far, the company has received 2 million euros in funding from its angel investors.
We have recently started a seed round of financing for 6,5 million euros to reach our next milestones and have a commitment from our main shareholders for part of the funding. After this round of financing the company's post-money valuation is estimated at 18 million euros. 
Please introduce your team!
myTU's co-founder and CEO is Raman Korneu, a specialist in banking and finance with 20 years of experience in senior roles (CFO and Partner) at international finance companies and banks. He holds a business administration master's degree from the University of Cambridge.
We also have Tomas Navickas who is CTO and co-founder. He is an IT and technology professional who specialises in building and optimising financial technology solutions. Over the past 22 years, Tomas has planned and built large-scale systems, infrastructure, and fintech solutions for major banks and financial institutions.
During the pandemic, we focused on product development, receiving a license, and working with partners, so, our team was built to meet the needs of the company during this period. It now consists of 14 experts in IT, finance and banking, legal and compliance, and marketing, each having years of experience in their field. 
Our office is in Vilnius, and most of the team members are Lithuanians. However, there are team members working remotely in places like Poland, Italy, the Netherlands and the UK.
As the company develops, we look forward to also attracting sales professionals to build our partner network.

Strong startup culture isn't something that can be created overnight but it can be worked towards with some conscious moves. So what are your moves towards this?
Despite the fact that the launch of our product fell at the height of the pandemic, and we were forced to work remotely, our team has not changed much during this time. The main reason seems to be that team members have the same vision for our path and passion for what we ultimately want to achieve.  Everyone understands that their impact on the product is tremendous, and it brings a lot of satisfaction. We also have learned to work and communicate ideas efficiently remotely, and now this flexibility is more an advantage for a better quality of life.
After losing conversations over coffee, we decided that spending time together online could be even better. We started everyday team workouts in CrossFit style that anyone can join.  So now our team is in the best shape and mood. We even have the idea to start organizing the annual CrossFit games event for all fintech companies and bring together representatives of the field for a different but fun activity.
Bonus question: what's next? Tell us about your future plans.
We are cautiously optimistic about the future of the travel industry and see signs of a recovery for the tourism market.
The way we see this situation is that with every major crisis come major opportunities.
Post-Covid-19, the travel and hospitality sectors as well as many other industries will look very different – including increased use of online sales promotions and increased average costs of implementing tourist services due to health and security measures companies will have to take.
Our business model and the ability to offer discounts within the loyalty program is in line with this trend.
We will continue to integrate with our travel partners in order to meet customer needs quickly and efficiently during a period of intense travel industry recovery and growth, when it eventually comes, and to make myTU mobile banking the best choice for travelers.
In the meantime, our digital banking app fits all the needs of a bank-in-your-pocket generation, while we are forced to ride out the pandemic. Not to brag, we consider myTU banking one of the best-integrated solutions in the market for families, with an excellent package of functionalities for children's financial education.
Thanks for such a great interview, myTU team!