Startup Of The Week: Litilit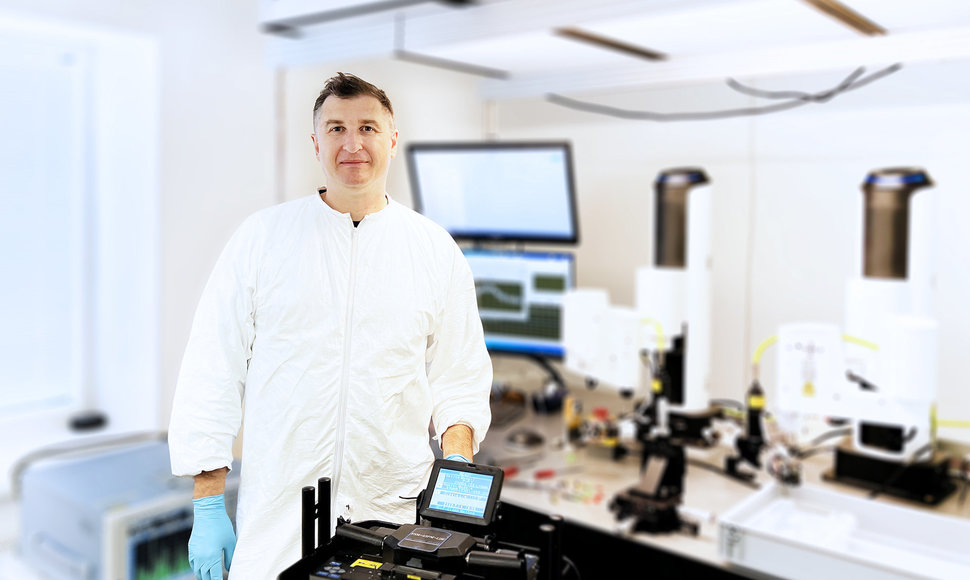 Litilit is an industrial femtosecond laser start-up based in Lithuania. Their mission is to advance industries through innovative, reliable and affordable femtosecond lasers. Litilit developed ultrafast laser technology, which is based on a patented laser pulse generator. It enables the startup to achieve telecom-standard reliability, manufacturing scalability, and a competitive price. Furthermore, Litilit prides outside on their lasers requiring no maintenance, and being robust to external disturbances.
Tell us about your startup. How does it work?
At Litilit, we focus on femtosecond systems for semiconductor manufacturing, ophthalmology, battery production, scientific research, etc. Today's lasers are (un)famous for being costly, overly complex and of poor reliability, and we're on a mission to fix all of that.
Our patented technology brings high optical rigidity, unparalleled thermal performance and cost reductions resulting in highly reliable products with lower TCO.
What are your competitive advantages that work? What are your competitors?
Our technology is based on protected IP which enables a paradigm shift in how femtosecond lasers are manufactured and also how they operate. This technology differs from all competitors in the market and gives us a huge competitive advantage through scalability, cost and reliability.
What were the reasons behind coming up with this idea and launching this product?
Femtosecond laser is an enabling tool for many industrial, medical and research applications. Despite this, adoption is still low, limited by key factors: high acquisition cost, poor reliability and integration complexity. One of the founders Kestutis Regelskis together with the Center for Physical science and Technology created and patented fundamental solution to produce ultrashort light pulses lasers up to a hundred times more efficiently than it was possible before.
When exactly did you launch, what were the main challenges before launching?
Litilit incorporated in 2015 when Kestutis and Nikolajus started working on pulse generator technology. From the first research to production of the advanced prototypes, the company has focused on the development of femtosecond laser technology, and most importantly, on the applicability of this technology to automated serial production. For this purpose, a highly competent and experienced team was assembled, which developed the product from mechanics to software.
What are your target customers? Both in terms of user profile and geography? Do you have some already
Litilit focus on different application fields: Materials microprocessing, Semiconductor and electronics, Ophthalmology, Display manufacturing, Nonlinear microscopy, Battery manufacturing. The customers are worldwide: Europe Middle East, Asia, North America. Currently, the company is actively working with customers whose demand in the next couple of years is hundreds of femtosecond lasers, and their estimated value is tens of millions of euros.
What are the biggest challenges while working on this product and how are you overcoming it?
With the internationally patented innovation, we have produced 3 laser models in 2 years that meet all industrial needs, although normally the development process of femtosecond lasers takes about 10 or even more years and is not always successful. We knew exactly what kind of product we wanted to create, and the technological superiority of the invention and highly qualified team helped.
Tell us more about funding. How did you get it? Do you seek extra funding?
We've raised €1.6M Seed round in Dec 2019. Since then we worked for Series A. We participated at the Taiwania Capital presentation organized by Inovaciju agentura (big thanks to it for initiative and cooperation) and started negotiations since then. We plan to have some follow investment and are already working on for other round.
Please introduce your team!
Litilit is proud of the team of 24 professionals, 8 of which are PhD:
Nick Gavril, CEO & Co-founder A team leader with 15+ year track record in fiber optic component engineering, sales, biz dev.
Nerijus Rusteika, CTO & Co-founderDistinguished engineer, past 10 years spent building state of the art lasers. Holds PhD in Physics.
Jaroslav Kodz, Head of Sales & Co-founder, 17-year track record in laser engineering, product management and sales.
Kestas Regelskis, CSO & Co-founder, Physicist with 20-year research experience, author of 15 patents and 30 scientific publications.
Jevgenij Charmalov, Head of Electronic Engineering at LITILIT, Experienced in design and development of optical devices. PhD in Philosophy.
Laurynas Veselis, Head of Optical Design, Experienced engineer, focusing on free space laser modelling, design and testing.
Strong startup culture isn't something that can be created overnight but it can be worked towards with some conscious moves. What are your moves towards this?
Since femtosecond lasers have so far been a niche product, most other market players have not seen the point of investing in their development. In addition, classical technological solutions basically limit what result can be achieved even after investing huge resources. We decided not to focus on short-term profits and the result of this approach is quite obvious.
For example, a typical company operating in this market produces about 1-2 lasers per employee per year. That means in order to produce 1 thousand lasers per year, it is necessary to have about 500 employees. Our technology will allow us to produce this amount of lasers with 50 people. Since the production process will be automated, the main task of the employees will be to look after the robots and, of course, create new products – robots are still weak in this area.
Bonus question: what's next? Tell us about your future plans.
Litilit will use the investment to increase production efficiency and next year plans to launch a new, semi-automated production line that will produce two femtosecond lasers per day.
Thanks for sharing your story!