Startup Of The Week: GENOME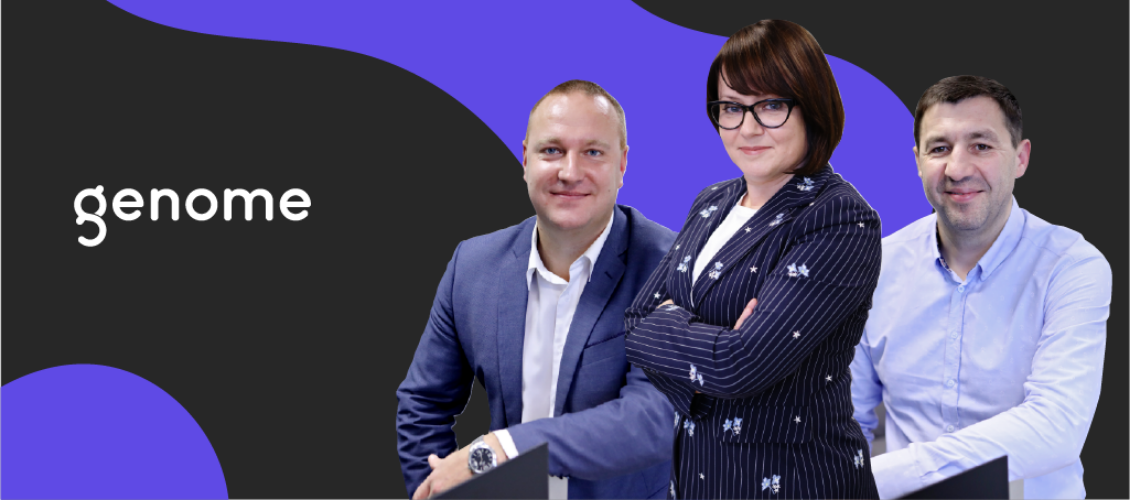 Lithuania has the title of Europe's Fintech hub for a reason. Here in Lithuania, we have plenty of great fintech startups. That's why this time we want to introduce you to one of them, our Startup Of The Week – Genome. It is a complete payments platform engineered for online businesses in Europe and worldwide that enables fast, easy, low cost, and secure payments from anywhere to anyone. In this interview, Genome team reveals more about the challenges while developing a startup and what are their main goals.
Tell us about your startup. What is Genome? And how does it work?
Genome is a Lithuanian EMI Licensed under the UAB Maneuver trademark. It is a financial ecosystem that allows business owners to cover all necessary financial services like opening a merchant account, IBAN, using a Genome application to manage your finances from a smartphone. Furthermore, Genome provides basic services such as money transfers and currency exchange. Genome is one of the first fintech companies in the Baltics to receive the VISA issuing license. We have embodied an idea to combine individual, and business approaches in one ecosystem. Genome has started as a fintech solution for businesses. But in two years, Genome has made a remarkable leap in transaction numbers, in its client base, and now we are on the edge of the new era.
What are your competitive advantages that work? What are your competitors?
The competition is tough on the market; there are 200 fintech companies in Lithuania, not talking about the quantity in Europe. We are building a sustainable business without the necessity to burn inventors' money. Genome is a combination of leading payment service providers. Yes, there are strong players in the market, but we develop the most essential services business and personal users need and provide them from one place – on our easy-to-use dashboard. Financial services have been on the market for a long time already, so we are not a new player offering something disruptive. Our focus was on making fast and convenient services for our clients and how to onboard business owners quickly to move forward with their business development instead of wasting time on the paperwork in the bank.
What were the reasons behind coming up with this idea and launching this product?
Behind each idea, there are people. With Genome, we have great fintech experts like Artem Tymoshenko, Daumantas Barauskas, with broad experience in the business area, particularly business owners who are aware of the specific needs of entrepreneurs. On the one hand, they understood the market's potential, and on the other, they realized the actual needs of business owners. That's how Genome was created, from a simple idea to breaking barriers between entrepreneurs and financial services that are essential for running a business. With traditional banks, you need up to 30 days to open a merchant account; it could be less than 72 hours with Genome.
When exactly did you launch, what were the main challenges before launching?
Genome started operating in 2018; the main challenges were to build the platform itself. Our team thought a lot about services the clients will need, and how to make them "different" in a good way. Also, regulatory challenges take a lot of effort too. Each new launch of the service is a complex thing. We are talking about people's money. Money is one of the most sensitive topics globally, so you are not allowed to make any mistakes in this industry. Each service has to be worked on to the smallest detail, including selecting the right partners, technical perspectives, and user experience.
What are your target customers? Both in terms of user profile and geography? Do you have some already?
It is a business owner, who runs his business not just physically like having a couple of stores, but also has an online selling channel. However, we can also segment our clients' service by service. For example, if talking about currency exchange services or international transfers – it's countries where the euro is not a national currency. For e-commerce – it's countries where credit card payments are the most used payment method. With Visa cards and a combination of our Genome app – we reach the whole of Europe and cover daily financial needs for not just businesses but also individuals. All those seeking payment processing, opening business and merchant accounts to pay salaries, making payouts to their partners, processing credit cards, and making money transfers.
What are the biggest challenges while working on this product and how are you overcoming it?
The world moves and changes quickly, so there are always new challenges each company has to face. For as it is staying compliant with regulation. Keeping up with the company's growth. Introducing services at a pace that clients require or even sooner – so basically not to become sluggish as a bank. But everything is possible, as a great team of professionals can overcome all the issues.
Tell us more about funding. How did you get it? Do you seek extra funding?
We are feeling financially strong now. However, this is just the start of the business. Development of new products/services, entering new markets is in our plans, so there might be such considerations in the future.
Please introduce your team!
Artem Tymoshenko, CEO of Genome, is a fintech expert in international acquiring, payment systems, processing systems, e-money, risk management, network & system security, digital self-service, and e-billing.
Dalia Garbuzienė is the CFO of Genome. Mrs. Garbuzienė has long-time experience in financial services and investment management and has served in several key positions in the Northern Horizon Capital group.
Daumantas Barauskas – COO of Genome, has over 20 years of expertise in financial services for leading companies in the industry.
Pavel Lysko is head of AML at Genome, Compliance, Board Member in Genome has a Master's degree at Lithuanian university of law. Mr. Lysko has ten years of experience in Cybercrime investigations and six years of experience managing AML, with deep expertise in banking fraud prevention.
Strong startup culture isn't something that can be created overnight but it can be worked towards with some conscious moves. So what are your moves towards this?
People are the core of the company's success. Thus we pay attention and scale up their professionalism with training, educational series. At Genome, we value and listen to their mindset, approach to solving problems, understanding of the fintech industry overall, and needs in daily financial services." We motivate them and encourage our team to do the same towards each other. We try to exchange information as fast as possible to react to any problems if they arise instantly. Our team constantly moves forward, and each member isn't afraid to suggest any ideas, improvements, etc. We believe these are the main points that drive startups – understanding that we are a team and that each task is essential to the company and the end-user—being aware and responsible for what you do.
Bonus question: what's next? Tell us about your future plans.
Genome is on its way to introduce Debit cards that will be available for business and personal clients. For example, if you have an account at Genome, a debit card will be helpful to operate your money more smoothly by withdrawing cash, paying in a store, etc. But financial services are not defined just as an IBAN account and card or merchant account that you can order already from Genome. There is an excellent selection of them towards our core services, and it's just a matter of prioritization which will be developed first. We are just getting started and promise not to stop growing to become a reliable helper for businesses and individuals.
Thanks a lot for the interview, Genome, it was a pleasure!