Startup Of The Week: Fullreach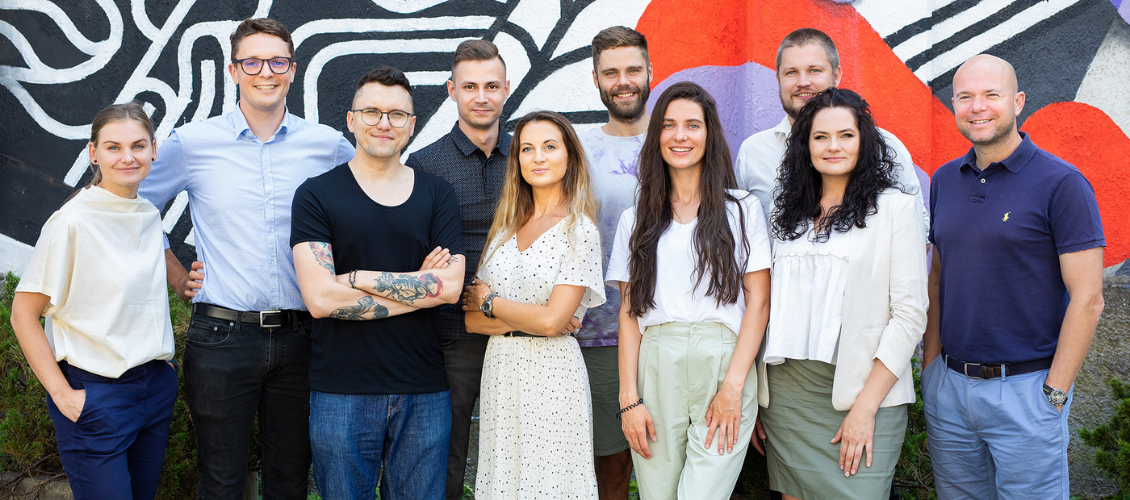 Have you heard about the Lithuanian startup which uses data and creativity to help brands start meaningful conversations and gain new customers and works primarily with US-based Fintech and Insurtech startups? Yes, we are talking about a Lithuanian startup called Fullreach!
This week they became our Startup Of The Week, let's read their story:
Tell us about your startup. What is Fullreach? And how does it work?
We aim to provide companies with customer acquisition and retention solutions that would allow them to cut their marketing expenses and drive their customer acquisition costs (CAC) down significantly. Our solution is all about enabling customer-centric decision making which would allow businesses to make timely and efficient decisions. We help companies with affiliate and referral programs, drip (email) marketing campaigns, product validation, and many more. At the center of everything will be our Customer Data Platform (CDP). This software solution will allow us to create a unified customer database that is accessible to other insight and engagement systems like CRM, DMP, web forms, social media, e-commerce solutions, and many more.
What are your competitive advantages that work? What are your competitors?
We have a single groundbreaking idea that we feel has the potential to change the customer acquisition and retention landscape, but it's far too early for us to share exactly what that is yet. What we can say is that we have a long-term plan, and we understand how each step will help us to build an overall solution, whilst at the same time benefiting our existing customers as we go. In terms of competitors, our closest at the moment would be Blueconic, Segment, and a few others.
What were the reasons behind coming up with this idea and launching this product?
Our team has extensive experience in growing startups in Europe. During that time, we noticed that the ability to scale startups requires very different approaches to what companies usually do, or what we have seen other startups do. This led us to understand that we need to help other companies by creating solutions that would enable them to attract new customers and nurture existing customers at lower costs. Moreover, we see that the amount of money which is spent to attract customers is rather big and quite often inefficiently used. Therefore, we focused on creating tools and connecting other disruptive startups which would help businesses to run efficient person-based marketing (PBM) activities with lower customer acquisition costs. This is why we call Fullreach a PBM incubator.
When exactly did you launch, what were the main challenges before launching?
We started our operations at the beginning of this year. Our first major challenge was establishing companies in Vilnius and Delaware. Setting up companies always requires some effort and attention, especially when you are planning to operate primarily in the US. So, as you can imagine, this took some time. The next hurdle was gathering the right team, as your people are always the real key to your success.  We've doubled in size since the beginning of the summer and we are still searching for data engineers and conversion optimization and email automation experts with the same drive and ambition that we have. We see that finding good people is challenging across many industries, and for startups, this is exceptionally difficult.
What are your target customers? Both in terms of user profile and geography? Do you have some already?
Our target market is the US, and to start with we are aiming at working with scaling startups in the fintech and e-commerce sectors. So, either these companies are already operating in the US and looking for innovative ways to grow, or we take companies outside the US who are willing to enter this huge market. We have a couple of clients and we're working on a few new partnership deals which we hope we'll manage to close soon.
What are the biggest challenges while working on this product and how are you overcoming it?
I would say that the biggest challenge is that we have a very bold vision of creating a variety of solutions that, in its entirety, would revolutionize the way that online customer acquisition and retention are managed. We realize how bold this is, but having this idea is what drives us. And to make this a reality, we are implementing this mission in stages that are paired with the creation of smaller customer solutions that will combine in our finished product. This means that we have already onboarded clients, and will continue to do so, throughout the development process.  This is great for liquidity but means that we also have to deliver to our customers and listen to their needs. Of course, this is giving us amazing insights that we can build on but means that we need to be very careful with our resources at the same time.
Tell us more about funding. How did you get it? Do you seek extra funding?
We have already secured a €250,000 pre-seed financing round led by San Francisco Bay Area-based Launchpad Capital and with participation by Katalista Ventures.
At this given moment, we are not seeking additional funding, although as the appetite for growth is increasing so we may begin searching for additional funding in the near future.
Please introduce your team!
CEO Tadas Čekavičius previously led one of the first food delivery startups in the Baltics and helped to bring Bolt to Lithuania. He worked on several other projects and has a wide variety of valuable experiences under his belt.
The company's Chief Technology Officer, Mantas Urnieža, has 9 years of experience at one of the country's largest software powerhouses NFQ, where he helped build the technology behind such successful tech companies as Lemoncat and B2B Food Group.
CMO Algimantas Padegimas, having spent much of his career in the Banking and Alternative Finance sectors, brings to the table his know-how in growth and performance marketing for the Fintech industry.
Strong startup culture isn't something that can be created overnight but it can be worked towards with some conscious moves. So what are your moves towards this?
I'd say that our culture is based on the fact that we are approaching Fullreach from the position of people who have already "been around the block." We like to call ourselves a start-up for grownups and I think this is best represented by the fact that we give shares to all our employees so that ownership of your job is not only an idea but a concrete reality with us. We are also flexible when it comes to how people work and are happy to allow people to mix office and work from home. The only thing we expect is that the job gets done, and we will give you the trust to manage that as you see fit.
⭐️ Bonus question: what's next? Tell us about your future plans.
As mentioned before, we are working on several tools simultaneously that would be useful not only for businesses but for everyone. Although it is a bit too early to speak about them. We want to validate our ideas beforehand and then choose which should be given a go. It all comes down to the needs of consumers and solving their problems.
Loved the interview, thanks a lot for your story, Fullreach team!