Startup Of The Week: Foros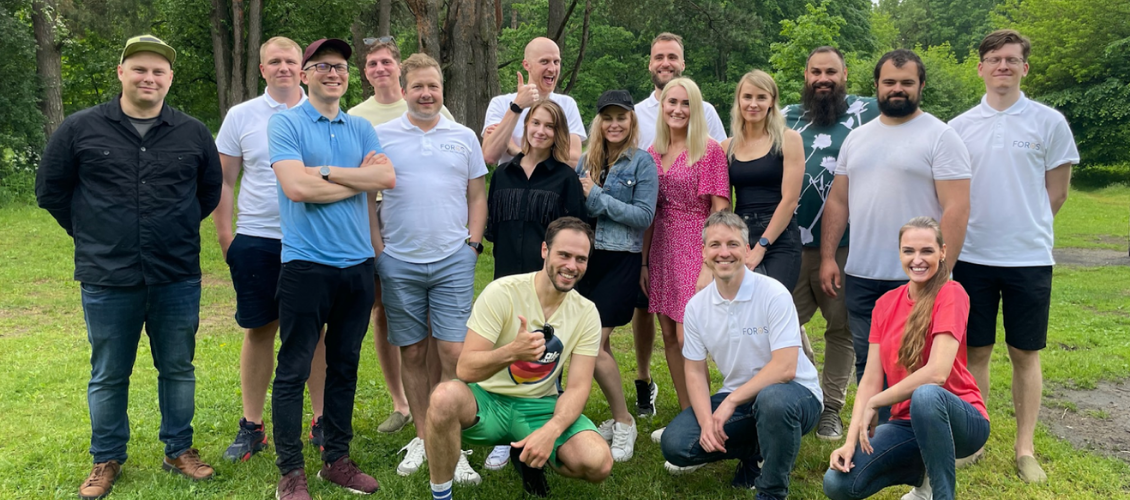 This week we want to present a Lithuanian startup called Foros. Foros is seeing a lot of growth in the forestry market. There's keen interest from companies that want to offset their CO2 emissions, interest from the wood industry, and from rewilding funds. Private individuals also want to support sustainable forest management. As the team of Foros says: forestry is a fairly complex industry. Simplification is at the core of our DNA. We are keeping our processes simple, and continuously simplifying our offerings and messages. Let's discover a startup Foros and read their story!
Tell us about your startup. What is Foros? And how does it work?
FOROS is a green investment platform where everyone can make a positive impact on the planet and also get a return on investment. This makes us a breakthrough innovation, and a meaningful step towards more sustainable investing.
Foros cuts through the complexity of regulatory requirements and brings together a wide range of forestry marketplace participants, latest technology and machinery, and sustainable forestry science – all in one place, and simplifies them to the extent that sustainable forest management and investments will become available within a few clicks of a button from your mobile device.
What are your competitive advantages that work? What are your competitors?
Foros' competitive advantages are deep industry knowledge, a strong team, and acting fast. Our competitors are various platforms that are doing similar things. They are mostly focused on one side of the industry.
What were the reasons behind coming up with this idea and launching this product?
We spotted a market opportunity to create forest management and investment platform that makes green investments simple and accessible to all.
Forest owners lack the time or motivation to find all the best offers in the marketplace and immerse themselves in sustainable forestry science.
Forest investors need a local backup – they lack knowledge about local regulations and have difficulties in finding a trusted local partner.
Forestry companies would love to have a place where they can find all the orders for forest management services.
When exactly did you launch, what were the main challenges before launching?
We launched in November 2017 as a forest auction house where we focused on facilitating forest land transactions. We found that an anonymous bidding process was the best way for our customers to get the best prices. We then realized that the sale of a forest is not always the best choice for the forest owner, and we also noticed that there are a lot of people interested to invest in forests but who don't know-how, therefore we expanded the scope of our offering and now one can not only buy and sell forests but also stay on our platform and manage the forest portfolio. This portfolio can be a combination of forests acquired on the platform and brought to the platform using only the country's official registry number. Our mission was always to disrupt the forestry market and bring it to the next level, making it operate in open market conditions.
What are your target customers? Both in terms of user profile and geography? Do you have some already?
Our target customers are forest owners, forest investors, and forestry companies. Geography-wise, we will establish our presence in Nordic Europe and then expand from there on. We plan to go global, making forest management and investments accessible wherever you are in the world. To date, we have successfully closed over €20 million in forest land deals and have received over 10 000 bids from platform participants.
What are the biggest challenges while working on this product and how are you overcoming it?
The forestry industry has its own specifics, terminology, and there is the whole forestry science. We are lucky to have industry experts on board who help us navigate through this field.
Some forest owners have become complacent about managing their forests. Abandoned forests grow very dense, so much so that forest visitors and forest animals can hardly set their foot in. No wonder that because of the lack of sunlight and competition among the trees, the timber productivity of those forests drops. We work with these perceptions by showing people how easy it is to take care of their forest using their mobile devices.
Tell us more about funding. How did you get it? Do you seek extra funding?
We have secured an investment from angel investors and VCs to continue developing the product and expand abroad. Investors were inspired by the team, the ambition to change the forestry industry, and the fact that we have validated the idea in the local market.
Please introduce your team!
We are 17 people now and will grow to 48 in the next 12 months.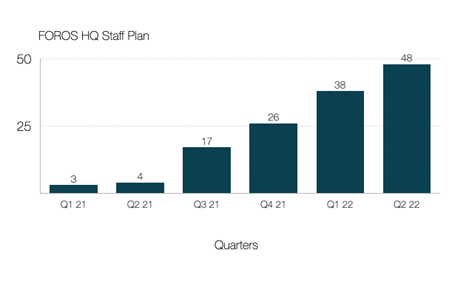 Meet our management team:
Justas Kaveckas, CEO. Justas is the visionary in the company and the engine for ideas. He draws up the big vision and empowers us to make it happen. Justas favors a leadership style where teams work together to find answers, shortcutting the long-winded process. He is a fan of reading – reads around 60 books per year, and encourages all to do the same, which might also give another meaning to his title – Chief Education Officer.
Tadas Palaima, Chief Sales Officer. Tadas is our performance ninja. He is the one person in the company who makes sure that any loose ends are held tightly together and that we can perform great both as individuals and together as a team. Tadas is a quick wit, spinning out reflections, thoughts, and actions we need to take at near-light speed. He gets on projects to make them happen faster and you wonder, sometimes, if Tadas has a solution before you formulate the problem. After work, he might do kickbox or take a bike for a ride – but family always comes first.
Rafal Chudy, Chief Forestry Officer. He has a Ph.D. in Forest Economics and worked with forestry and forest economics for over 11 years, on 3 different continents. Together with his wife, Rafal organizes a successful bi-annual international forest business conference IFBC. He strives to make Foros a global leader in forest asset management and wood trade. We can do this by reducing all kinds of transaction costs and making forest investments and management transparent. This will also help to tackle biodiversity loss and climate change. Rafal's true passions, without any doubt, are forestry and forests. He talks about it quite a lot, to that extent that his daughter's first word was actually "szyszka" (pine cone in Polish). Rafal loves to travel and meet inspiring people. In his free time, he is addicted to running, cycling, hiking, and any other form of physical activity. His motto is "Change is my engine".
Neringa Rimšelienė, CMO. Neringa is the conceptualizer for our brand DNA – the integrity of how we speak, think and act. Neringa believes that work-life balance is essential to how we can unlock our true potential. She wants to see the company as a place where everyone feels home and where we listen to our employees and customers to make sure that they are included and involved in how Foros operates and delivers on its mission. When Neringa is passionate about something she goes for the win – this is how she became 4-times national billiard champion. To her, to be passionate is to be an authentic true self. Her motto is "every mission is possible".
Audrius Jotauta, Chief Product Officer. Audrius is our user advocate. He starts his day early, welcoming everyone on arrival. To him, being the early bird is not only a ritual, it's a mindset. In his role Audrius bridges the gap between business and technology, making sure they can communicate effectively with each other and create the most value for our users and the company. Audrius has a range of interests: he is an avid reader, he's played a role in an independent film, participated in mountain biking tournaments, and loves to relax and meditate on his thoughts whilst fishing in nature. Audrius is passionate about people and will go to great lengths to make sure they have everything they need, so they can deliver their best. His motto is taken from a song lyric: "All is hardcore when made with love." He and his wife would go on a trip to the Nordics at any time – they are big fans.
Danielius Visockas, CTO. Danielius is a burger geek who happens to also be extremely great at prototyping software and hardware products. Among his favorite projects are DIY sous-vide, burger robot, baumkuchen making device, vibrating vest for the blind/deaf, AI for dating, and a real estate price evaluator. Danielius believes that food connects people. He is also passionate about economics and neuroscience. In his free time, he goes camping in the wild. Fun fact: Danielius makes probably the smallest baumkuchens in the world.
Eimantas Matulaitis, Head of Partnerships. Eimantas is a concept developer and communicator. Most recently he's been working on an eco-village project in Denmark. Eimantas has joined Foros to change the forestry industry from the inside, to make it understandable and accessible to everyone. He wants to help kickstart sustainable forestry operations where economic, environmental, and social interests are aligned and expand them worldwide to create one of the most unique, successful, and fascinating entrepreneurial stories. He loves hiking in nature, cycling long distances, and swimming on wild beaches.
Strong startup culture isn't something that can be created overnight but it can be worked towards with some conscious moves. So what are your moves towards this?
Our culture is user-centricity and moving fast and experimenting with concepts and ideas to find the right answer for the user. We also got rid of the top-down hierarchical structure and instead implemented a circular, cross-functional structure, where teams are encouraged to work with each other and source for answers in data, instead of stereotypes and presumptions. We also want to make sure that our employees are happy and included in impacting how our company operates.
Forestry is a fairly complex industry. Simplification is at the core of our DNA. We are keeping our processes simple, and continuously simplifying our offerings and messages.
Bonus question: what's next? Tell us about your future plans.
We are soon entering Estonia and Finland and are looking for dedicated Country Managers. On this journey, we are interested in partnering with the world's biggest brands and most known organizations on sustainability, climate, carbon impact, green finance, and of course forestry projects. Our future plan is to become the Nasdaq for real assets.
Thanks for sharing your story, it is very interesting and inspiring, Foros!