Startup Of The Week: CAST AI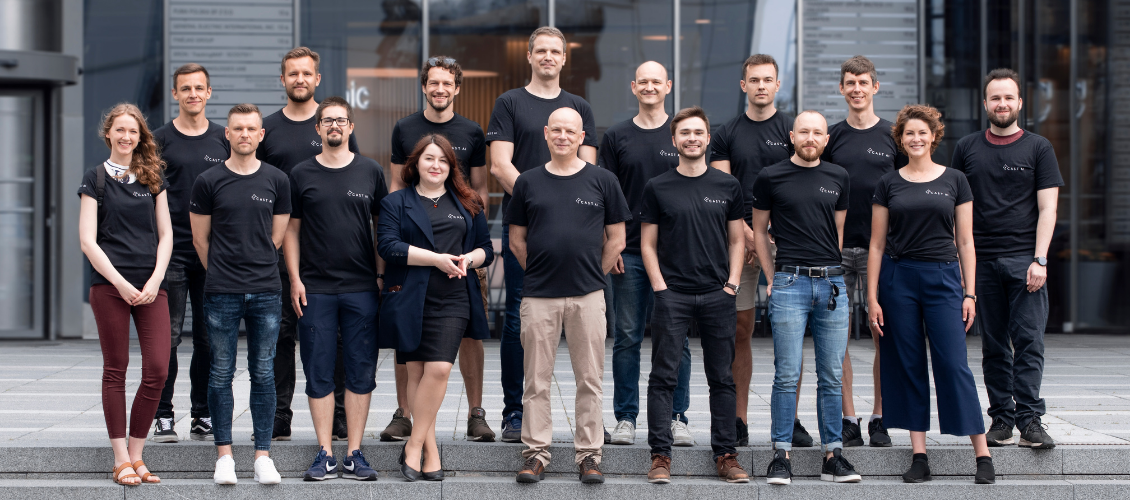 Multi-cloud platform? That might sound like a really difficult spell! 
Start with one or multiple clouds and CAST AI will create one cluster spanning them all. With auto-scaling, key metrics dashboard, and management in vanilla Kubernetes out of the box. This week we present you our Startup Of The Week – CAST AI and the most interesting details about this startup.
Tell us about your startup. What is CAST AI? And how does it work?
CAST AI is a multi-cloud company that helps teams all over the world to run their applications anywhere in public clouds like AWS, Google, Azure, Digital Ocean, or Oracle, avoid any vendor lock-in ever, and benefit from best-of-class features from popular clouds on a single setup. And tt will also reduce their cloud compute cost by at least 50%.
We believe that developers should be able to focus on building amazing products, instead of worrying about their cloud infrastructure. We make the infrastructure fully autonomous, with built-in cost optimization, built-in AiOps, and build-in resiliency to cloud failure.
What are your competitive advantages that work? What are your competitors?
We are creating a platform that allows developers to deploy and manage multiple clouds at the same time and ensure business continuity in the event of cloud outages. Also, CAST AI offers the right policies to run your cloud resources with built-in cost optimization.
We're the only company out there that offers a solution for running autonomously a single Kubernetes cluster across multiple clouds. It takes only 10 minutes to create a multi-cloud cluster using Kubernetes.
What were the reasons behind coming up with this idea and launching this product?
The idea for CAST AI came from our co-founders, Leon Kuperman, Laurent Gil, and Yuri Frayman, while they were working together at another company called Zenedge, also based in Lithuania. Zenedge was focused on cybersecurity and was acquired by Oracle in 2018.
When Zenedge started to use AWS services, the cloud bill amounted to a couple of thousands of dollars per month. Three years later, it quickly grew to more than 150k dollars monthly. It became the second biggest expense of the company. Our founders tried to reduce their cloud bill by implementing various technical changes, but they realized that controlling costs while meeting resiliency and security demands was really really hard, in fact, impossible to solve manually. And that's how the idea for CAST AI was born.
When exactly did you launch, what were the main challenges before launching?
CAST AI was established in 2019 and we're currently in the product development phase. The main challenge so far is figuring out how to enable developers to create a multi-cloud cluster connecting AWS, Azure, and Google Cloud Platform in 10 minutes.
What are your target customers? Both in terms of user profile and geography? Do you have some already?
We invite all developers who run their cloud apps to try our platform. We want to make multi-cloud reality and help our customers to optimize cloud resources across multi-cloud setups without any hassle.
CAST AI could save enterprises hundreds of thousands and even millions of dollars per year on their cloud bills. But we're also here for smaller companies and startups, helping them to avoid vendor lock-in, get back the negotiating power with cloud giants, and start their journey in the cloud easily. CAST AI eliminates a massive amount of non-essential daily work for managing cloud resources. We believe that companies around the world deserve to get their time back and drive innovation instead of worrying about their cloud setups.
What are the biggest challenges while working on this product and how are you overcoming it?
The biggest challenge is working within a complex and demanding technology area, but after many days of hard work, we finally made it. Another challenge was finding the right people for the job. Our Head of HR reached out to and interviewed over 600 developers to choose the 20 best candidates.
Tell us more about funding. How did you get it? Do you seek extra funding?
We closed our seed round in June 2020 with $7.7 million of funding from TA Ventures, DNX, Florida Funders, and other angels to help bring our idea to life.
Please introduce your team!
Yuri Frayman is a serial entrepreneur and the CEO of CAST AI, Yuri has built 5 successful ventures, earning more than $750 million in successful exits for investors. Today, he makes sure that CAST AI grows in the right direction every single day.
Leon Kuperman is co-founder and CTO at CAST AI. Formerly Vice President of Security Products OCI at Oracle, Leon has 20+ years of experience spanning across companies such as IBM, Truition, and HostedPCI. He founded and served as the CTO of Zenedge, acquired by Oracle in 2018.
Laurent Gil is co-founder and CPO at CAST AI, Laurent is responsible for product and business development. He was co-founder and Chief Product and Business Officer at Zenedge, acquired by Oracle in 2018. Laurent was also CEO and co-founder of Viewdle, acquired by Google in 2012.
Vilius Žukauskas is a serial entrepreneur, Director of Operations at CAST AI. During the last 20+ years of experience building startups from  the ground up to the word class companies. Together with partners created a lot of working places for Lithuanian people not only in Lithuania but also in California, USA.
Augustinas Stirbis is the Director of Engineering at CAST AI. He has 10+ years of experience in building private and hybrid clouds at the world's largest banking institutions.
Viktorija Pajarskė is the Director of Marketing at CAST AI.  Bringing 10+ years of experience in marketing and communications for technology brands and startups, Viktorija prior was Head of Marketing Partnerships at the world's leading consumer privacy company ProtonMail. During her career, Viktorija has worked across different industries including fintech, cybersecurity, gaming.
Austėja Žymantaitė is the Head of HR at CAST AI responsible for building and implementing strategies and infrastructure for growing, engaging, and retaining top talent for the company. Austeja is deeply committed to fostering company culture, building highly effective teams, and promoting diversity and inclusion.
Anrenas Karvelis is Director of Finance at CAST AI. He has more than 15 years of experience in senior positions, in both start-up and corporate environments. He is a chartered certified account (ACCA) and holds an LLM degree in business law.
Strong startup culture isn't something that can be created overnight but it can be worked towards with some conscious moves. So what are your moves towards this?
Our culture helps us thrive and overcome challenges, no matter how hard they look at first. We encourage each and every team member to take full ownership, focus on key priorities, make use of their expertise, and – most importantly – keep an open mind. We work really hard, but there's no other way to achieve what we want. After all, we're here to innovate a $500 billion industry dominated by the world's largest technology companies like Google, Microsoft, or Amazon.
Bonus question: what's next? Tell us about your future plans.
Our plan is to create the ultimate autonomous solution for managing multiple clouds. We continue to add more features helping to optimize cloud resources and include more cloud providers. Oracle and DigitalOcean are soon going to be available on CAST AI, meaning that our users will be able to create clusters across five different cloud services: AWS, Azure, Google Cloud, DigitalOcean, and Oracle – combining their benefits on s single setup.  
CAST AI, thanks for sharing your story!