Startup Fair opens: record number of participants and significant investment in startups expected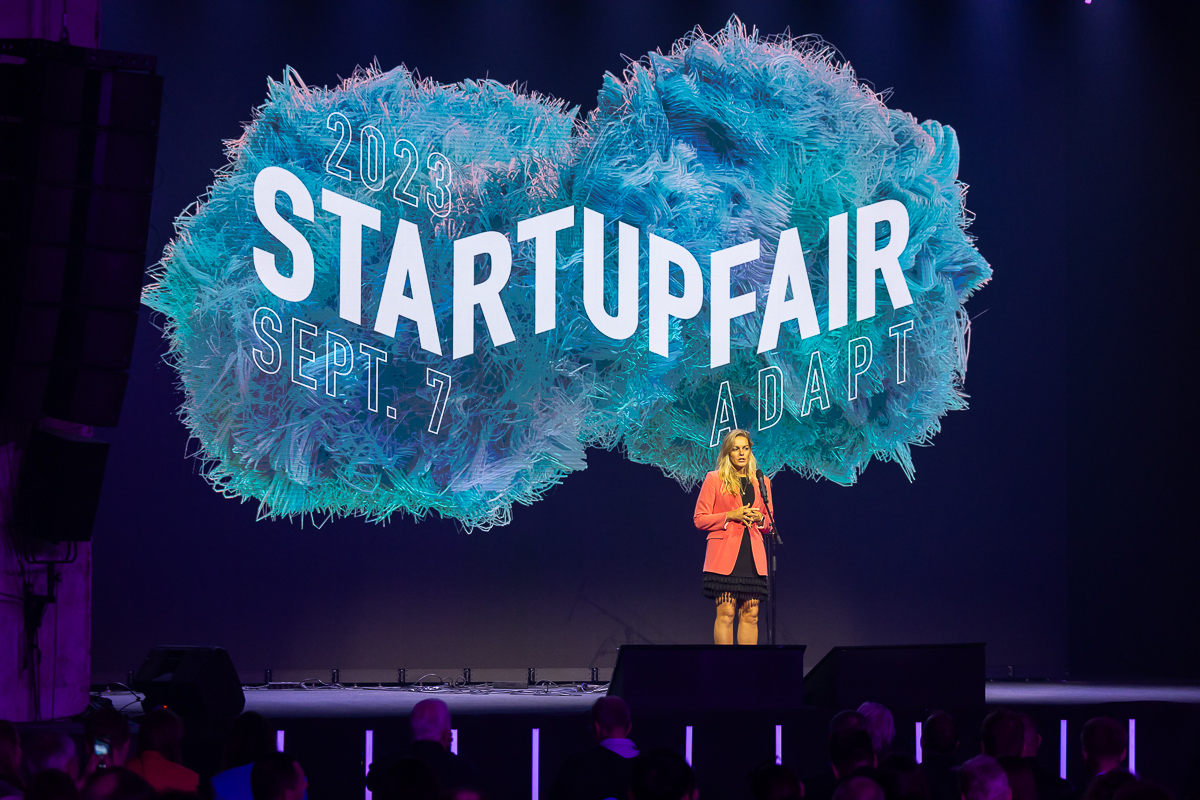 Today, the eleventh Startup Fair. Adapt 2023, an international startup event, kicked off in Vilnius. Here, investors and innovators meet live at the conference, make valuable connections and even agree on investments. This year's event is expected to attract a record number of participants, with over 3,000 reserved tickets and around 400 investors expected.
"This year Startup Fair invites you to adjust and to adapt. The world is shaken by major changes that affect each and every one of us, but the Lithuanian startup ecosystem is still one of the fastest growing in Central and Eastern Europe. Lithuanian startups are gaining importance and value in the country's economy as a whole – they are rapidly creating new jobs, growing and attracting significant investments," says Aušrinė Armonaitė, Minister of Economy and Innovation, opening the event.
As the Lithuanian startup ecosystem grows, Startup Fair is also gaining attention. More and more investors from different countries are coming here. They find the format of this event attractive, as they can get to know the entire Lithuanian startup ecosystem in one place.
"Some of the investors who come have already invested in Lithuanian startups and unicorns. For example, representatives of Burda Principal Investments and byFounders funds, like many, are returning to Lithuania looking for new opportunities and potential. We are glad that this year many new representatives of funds that have not invested in Lithuanian startups so far have also arrived," says Roberta Rudokienė, Head of Startup Lithuania at Innovation Agency Lithuania.
According to her, this year Startup Fair. Adapt 2023 is being attended by investors from the USA, the Czech Republic, the UK, Germany, Denmark, Latvia, Sweden, Slovakia, Finland, Austria and other countries. It is a great opportunity for Lithuanian startups to present their innovative ideas and new projects.
Success stories and expert advice
Startup Fair. Adapt 2023 conference presents the most relevant topics for startups: market changes and trends, the most promising business areas and investors' expectations, with startup creators sharing their experiences, lessons learned and insights. In total, around 60 speakers from the USA, the Netherlands, the UK and other countries are giving presentations and participating in discussions.
"Today, we have a number of well-known experts and speakers at the conference: the ups and downs of the technology cycle in Silicon Valley are presented by Rick Rasmussen, an investor from the US. The participants can also hear the presentation of Maurice Beckand Verwee, one of the most important players in the field of startup investment from the Netherlands, about artificial intelligence and get advice on how businesses should proceed to survive in a competitive landscape. We devote a lot of time to discussions, so we believe that every participant will take something useful away from the event," – says Roberta Rudokienė.
For those who are unable to attend the event, the conference can be watched online: https://bit.ly/3sALdCQ
Meeting space and the battle for the title of best
To help startups make new contacts and attract investment, this year's event has a dedicated meeting space for startups and investors, and a dedicated app to make it easier for them to find each other. Investors can indicate the amount and sector they wish to invest in, while startups can submit their business descriptions and the amount of investment they are looking for. From there, the startup can meet the investor in a dedicated meeting space or chat online.
The event also hosts the Pitch Battle competition, which has become a tradition, where 40 selected startups pitch their ideas to the public and investors throughout the day. The on-stage presentations help to attract media attention, establish valuable partnerships and, most importantly, participants compete for the prize fund, which this year has grown to almost EUR 400,000.
Pitch Battle stage live stream: https://bit.ly/3EzzBCJ
Last year's Pitch Battle winner was Whelp, a startup based in Azerbaijan and now operating in Lithuania, which is developing a customer service platform based on artificial intelligence.
About the event
Startup Fair is the largest startup event in the Baltic States, organised by Startup Lithuania, the startup ecosystem development unit of the Innovation Agency Lithuania since 2013. The event attracts more than 1,500 participants, hundreds of investors and startups from more than 25 countries around the world.
The event Startup Fair. Adapt 2023 is taking place this year in Vilnius, in the space Hook + Culture.