Startup Fair. Connect 2022 – hundreds of opportunities to get your dream investment and a fierce battle for the title of the best startup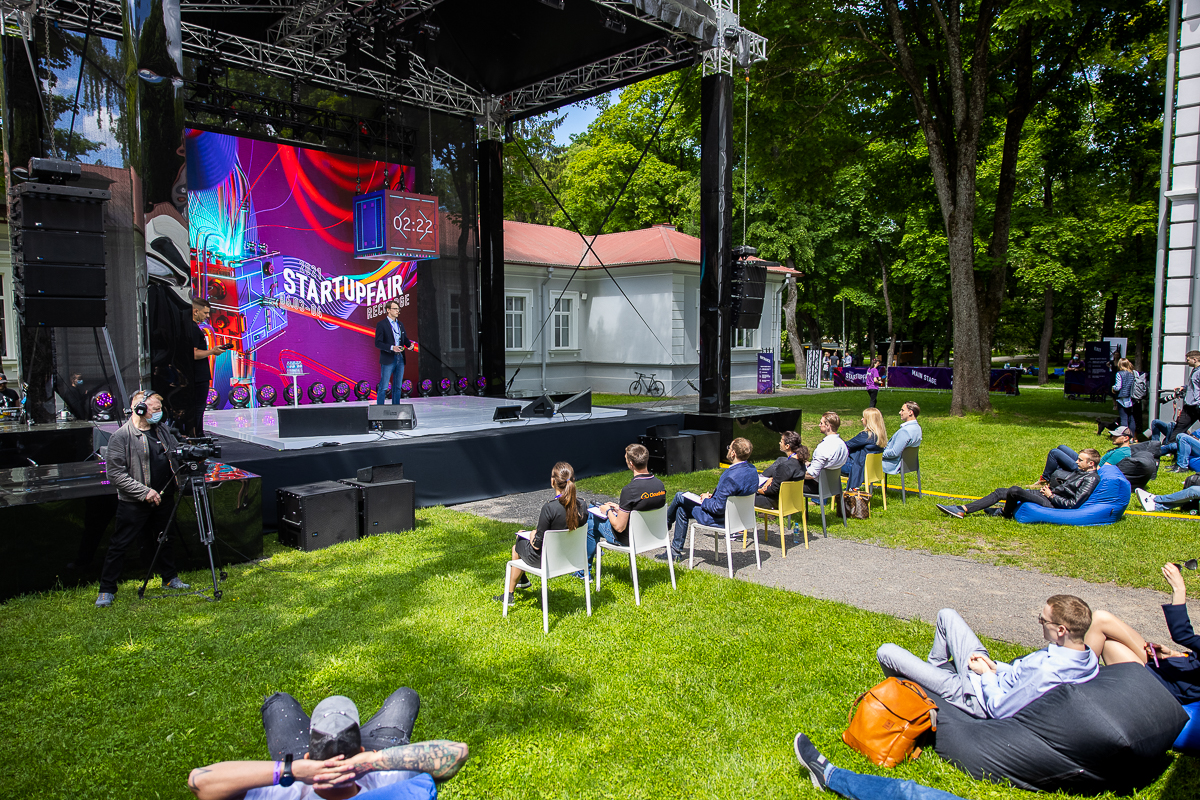 Startup Fair, the largest international event of the startup ecosystem in Lithuania, organised for the tenth time, returns with a bang today, 26 May. This year, the event will bring together an even larger number of participants than last year, more than 150 investors and the most promising Lithuanian and foreign startups, who will pitch their ideas and compete in the Startup Fair Pitch Battle competition that has already become a tradition. Everyone can participate in the event both live and remotely.
The Startup Fair. Connect 2022 event organised by the Rapid Development Division Startup Lithuania of the Innovation Agency (formerly Enterprise Lithuania) aims to connect investors, innovative entrepreneurs and employees live, and help them renew or establish new contacts and raise funding.
"Every year our country's startups deliver more and more success stories, and last year was truly exceptional: we witnessed record investments and an impressive growth in startup sales and exports. This year, the second unicorn has emerged. Our goal is to continue growing innovative businesses and to have a triple-sized and stronger startup ecosystem by 2030. I am glad that events like this give our startups the opportunity to establish new contacts and maybe even raise investment," says Ieva Valeškaitė, Vice-Minister of Economy and Innovation.
"Every year both startups and investors become increasingly more interested in the event, so we are very pleased that this year the Startup Fair can already take place on a much larger scale. This event is a great opportunity for the entire startup ecosystem to meet live, discuss the successful year, investments and initiatives, share experiences, get new ideas and just spend a valuable day surrounded by like-minded people and partners," Roberta Rudokienė, Head of Startup Lithuania, has no doubt.
Those interested in attending the event are invited to come live to "Kablys + Kultūra" (Kauno g. 5, Vilnius) or watch the conference remotely here: http://www.delfi.lt/a/90258733.
The most promising startups will compete with each other
This year, a record number of 140 startups from 28 countries – Lithuania, the United States of America, the United Arab Emirates, India, Taiwan, Singapore and others – have expressed their interest in taking part in the Startup Fair Pitch Battle competition. The jury has selected 40 of the most promising startups who will have the opportunity to pitch their business ideas during the event.
Startups competing in the Startup Fair Pitch Battle competition will have 3 minutes to pitch their product or service. After pitching, the jury will select the best participants to compete in the final round.
This year, the winners of the Startup Fair Pitch Battle will share prizes worth over EUR 40 000 from SME Finance, Cloudvisor, Httpool, Funderbeam, Triniti Jurex, Vinted, Tesonet and TechBBQ. The main prize money of EUR 7 500 will be provided by SME Finance, the largest non-banking financing technology platform in the Baltic countries
Those who will not be able to watch the startup battles live are invited to join here: www.delfi.lt/a/90258735.
The event opens up opportunities for both startups and investors
Attracting hundreds of participants from all over the world every year, the event offers the opportunity to renew and establish new contacts, pitch your innovative idea or business, and get useful advice or insights from successful startup founders. This event is a great opportunity to combine the needs of investors and startups – for some to get investment ideas and for others to find a funding partner.
Startup Fair. Connect 2022 is planned to be attended by more than 150 investors from over 60 venture capital funds operating in 16 countries around the world, as well as business angels from Lithuania and neighbouring countries. At the conference held during the event, the most relevant topics such as market changes and trends, the most promising areas and investors' needs will be presented for startups, and startup founders will share their experience, lessons learned and insights. More than 45 speakers will give presentations: founders of successful startups and unicorns, venture capitalists and other professionals.
Startup Fair. Connect 2022 is all about networking: the participants will have the opportunity to meet each other in one-to-one meetings to discuss their ideas, expectations and future plans. The event and the networking will culminate in a party, organised by the event organisers in partnership with Funderbeam, a global investment and trading platform: https://bit.ly/39IpOhH.
Further information on the Startup Fair. Connect 2022 event and the Pitch Battle startup competition is available at: http://www.startupfair.lt.