Record-breaking Startup Fair ends with the victory of startup Vocal Image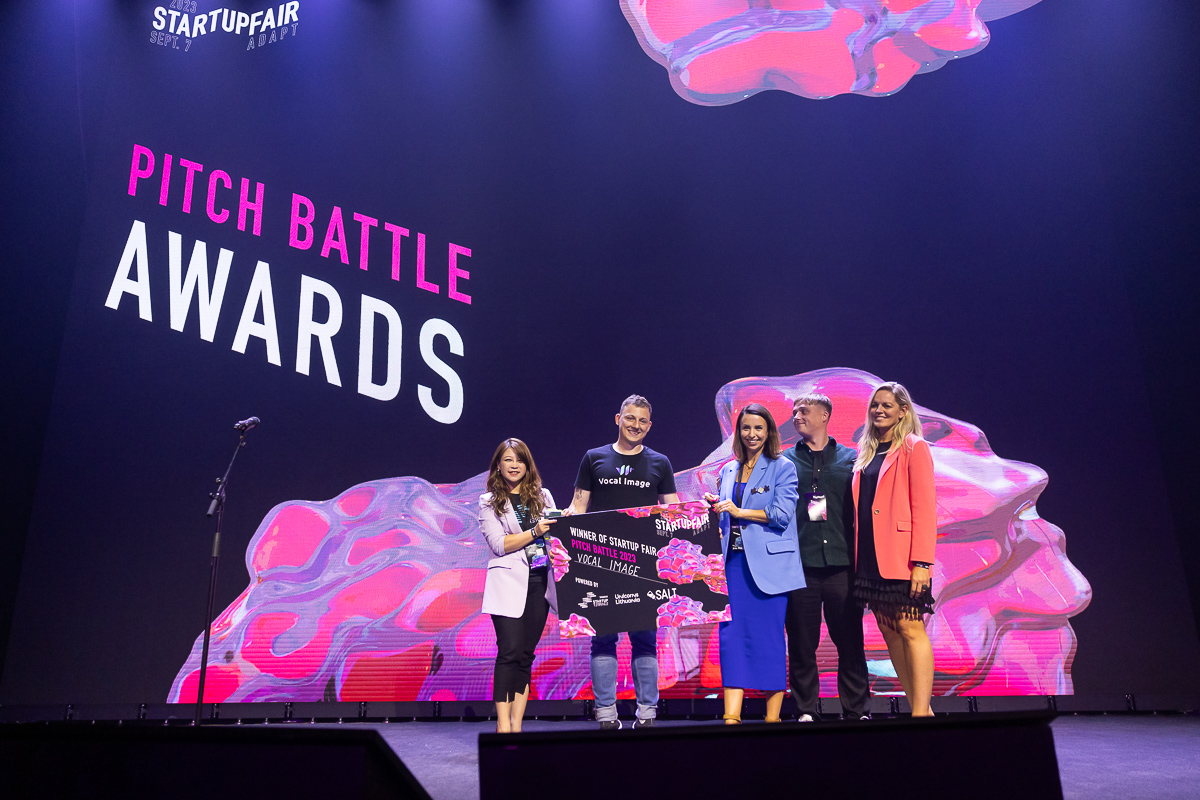 The eleventh event Startup Fair. Adapt 2023, an international startup event with a record attendance, has come to an end. This year, nearly two thousand startups, technology experts, enthusiasts and investors from all over the world attended it. The event culminated in the traditional Pitch Battle competition, which was won by Vocal Image, a startup that uses artificial intelligence to improve communication.
Best of the best title and major awards
The problem of poor communication skills resulting in a loss of EUR 37 million and the solution to  that problem were presented by Estonian startup Vocal Image. This startup received the biggest appreciation from the Pitch Battle jury this year. The winning app, based on artificial intelligence technology, allows the development of individual vocal skills for both public speaking and personal development. The winner had the opportunity to participate in the FLASH acceleration programme organised by Startup Terrace Taiwan, a one-year membership in Unicorns Lithuania, a EUR 7,000 voucher from SALT Sales to attend their workshops and a month-long weekly consultation.
"Congratulations to Vocal Image for its leadership, creativity and entrepreneurship. I believe that this achievement will accelerate further product development and the startup's visibility in the global market. My sincere applause to all the contestants. Their abundance and global thinking show that the international startup community is filling up with promising candidates to become strong businesses that will initiate many more technological breakthroughs," Roberta Rudokienė, Head of Startup Lithuania at the Innovation Agency Lithuania, congratulated the participants.
Startup Fair. Adapt 2023 competition Pitch Battle also included significant special prizes. Lithuanian sustainable financial operations startup Axiology received the opportunity to attract an investment of EUR 125,000 from the accelerator fund Baltic Sandbox Ventures, Cloudvisor gave them Amazon Web Services credits worth USD 5000. Micapass from Lithuania enjoyed the opportunity to receive an investment of EUR 70,000 from Firstpick and to participate in their accelerator programme, while Estonian startup Glassity has the opportunity to receive an investment of EUR 150,000 from Startup Wise Guys and to participate in their accelerator programme.
In total, the organisers received 140 applications from almost 30 countries around the world, and 40 selected startups competed in the Pitch Battle, which was judged by a jury of investors and experts. This year, Vilnius TechFusion was a partner of the competition.
Record-breaking year calls for change
Startup Fair, which started in 2013, has grown tenfold – the first event attracted about 20 startups and the same number of investors, while this year the number of participants was a record high, reaching almost two thousand. According to Roberta Rudokienė, the numbers are encouraging, and the event, which has already expanded considerably, requires an organisational change.
"Along with the Lithuanian startup ecosystem, the event itself has also grown – this year we received not only a record number of visitors, but also investors. In 11 years, Startup Fair has evolved from a small gathering of the startup ecosystem to a well-known, international, innovative event on technology and the latest trends. It has a lot of potential to grow further, and we believe that Startup Lithuania could be handed over to the ecosystem next year for further development. We will organise a competition to hand over the event, which will show whether there are those who are willing and able to develop Startup Fair further in a high-quality way," she says.