PowerUp! National Finals Lithuania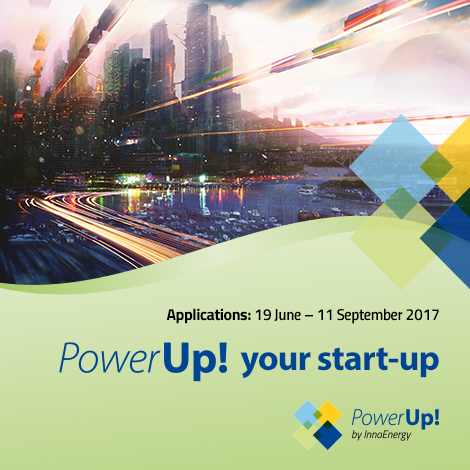 PowerUp! is the competition for energy startups, where you can win prizes up to €20.000 in cash and €150.000 investment!
PowerUp! challenge is big, but the goal is simple: to achieve an energy future for Europe. InnoEnergy supports and invests in innovation at every stage of the journey – from classroom to end-customer. With a network of partners, InnoEnerrgy builds connections across Europe, bringing together inventors and industry, graduates and employers, researchers and entrepreneurs, businesses and markets.
If you:
Have a new product or service

Time to

market

max. 2 years

Dedicated team

Secured IP
… and you have an ambitious plan to become a global company – apply to PowerUp!
How does it work?
To take part in the competition, you have to submit a project that regards sustainable energy, create a team, have the prototype and fill out the form on the competition site. Complete the form on the Competition website till the 11th of September. Please note – the form and any information submitted are required to be in English.: http://powerup.innoenergy.com/
PowerUp! Lithuania will take place in Kaunas, KTU Santaka valley. Energy field startups will be selected to participate in workshops and later compete in a pitching competition. Winners will participate in Grand finals in Budapest.
All participation and partnership questions to be addressed to donatas.smailys@ktu.lt