In PowerUp! Competition 2019 Grand Final – With a Start-up Unicorn Scooters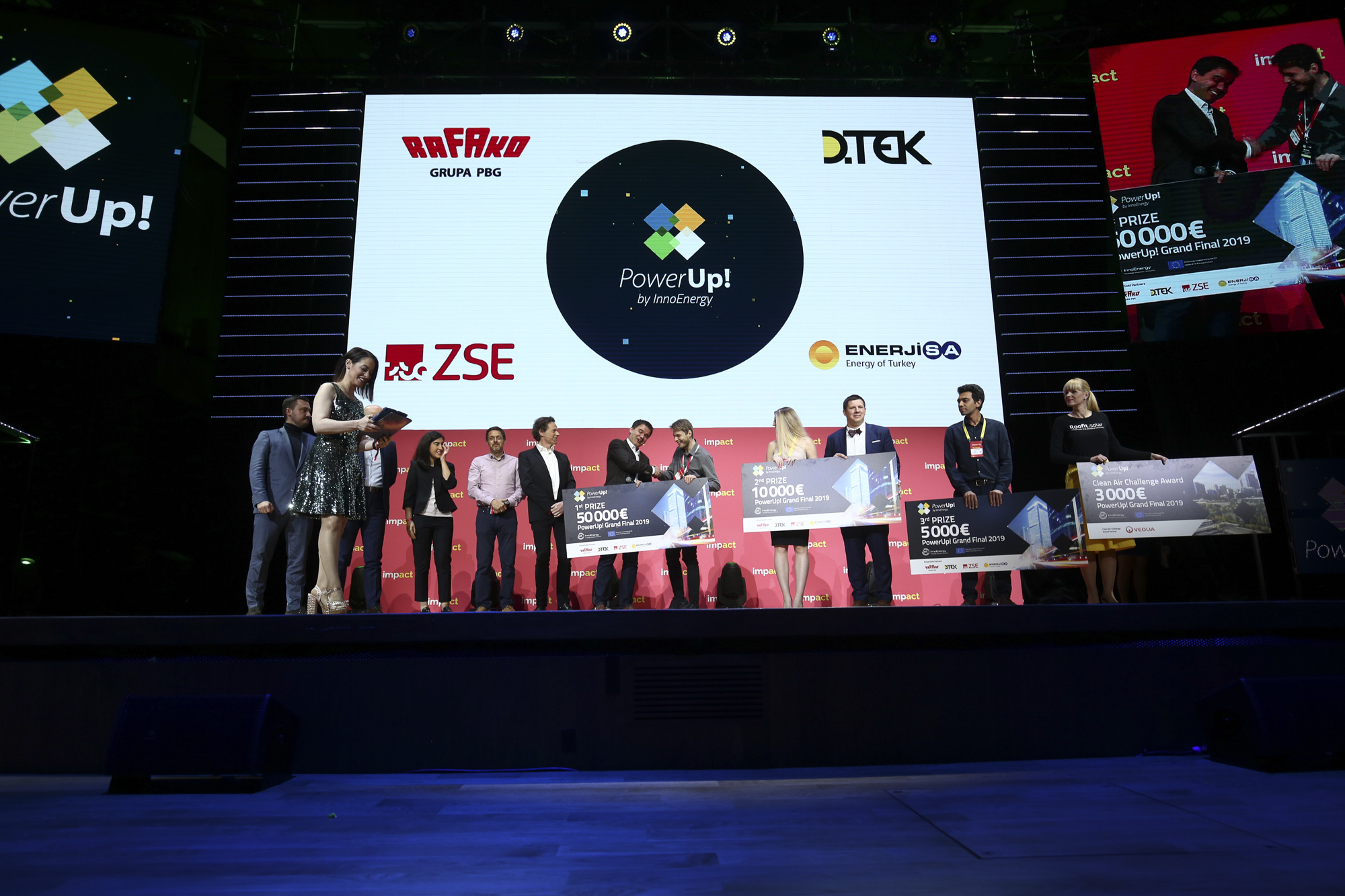 The results from the fifth edition of InnoEnergy's PowerUp! competition – which saw participation from over 300 start-ups from 24 countries across Central and Eastern Europe – have now been announced. Danubia NanoTech from Slovakia was named the overall winner by the judges following a close battle with its rivals for the top prize. The company has received a cheque for 50 000€, as well as the opportunity to join the prestigious Highway® by InnoEnergy business accelerator. Lithuania was represented by a start-up Unicorn Scooters.
For the winner – 50 000 EUR prize
The winner presented a solution for aerial temperature monitoring in a form of graphene temperature sensor, available as an extremely thin film, applied on any non-metallic substrate. This technology is valuable for EV batteries and for grid battery storages, extending the batteries' lifetime.
"We applied in the competition because we have been seeking for a smart investor like InnoEnergy that does not only provide financial investment, but also supports us in business development with its network and business accelerator" – said Patrik Krizansky, CEO of Danubia NanoTech. "With this award, we are very excited to start fine tuning the product to the needs of the final customers and commercialize it. " – added Krizansky.
Second place – and a 10 000 € prize – was awarded to Atlant3D from Latvia which has created a versatile 3D printer for micro and nanochip fabrication, and developed a unique solution that can rapidly accelerate prototyping for micro-and nanodevices and systems at a fraction of current time and cost. Third place – and a 5 000 € prize – was taken by V-Chiller from Hungary, a revolutionary cooling device that can chill canned beverages in just a single minute, using minimal energy with minimal environmental impact via a vacuum cooling method with a proprietary, environmentally friendly refrigerant.
This edition's Grand Final was held in Krakow at Impact'19, one of the most high-profile economic events in the CEE region. The panel of judges and wider audience consisted of investors, industry representatives, clean energy experts and international media. 14 start-ups took part in the competition, having won their respective Country Finals to gain entry to the Grand Final. Participants came from Hungary, Poland, Czech Republic, Slovakia, Slovenia, Serbia, Lithuania, Latvia, Estonia, Romania, Bulgaria, Croatia, Turkey and Greece.
The final 14: the PowerUp! Grand Final at Impact'19
 "This year Lithuania was represented by Unicorn Scooters. Both the Grand Final and respective Country Finals were preceded by two-day bootcamps run by renowned coaches and business mentors. Here, participants had a chance to verify their business models, align these with market expectations, and improve their presentation skills. However, the main incentive for many to take part was the opportunity to be invited to the prestigious Highway® by InnoEnergy accelerator programme, one of the most comprehensive of its kind in Europe, offering investment of up to 150 000€ and close access to InnoEnergy's expertise as a start-up continues its development" – says Dr. Kestutis Morkunas, Head of EIT InnoEnergy HUB Lithuania.
Unicorn Scooters has created an electric kick scooter designed exceptionally for sharing. Unicorn scooter is robust, durable, powerful, sustainable, has a swappable battery, has just the right functionality and is easy-to-use. Our scooters can be used for sharing in the cities or for business purposes, e.g. for moving inside the factories, airports. 
"It's worth emphasising that the PowerUp! competition isn't just for energy companies: it's also open to solutions focusing on mobility, clean air technology, heating, cleantech and smart technologies. What distinguishes us from other competitions is that, apart from financial prizes, participants can rely on our comprehensive support, mentoring and entrepreneurial know-how to help take their products and services to the next level" – says Jakub Miler, CEO of InnoEnergy Central Europe.
Special award – Clean Air Challenge
For the first time in the competition's history, an additional Clean Air Challenge Award was granted at this year's edition, open to companies demonstrating innovation and pioneering thought in clean air initiatives. This distinction was awarded to Roofit.solar from Estonia that introduced a new type of solar panel, which combines the everyday roofing material with photovoltaic modules. The award was sponsored by Veolia, a company with a positive reputation for creating, developing and implementing solutions which contribute to the sustainable development of cities and industries.
"The quality of air is one of the most important challenges faced by local governments and industry in Poland. This is why all solutions that contribute to its improvement deserve recognition and support. We are very glad that young companies create new technologies in this area and share our values: "resourcing the World" and care for the environment. Being the first patron of the Clean Air Challenge Award makes us very proud" – says Fabien Ferrer, Deputy Executive Director of Veolia Group in Poland.
Taking part in PowerUp! also gives start-ups a chance to meet with leading representatives in the energy and cleantech sectors, many of whom are official partners of the competition. This year's partners included RAFAKO, D.TEK, ZSE Group and Enerjisa Enerji A.Ş., who were on the lookout for promising technologies for potential future investment.
InnoEnergy is supported by the EIT, a body of the European Union.