Oberlo, A New Star In eCommerce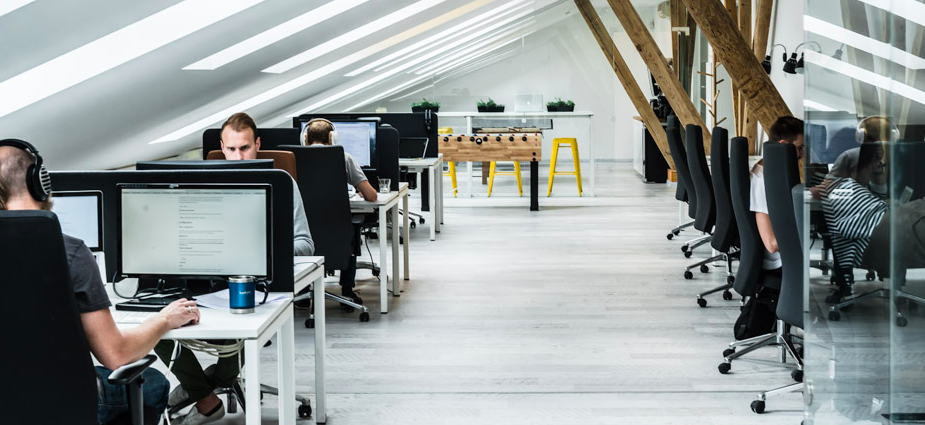 Meet Oberlo, one of the fastest growing Lithuanian startups building a dropshipping solution for e-commerce that has recently hit 1 million orders. It keeps growing and hiring fast, and Tomas Slimas, Oberlo's co-founder, has shared a story behind the company and their plans with our readers.
What does your product do? What problem does it solve?
Tomas: Oberlo is a dropshipping solution for eCommerce store-owners. We provide a number of drop shipping automation tools and instant access to millions of products available for dropshipping.
To those unfamiliar with dropshipping, it's an eCommerce fulfilment model where retailers don't have to buy products in advance. Instead, you just add a product to your store and when you sell it, you buy it from your supplier and have it shipped directly to your customer.
How did you come up with idea behind Oberlo?
Tomas: There are three pieces in this story: Esell.io, an eCommerce business, and 3 Shopify apps.
Before launching Oberlo, two of the founders were running an eCommerce dropshipping business and worked with three other founders at a startup called Esell.io. We successfully sold the eCommerce business, and around the same time Esell.io was discontinued.
Since we had all been working together for the past 5–7 years, we weren't keen on breaking up. We decided to create a few apps for Shopify to see if they would gain any traction among eCommerce retailers.
We already knew Shopify inside and out from our eCom venture, and had a working prototype of Oberlo (back then we called it Ali Importer) that we used internally for our previous eCommerce project.
Out of three different apps we developed, Oberlo received the most traction, so we decided to work on it full time.
What are your target customers/markets?
Tomas: We received our initial traction from the marketplace itself. Then we talked with our early users, established their user personas, and looked for similar people outside the Shopify Apps Marketplace. It worked out quite nicely.
Most of our customers are non-businesses professionals from the United States and Canada who are interested in giving eCommerce and dropshipping a try.
What is your business model?
Tomas: We started off as a SaaS, relying on recurring monthly payments. There is nothing special about it. We have a free trial and three different subscription plans.
However, we also receive commissions on every transaction between the eCommerce merchant and the product suppliers. These commissions have accumulated rapidly and quickly outstripped the subscription revenues.
That being said, we now call ourselves a marketplace and even plan to make some of the Oberlo app totally free.
What are the biggest challenges you have been facing and how are you overcoming them?
Tomas: AliExpress is what solved the chicken/egg problem for us. We wanted to build a place where eCom retailers could find thousands of products available for dropshipping.
But we also knew that without a critical mass of dropshipping suppliers, there would be no retailers, and if there were no retailers, why would anyone want to add a product to this marketplace?
So we plugged into AliExpress and focused on building a base of retailers. Thanks to the AliExpress pool of suppliers, we have thousands of retailers selling products sourced from AliExpress through Oberlo. Now we're feeling as if we've become overly dependent on only one supply side channel, so the challenge we're solving now is building our own database of suppliers.
Please introduce our readers to your founders?
Tomas: The founding team has been working together for the last 5–7 years. We tried a bunch of things over the years, some of them worked, some of them didn't, but Oberlo is by far our biggest success so far. Here's our team:
– Marius Grauzinis: A great back-end developer with over 10 years of experience.
– Justas Galaburda: Our lead designer who also runs a popular icon blog, icontupia.com.
– Donatas Pranckunas: An awesome front-end developer with nearly 10 years of experience.
– Andrius (CEO) and Tomas (CMO) Slimas: Two brothers who developed the previously mentioned dropshipping eCommerce business, which hit $3M in sales during its first year.
Your growth in terms of employees looks strong in the Lithuanian context. How about your user/revenue growth? What are the plans?
Tomas: Our main key performance indicator (KPI) is the success of our users. In other words, how many products our users are selling by using Oberlo. And here's what that graph looks like: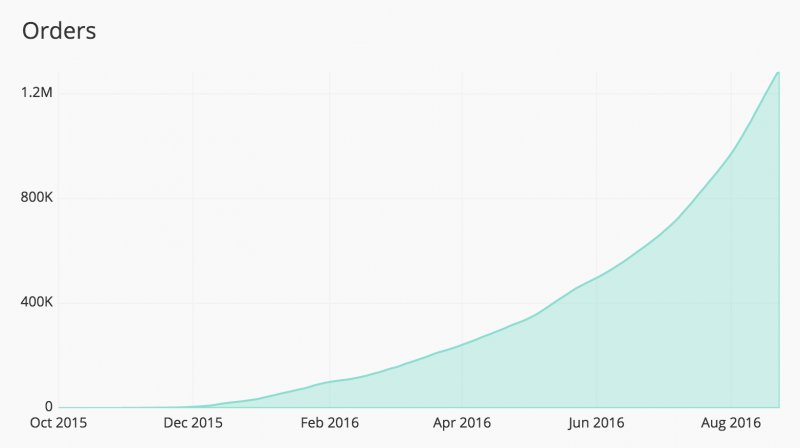 We recently hit the huge milestone of one million orders. Today, two weeks after, we surpassed 1,276,000 orders. And that number just keep growing and growing.
As for the employees, there are many positions we plan to announce in the near future. Make sure to check out the Startup Lithuania Marketplace.
How does it feel being a startup in Lithuania?
Lithuania has relatively low costs and amazing talent. It allows us to move fast without any outside funding and still stay cash positive. Running the same business from Silicon Valley would be way harder if not outright impossible.
I can't think of any major drawbacks to being in Lithuania. Sometimes we wish we had more access to lots of Western services like Stripe. But that situation is one that keeps changing and evolving in the right direction.