New Report Highlights the Growing Importance of Deep Tech and AI Startups in the Baltics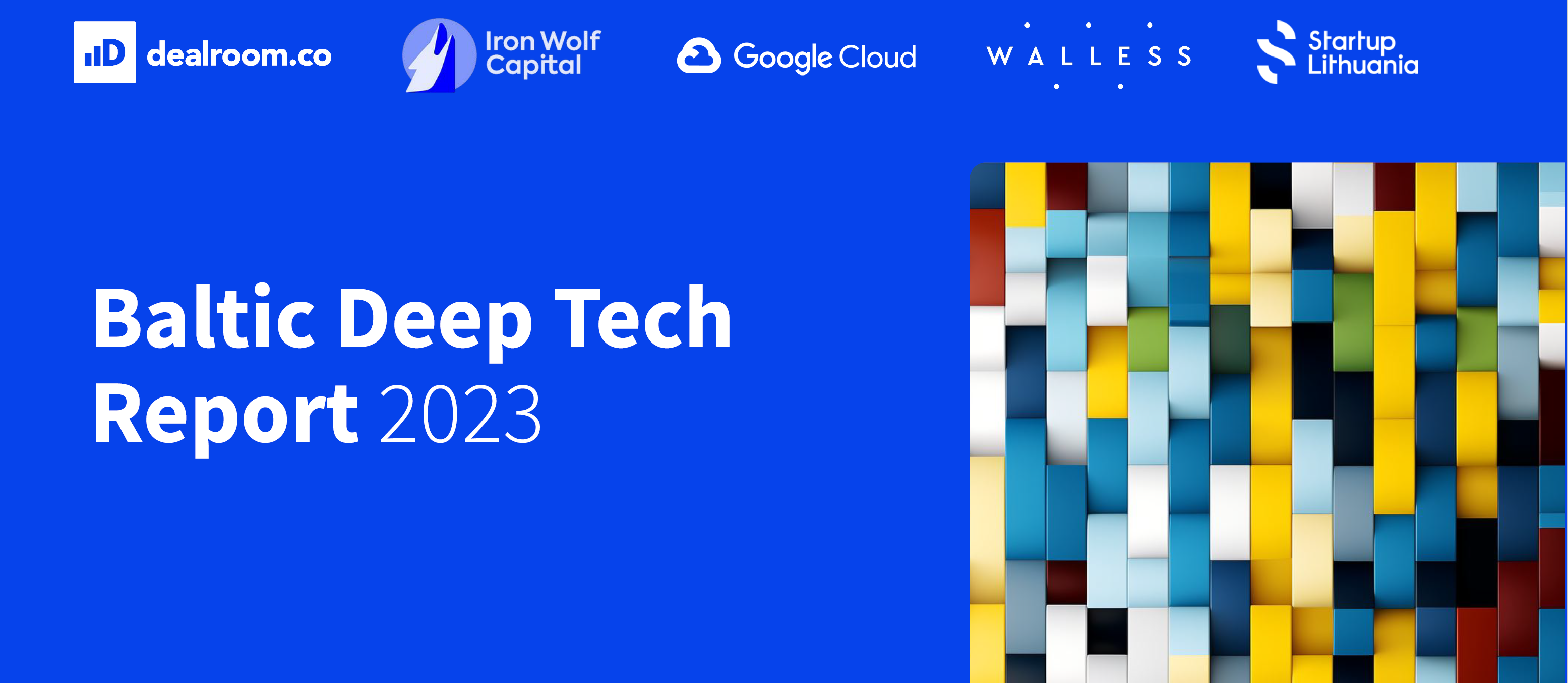 The first-ever Baltic Deep Tech Report, analyzing and presenting the Baltic startup scene's latest funding trends and the growing importance of deep tech was launched today in Vilnius. This groundbreaking report, co-authored by Iron Wolf Capital and Dealroom.co, with contributions from Startup Lithuania, Google Cloud, and WALLESS is poised to shed light on the significant developments in the region's deep tech startup ecosystem.
The report delves into the heart of the Baltic startup funding landscape, unveiling three key takeaways that signal an exciting era of innovation and growth:
1. Record-breaking VC investment: Baltic startups raised over €4 billion in 2021 and 2022, more than all previous years combined. Even more impressive is the fact that since the second half of 2022, despite a more conservative investment climate, Baltic startups have secured over €800 million at the early and breakout stage, primarily from domestic investors. This trend reflects a slight shift away from larger foreign investment rounds, demonstrating the resilience and attractiveness of local opportunities.
2. Deep Tech and AI taking center stage: The Baltics are fast becoming a hub for deep tech and artificial intelligence startups. In the first half of 2023, VC investments into deep tech startups soared to €177 million, constituting one-third of the total investments, a remarkable rise from just 8% five years ago. Additionally, AI-powered startups raised an impressive €187 million, further solidifying the region's prominence. These innovative companies now contribute over half of the combined value of the startup ecosystem, up from just 17% in 2018, having more than tripled over the past five years.
3. Baltic Deep Tech's meteoric rise: The Baltic Deep Tech sector is not just gaining momentum; it's propelling itself to the forefront globally. With more than tripling of the combined enterprise value of Deep Tech startups in the Baltics since 2018, it is outpacing that of many world's leading startup regions. As part of a comparatively smaller ecosystem, Baltic startups are able to grow fast and leave a mark on the broader startup ecosystem, driving growth and innovation not just internally, but also with a global impact, showcasing their prowess in deep tech innovation.
"Since 2019 an overwhelming majority of our investments have been channeled into the Baltic region's burgeoning deep tech and AI sectors," comments Kasparas Jurgelionis, Partner at Iron Wolf Capital. "This decision is rooted in our firm belief that deep tech represents the true mission of venture capital – a vehicle for fostering innovation that leads to breakthroughs with profound implications for human, social, and economic freedoms. It delights us to see the deep tech ecosystem growing with more startup funding activity, especially from local investors, fostering collaboration and enabling us to collectively offer the best support to the Baltic deep tech and AI startups."
"In the Baltics we are seeing amazing deep tech startups which are working on revolutionizing healthcare, transportation, energy, and other industries," adds Haris Alibegovic, Head of Digital Natives and Startups for CEE at Google Cloud. "Massive investments are being put in place to form the right teams and apply the right platforms and technology which can harness the power of AI in order to develop solutions that will be able to quickly scale and help us solve some of the world's toughest challenges."
In addition to the specific focus on the deep tech startup funding developments, the report takes a broader look at each of the Baltic states' individual startup ecosystems, highlighting the existing as well as future unicorns and noteworthy university spinouts. Overall, the last decade has proven that great tech companies can come from anywhere, with the Baltic startup ecosystem now increasingly distributed. Lithuania is showing particularly fast progress with Estonia continuing to lead with the megarounds and Latvia showing growth in the breakout stage investments.
The complete Baltic Deep Tech Report can be accessed and downloaded from Dealroom.co's website at https://dealroom.co/reports/baltics-report-2023.