Life Sciences Baltics Startup Pitch Challenge Winners Revealed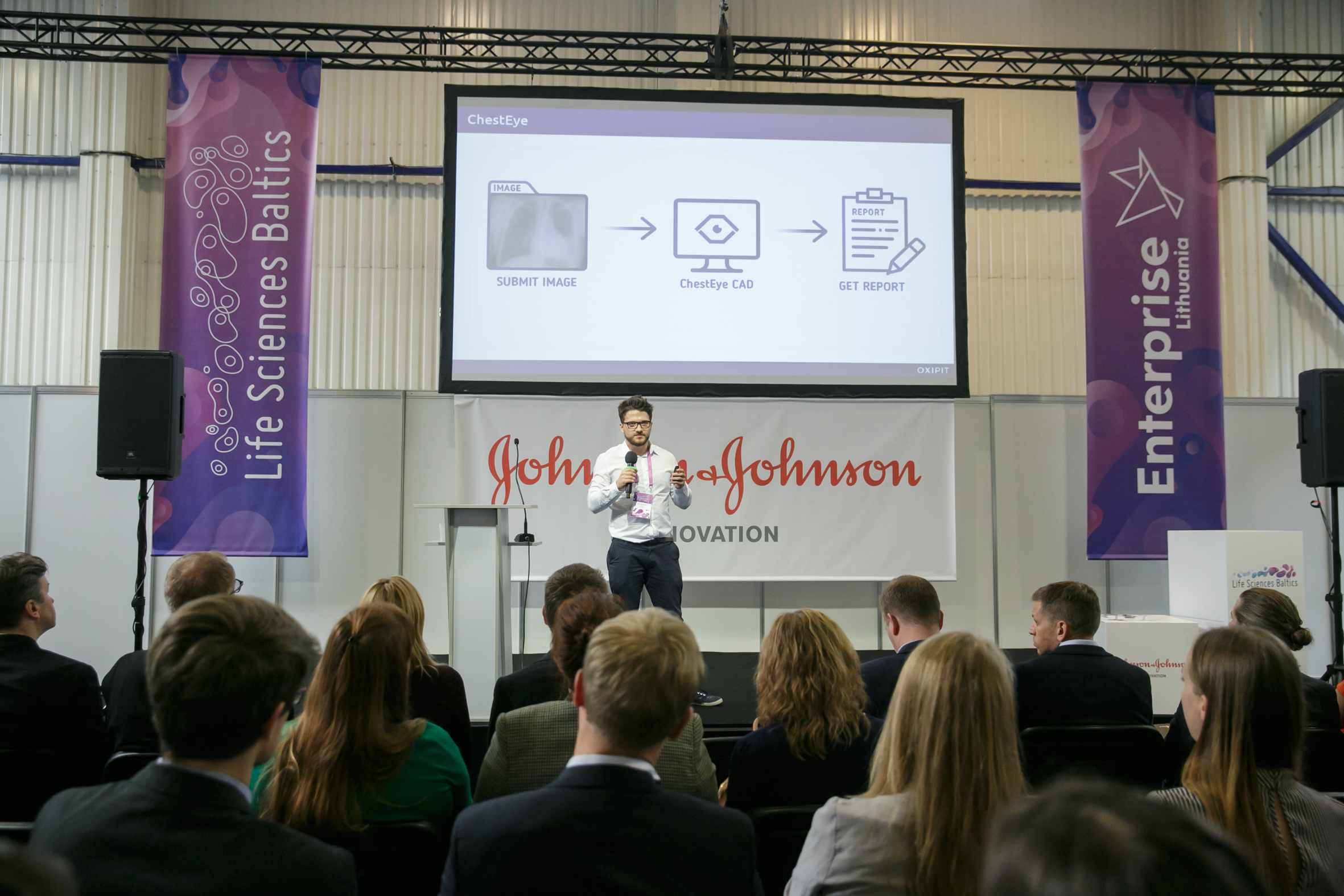 Lithuanian startup Oxipit was crowned the winner of Pitch Challenge by Johnson & Johnson Innovation winner at Life Sciences Baltics on 27 September. A startup that uses AI to diagnose cancer beat out 9 other startups in the Pitch Challenge which consisted of four minute pitches and Q&A session.
Oxipit was awarded with the mentorship at Johnson & Johnson Innovation as well as a week long visit to the Akron Biomedical Corridor in the USA. Oxipit, the winner, has developed a Deep Learning image search solution which takes an X-ray image to be written up and finds most similar cases in the hospital database without any further work required.
Alternative Plants from Latvia, using plant biotechnology to effectively produce valuable bioactive ingredients, won the legal advice package provided by Rödl & Partner as the second place winner. They establish plant stem cell cultures and use them for efficient and standardised production of ingredients for cosmetic, medical device and pharma industries.
The jury of Pitch Challenge consisted of Roberta Rudokienė, Head of Startup Lithuania, Remis Bistras, CEO of ThermoPharma, Anthony Gemmel, Senior Director at EMEA Network New Ventures & Transactions of Johnson & Johnson Innovation, prof. Chris Lowe, Director of Cambridge Academy of Therapeutic Sciences (CATS), Jereon Verheyen,  Co-Founder of  Semarion, Dr. Michal Wlodarski, Principal at Cambridge Innovation Consulting Ltd, Tomas Andriuškevičius, Partner at Practica VC.
Pitch Challenge by Johnson & Johnson Innovation took place in the Johnson & Johnson Innovation Hall at the Life Sciences Baltics exhibition area, where 10 startups from Lithuania, Latvia and Ukraine were pitching for the main prizes.
10 best life sciences startups were selected during the Startup Masterclasses by Johnson & Johnson Innovation that was held on 24-25 September in Vilnius. In total, 26 startups from the Baltics, Belarus and Ukraine participated in the masterclasses specially designed for the life sciences startups.
Startup Masterclasses and Pitch Challenge is a traditional part of the Life Sciences Baltics event happening for the 4th time already. The Life Sciences Baltics forum acts as a platform for networking, exchanging ideas and making connections with more than 1,900 participants, investors, professionals, world-known speakers, international companies and other startups.
Winners of previous Life Sciences Baltics Pitch Challenges include Integrated Optics, a Vilnius-based laser technology company, Ferentis, a company producing biomimetic peptides and peptide-based scaffolds for tissue engineering and regenerative medicine applications, and Koatum, a Latvian company with an aim to introduce its unique know-how to the industry of medical body implants.