Go Vilnius Invites Foreign Businesses to Participate in the Second Annual Workation Vilnius Programme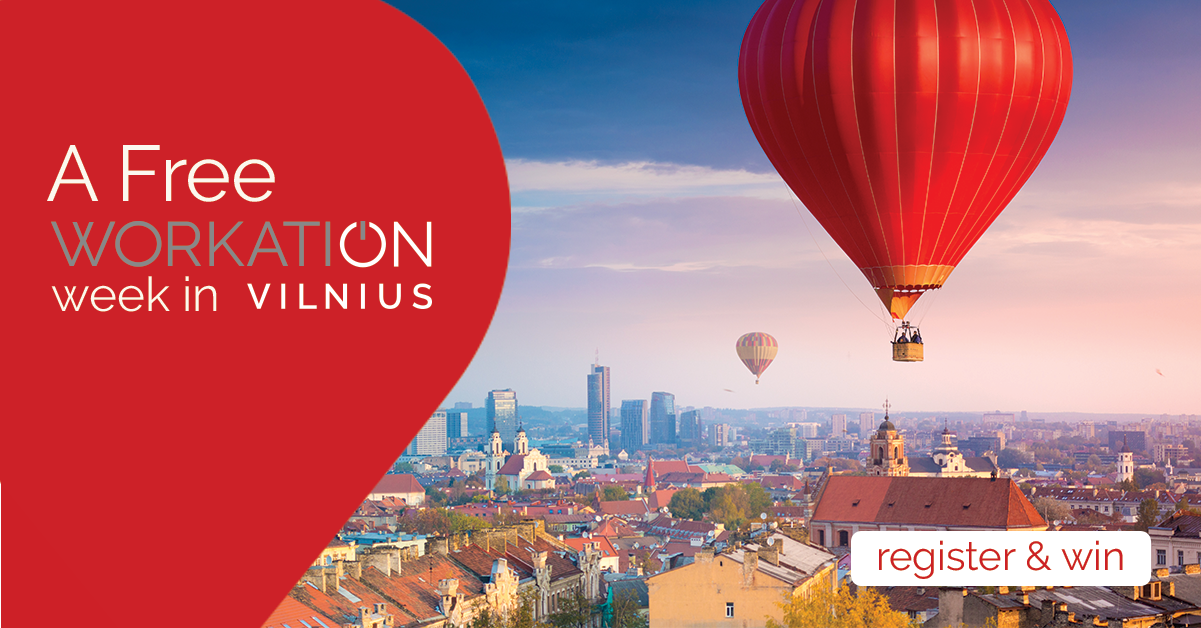 Vilnius is among the best cities in Europe to combine work and travel. And now for the second year in a row Go Vilnius, the city's tourism and business development agency, is inviting foreign companies to take part in the Workation Vilnius programme. Businesses from abroad are invited to register to win one of three one-week trips to Vilnius, where they can get a taste of the city's work/life balance. 
"The best impressions one gets of a city come from personal experiences, so instead of just describing the advantages of working and living in Vilnius, we are inviting people to feel them first-hand. Moreover, by inviting teams from foreign companies to Vilnius we are able to demonstrate our business infrastructure and talent, and take care of entertainment outside of work to create a multi-faceted experience," says Go Vilnius Director Inga Romanovskienė.
Teams coming to Vilnius for a weeklong workation will settle into the newly opened co-working space located on the central street of the city. After work, the teams will be encouraged to dive into the Vilnius' leisure life by visiting museums and galleries, checking out the city's restaurants and nightlife, taking part in activities, and discover novel ways to explore the city. Participants from last year's programme were especially happy to have the opportunity to fly in a hot air balloon above Vilnius, which means this activity will definitely be part of this year's programme once again. 
Three winners best matching the programme's criteria will be selected from all the applications. They will be asked to assemble teams of up to 10 co-workers and will receive free return flights, 4-star accommodation during their stay, and of course, the office in which they'll be based out of for a week in September. 
Last year's Vilnius Workation participants included teams representing telecommunication giant BT Group, travel planning platform owner Expedia from Great Britain, and startup OrderYOYO from Denmark. During the visit, programme participants were given the opportunity to discover the leisure side of the city, and also got to meet and exchange experiences with professionals representing various Lithuanian businesses and institutions. For example, BT Group exchanged business practices with Lithuanian telecommunication company Telia, and Expedia shared their insights about Vilnius with representatives working in the local tourism sector. 
"Upon arrival to Vilnius, we wished not only to work and rest but also to return the gift we received from the city by providing more information about Vilnius in the world of tourism," stated Evelina Hederer, Expedia Group Media Solutions' Sales Manager for Central and Eastern Europe.
The Workation Vilnius programme is about inviting foreign businesses to experience a new city and giving their employees an opportunity to break from daily office routines and spend more time together. This unique combination of work and holiday provides companies with a valuable opportunity to evaluate the new location's infrastructure and general atmosphere for business.
Registration for Workation Vilnius will be open until 15 June. Teams wishing to participate in the programme can register here!