Enhance Your Business with Google Cloud Platform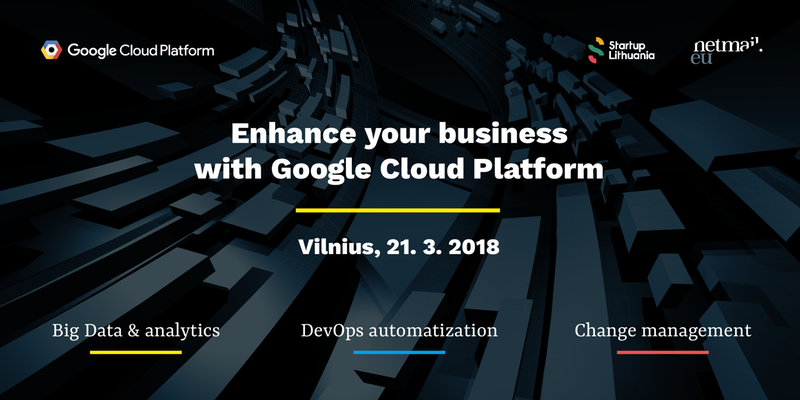 Revolgy are a certified Google Cloud Premier Partner, Amazon Web Services Partner and cloud technology specialists. Their team organises a series of educational events across Europe with the mission of helping businesses grow and function with more efficiency by implementing modern technologies.
They host free events throughout Europe, consisting of professional seminars where attendees can learn how to leverage the full potential of modern technologies to cut costs, save time, simplify processes and improve employees' working experience by implementing the right tools. 
We are excited to announce that the next Revology event takes place in Vilnius on March 21st at Vilnius Tech Park.
The speakers are amongst the best in their fields and will lead seminars on the subjects of:
Big Data & Analytic
DevOps Automation
Change Management
Revolgy's Research and Development Director for the IoT platform, Karel Jakubec, will share tips and tricks with you that will save you a lot of time and resources on maintenance work in his presentation titled "Seamless DevOps Automation."
Karel is a certified Google Cloud Architect and an experienced developer who has worked in roles such as a Senior Backend ROLAP developer, CTO and Development leader. At the moment, he is one of the leaders of our IoT project at Revolgy. In his free time, he is an enthusiastic chilli grower, so you can expect his presentation to be pretty spicy! (Pun intended)
The cherry on top will be a speech by Alexandra Garcia Gjuric, Change Management Director at Revolgy. Alexandra gathered vast experience in the field of change management thanks to her position in ING (now NN) insurance company where she worked as Communications Manager and later Internal Communications and Change Manager.
Alexandra will sum up years of experience and her practical knowledge about efficient company communication (both internal and external) in her presentation "Empowering Employees Through Technology". Prepare to be amazed, as she is witty, charming and gets straight to the point.
The interest in these events is tremendous, and they usually sell out within hours of making the event public. Don't miss your chance to pick the experts' brains on how to improve your business and book your place now!
More info on Facebook.
Looking forward to seeing you on March 21st in Vilnius!