Deloitte Announced 50 the Fastest Growing Technology Companies in Central Europe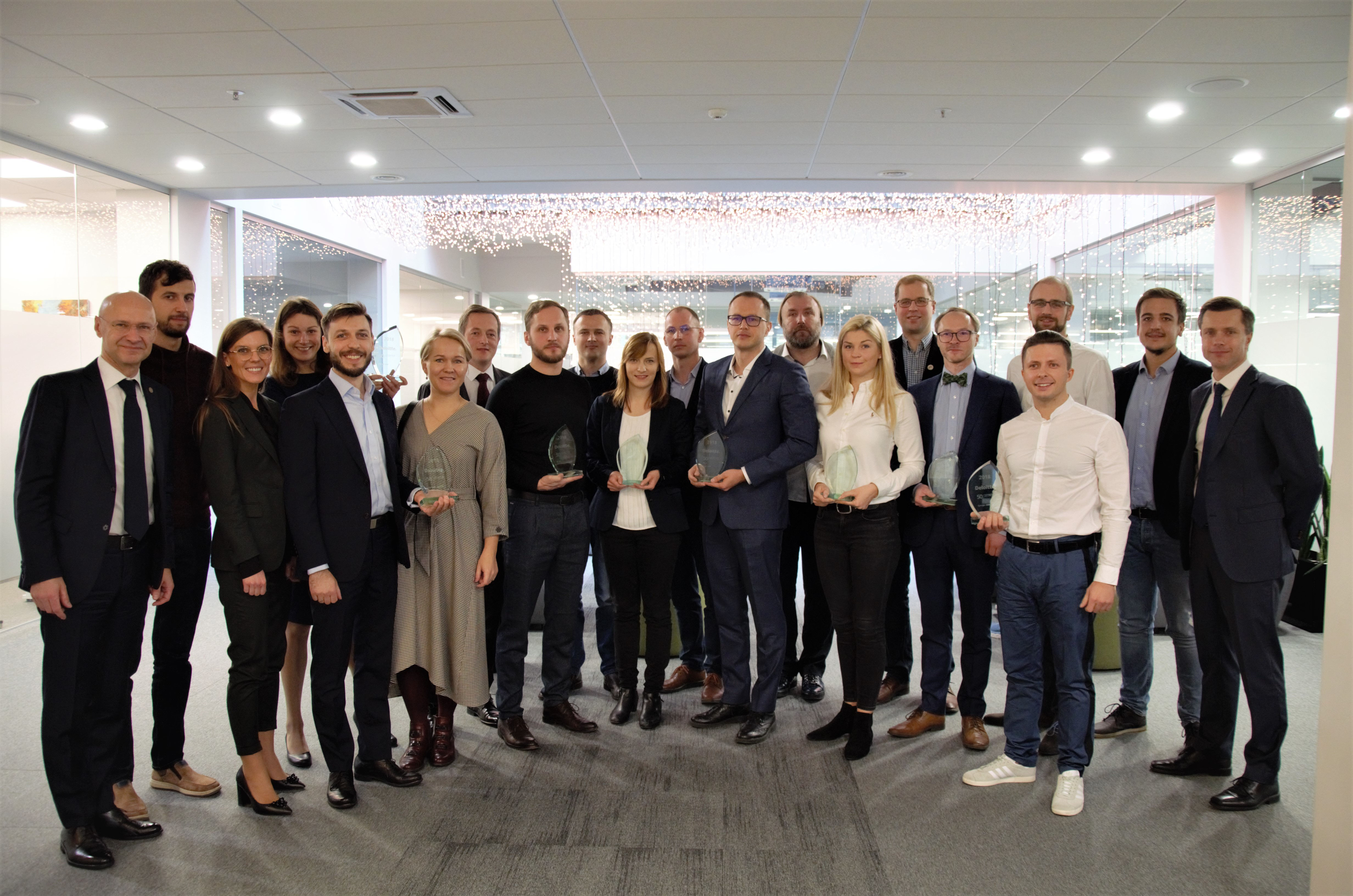 Brolis Semiconductors is Lithuania's fastest-growing and most disruptive technology company in Central Europe
This year, 10 countries contribute companies to the Fast 50: Poland (18), Lithuania (8), Czech Republic (7), Croatia (7), Slovakia (3), Hungary (2), Latvia (2), Estonia, Romania and Bosnia & Herzegovina (1 each)
Yet again, the speed of growth among Central Europe's most dynamic technology companies continues to accelerate. Average growth between 2014 and 2017 delivered by the companies featuring in the 2018 Deloitte CE Technology Fast 50 ranking hit a new record of 1,290 per cent.
This is the third consecutive year that the average growth rate has broken through the 1,000 per cent mark, once again highlighting the medium-term sustainability of Central Europe's continuing tech boom.
Where this year's ranking markedly differs from that of recent years is in the number of companies in the top five who featured in the previous edition. In both 2016 and 2017 all the top five entrants were new to the ranking; in 2018, the two top-placed companies both also featured in last year's top five. Both Czech businesses, in first place was 3D-printing specialist Prusa Research (up from third last time) and last year's winner, online flight-booking powerhouse Kiwi.com.
What is most remarkable about these two companies is the immense acceleration in four-year growth rates that they have delivered between the two rankings. While Kiwi.com grew from last year's exemplary 7,165 per cent to an amazing 14,337 per cent, even this was outdone by Prusa's leap from 6,910 per cent to the extraordinary result of 17,118 per cent.
The success of Lithuanian companies
So far it has been the most successful year for Lithuanian companies – for the first time in the project history, 8 Lithuanian representatives have entered Deloitte CE Technology Fast 50 ranking: Brolis Semiconductors, UAB (6th position), Sponge, UAB (19th position), Deeper, UAB (21st position), Exacaster, UAB (24th position), Good one, UAB (31st position), TV Žaidimai, UAB (33rd position), Adeo Web, UAB (38th position) and NRD CS, UAB (42nd position).
Furthermore, CGTrader took 8th place in Rising Stars category and the fourth place in the Big Five category was taken by Pigu. Brolis Semiconductors is not only Lithuania's fastest-growing company (6th place with a four-year growth rate of 1,534 per cent), but also the most disruptive technology company in Central Europe.
"The fastest growing Lithuanian companies do not cease to amaze ‒ this year, according to the number of companies ranked in the Fast 50, Lithuania clearly stands out and is leading among Central European countries. We are especially excited that for the first time in the project history our representatives were appreciated not only because of outstanding financial results, but also because of the knowledge and innovative products that have huge potential to revolutionize the market. We hope that such positive trends will continue and next year Lithuanian companies will demonstrate even more impressive results," said Marius Stalenis, Director at Deloitte verslo konsultacijos.
Lithuanian representative Sponge was ranked 19th (600 per cent). "Sponge products are created for adventurers. I'm very glad that our team leads active lives, as this helps us to create perfect products. We started Sponge with two types of mp3 player which we sold in our local market. We have now extended our product range and are selling all over the world. We started exporting our products two years ago, and we are opening new markets every year. I think this is a very important motivation to keep us going forward," comments Edgaras Gargažinas, CEO at Sponge.
Not far behind (21st position) is another Lithuanian company – smart sports technology business Deeper, with a four-year growth rate of 580 per cent. In 2016 Deeper won Rising Stars category and in 2017 took 2nd place in Deloitte CE Technology Fast 50 ranking. "It's an honour for Deeper to be included in the Deloitte Technology Fast 50 ranking for a second successive year. This year, we have entered a new stage of growth and expansion with the aim of maintaining leadership of the global fishing market and creating new smart products for anglers, while retaining our innovative way of approaching every process – from manufacturing to sales strategy and marketing. At Deeper, we never stop innovating – developing new products, improving user experience and finding new ways to connect with the angling community," says Aurelijus Liubinas, CEO at Deeper.
A big data predictive analytics technology company Exacaster this year took 24th place. "Exacaster returns to the CEE Fast 50 thanks to our amazing people and customers. We are on a long-term mission to automate most customer-base management decisions with AI. By focusing mainly on telecoms and retail verticals, we can offer state-of-the-art customer profiling, AI-powered "next best offer" and customer-journey automation capabilities that few other companies worldwide can match. Our secret is our company culture that embraces a mindset of learning and growth," says Šarūnas Chomentauskas, CEO at Exacaster.
31st position was taken by a boutique digital performance agency from Lithuania Good One (431 per cent), specialising in the fields of SEO, SEM, digital media planning and delivery, PPC, web analytics and CRO. ""Whatever you are be a Good one" – a famous quote from Abraham Lincoln, which we adopted as our own on day one. Either you do it right, or you don't do it at all. This motto is at the core of our company and at the core of each and every one of our team – a team of experts who work hard to be the best in their fields. That's what has kept us growing nine years in a row, and is sure to keep us growing in future," says Tomas Varnas, CEO at Good one.
Not far behind (33rd position) is another Lithuanian company – a developer and distributor of its own video-streamed live games TV Žaidimai (BetGames.TV), with a four-year growth rate of 412 per cent. "I feel so lucky to work with all my colleagues and to be involved in a company with such great growth. Everyone here is inspiring, creative and intelligent. Our clients are constantly amazed by the incredible job we do. There's not much time to unwind but that's because we love what we do – it never feels like work," comments Vytautas Kacerauskas, Head of Business Development at TV Žaidimai.
38th place was taken by another representative of Lithuania ADEO WEB (340 per cent), providing successful ecommerce solutions for nine years. "I believe that the team is the most important factor in a successful business. All results are the outcome of every team member's contribution, dedication and ability to work with others. We bring value to every solution we provide – and the creation of that value is acknowledged, not only by our clients and partners but also by our team. What really matters is how much value we can create in a finite amount of time. Every form of recognition we receive is a victory for each and every member of the Adeo Web team. Being recognised in the Deloitte Fast 50 means a lot to us. As our business is built around recommendations, we see this as a critical enabler for us to take our next steps and become an even more successful company," says Paulius Nagys, CEO at ADEO WEB.
Cybersecurity consulting, incident-response and applied research company NRD Cyber Security took 42nd place in Deloitte CE Technology Fast 50 ranking, with a four-year growth rate of 302 per cent. "NRD Cyber Security aims to make digital environments secure for citizens, organisations and countries. Cyber-attacks are getting more sophisticated in both their methods and their scale. Hence we are putting much effort into securing the most sensitive objects, especially those belonging to critical infrastructure, by building cyber resilience capacity, establishing security operation centres and providing advanced technology for efficient monitoring and incident handling. The rapid evolution of the cyber world keeps us on our toes – we are constantly looking for ways to detect and handle cyber threats, using established methods as well as investing in R&D,"  says Dr. Vilius Benetis, CEO at NRD Cyber Security.
Brolis Semiconductors – most disruptive innovators in Central Europe
The third-ever winner of the Deloitte Most Disruptive Innovation (MDI) award, which highlights those businesses that are pioneering highly disruptive new ideas or technologies, also placed sixth in the main ranking. This year's winner is Lithuania's Brolis Semiconductors, a highly innovative company that is using breakthrough infrared photonic technology to develop a new kind of sensor that can take critical blood readings without breaking through the skin.
"Brolis is not a typical young technology company. We do not fit any "Silicon Valley" templates and we are not a company of vice presidents and advisors. We are a family-owned, profitable hardware-hard company of engineers and scientists. A team of difficult-to-pronounce names and strange accents, we create technology that did not exist before. And we are breaking the stereotype that says disruptive technology cannot be created in this part of Europe," comments Kristijonas Vizbaras, co-founder and CTO at Brolis Semiconductors.
Special categories
Companies up to three years old are ineligible for the main Fast 50 ranking. The Rising Stars category exists to mark those younger businesses with such strong growth that they are likely to feature in the Fast 50 in years to come.
This year, an astonishing five of the ten Rising Stars were from the Czech Republic, which along with the country's results at the top of the Fast 50 ranking itself suggests that growth and innovation are flourishing there. The winner, however, is Croatian smart street-furniture business INCLUDE, with a four-year growth rate of 1,950. In second place is Slovakian SEO specialist itrinity (1,555 per cent), with Czech 3D hardware company 3Dsimo placing third (1,461 per cent)
Lithuanian 3D-model marketplaces CGTrader took 8th place this year, with a four-year growth rate of 794 per cent. According to Dalia Lašaitė, CEO at CGTrader, CGTrader was born with the notion that the market lacks a democratic place for 3D artists to sell their digital artwork. We are certain that rewarding artists fairly is the key factor that has enabled CGTrader to attract so many designers and quality 3D models to our platform in such a short time. As stock 3D models cost only a fraction of what is normally spent on creating 3D content, CGTrader's value proposition has strongly resonated with the market and fuelled the company's growth. CGTrader also offers solutions for businesses to solve their 3D challenges. With the development of technologies such as augmented and virtual reality, spatial computing and WebGL, it is becoming essential that 3D content creation is made more efficient. CGTrader and our growing multinational team is focused on completing solutions for the 3D market.
The Big 5 category is for fast-growing larger companies whose scale makes it difficult for them to compete in revenue growth with the smaller businesses in the Fast 50. For the second successive year the winner is Czech online and real-world fashion retailer, ZOOT, with a four-year growth rate of 513 per cent. Second is Poland's RTB House (415 per cent), a marketing technology and retargeting business. And third is Latvia's Booking Group (271 per cent), which is disrupting the world of car rental
The fourth is Lithuanian online retailer Pigu, UAB (148 per cent), matching its position of last year but with a significantly faster growth rate. "We work hard to be the customer's first choice for online shopping. As a leader in e-commerce, we feel a strong obligation to educate buyers and guarantee maximising their shopping satisfaction. Seeking to further strengthen the trust of our customers and set ever-higher service standards means we need always to be developing and staying one step ahead. In my opinion, there are a few keys to our success: educating customers about online shopping; effective logistics; continuous investments in improving our service quality; and ensuring we carry the widest choice of goods for sale in the region," comments Dainius Liulys, CEO at Pigu, UAB.