Closing Events of the Exhibition Colleague from Another Tribe. Artist Meets Entrepreneur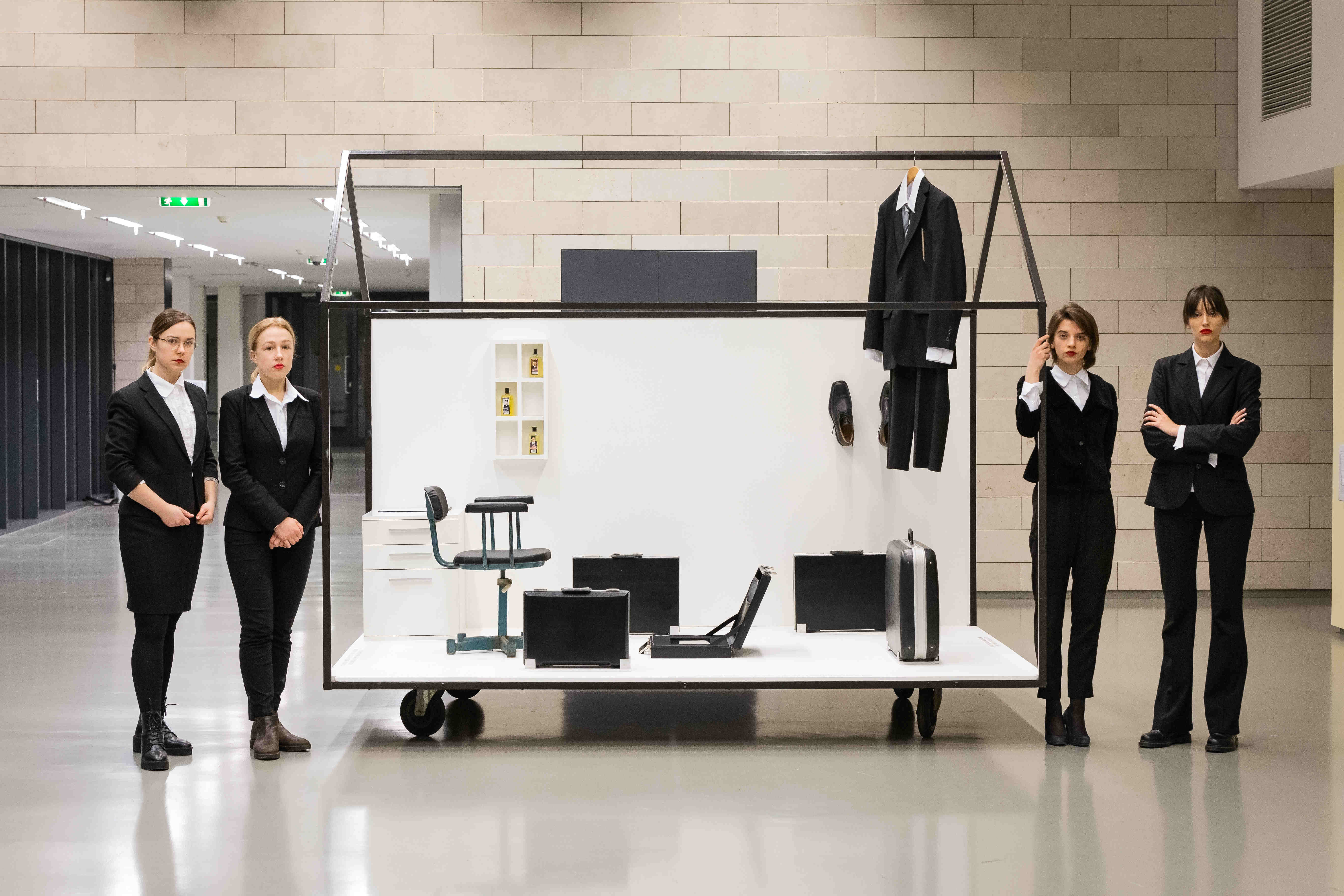 On February 21–24, the National Gallery of Art (22 Konstitucijos Ave., Vilnius) will host an open weekend to close the exhibition Colleague from Another Tribe. Artist Meets Entrepreneur. For this weekend the National Gallery of Art has prepared a special programme of free events.
February 21, Thursday
18.00 – presentation and discussion of Marta Dauliūtė and Viktorija Šiaulytė's research and documentary film project Good Life.
The project Good Life explores startup culture and how it is altering notions of work, leisure, personal life, community and creativity in society at large. The authors will present their documentary research on a Swedish real-estate startup that established the first collective house for entrepreneurs in Stockholm. Here corporate culture and community building make an extraordinary match, while algorithmic management techniques accompany programs of self-improvement and spaces of collective belonging. The presentation will be followed by a discussion with the researcher Miglė Bareikytė, the pioneers of co-living business in Lithuania Šarūnus Butkus and Domas Dargis, the author and cultural politics researcher Skaidra Trilupaitytė and Sigita Zulonienė, a project manager at Startup Lithuania.
February 23, Saturday
16.00 – a guided tour to the exhibition Colleague from Another Tribe. Artist Meets Entrepreneur with the curator Eglė Mikalajūnė.
16.30 – a lecture of the exhibition participant Viktorija Damerell What Is Beautiful Is Ugly.
It is a lecture on contemporary art for people who observe it from a distance. Why is contemporary art so ugly and incomprehensible, or why does contemporary art not need an audience? For some time Viktorija Damerell has been trying to find the missing links between the usually idealised classics and the frequently unfulfilled hopes of a contemporary art viewer. The aim of the lecture is to help us to see both phenomena in one another's light.
February 24, Sunday
12.00 – a seminar How to Become a Gallerist, or from Zero to Private Business conducted by an exhibition participant, artist and head of Galerie Uberall Andrej Polukord.
You have business ideas, but you don't know which field is promising? You don't know how to start? How can one tell a successful gallerist from an unsuccessful one? Art experts – what are they and what should they be? Where can one invest one's money? Have you even heard about an investment into the future? Is framing better than not framing? During the seminar, Andrej Polukord will reveal all features of successful entrepreneurship on the art market.
All events are free and will be conducted in Lithuanian. The event on February 21 does not need registration. Please register for the events taking place on February 23-24 by sending an email to: edukacija@ndg.lt
Exhibition artists: Miglė Anušauskaitė, Viktorija Damerell, Ernestas Parulskis, Andrej Polukord, Austėja Vilkaitytė
Exhibition curators: Jelena Čerkasova, Eglė Mikalajūnė
Partners: Startup Lithuania, Employment Service under MSSL, True Insight Lab, Telesoftas, Vinted, Galerie Uberall, EMKO   
Media sponsors: Verslo klasė, lrytas.lt, Imparat
Sponsors: Vilniaus vartų Art Apartment, Exterus, Imaparat