Apply: TechChill's startup pitch competition main prize – 10 000 EUR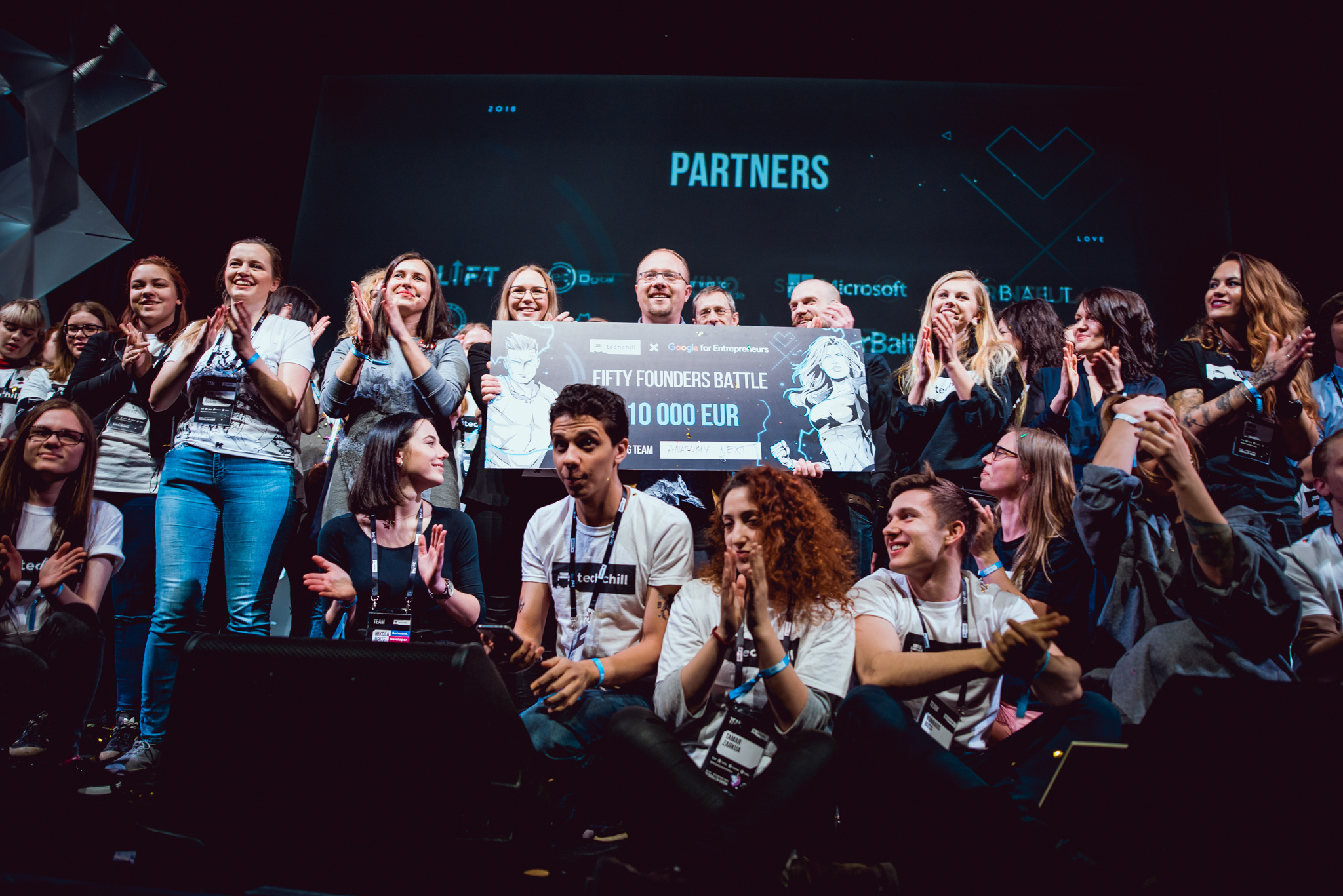 Early-stage startups are welcome to apply for Fifty Founders battle, hosted by TechChill, and compete not just for recognition and investor attention, but also for the main prize – 10 000 EUR with no strings attached. The competition showcases the best and most promising startups from the Baltics, Nordics and CEE, giving all 50 finalists an opportunity to pitch their idea on stage in front of investors, potential clients, media and other attendees.
The 50 competing startup finalist teams will be divided into 5 verticals according to their industry – fintech, deep-tech, software as a service (SaaS), hardware & IoT and social startups (impact). In the semi-finals of the Fifty Founders battle, on the first day of the conference – February 21, 2019, the teams will have time for 3-minute pitches on Founders stage evaluated by a professional jury that includes experts from each particular field. Afterwards 5 finalists will be given a chance to pitch again on the second day of the TechChill 2019 on the main Superhero stage. Startups will have a chance to pitch their ideas not only to the official jury, but also to international VC's, business angels, accelerators, media, and, of course, to the conference's audience.
Previous Fifty Founders battle winners include Baltic success stories such as Infogr.am, TrackDuck, Edurio, Nordigen and Sprayprinter. Last year the Anatomy Next, the VR human body simulator for doctors practice, won the annual TechChill conference pitch competition, receiving the main prize 10 000 EUR. "From the application process to pitching on stage, the Fifty Founders battle played a major role in making us clarify our value proposition during the fundraising. Winning the battle not only added 10 000 EUR to our cash flow but also to the business development by offering great publicity in international media already from the announcement of the 50 selected founders," shares Sandis Kondrats, the Co-founder and CEO of Anatomy Next. 
As mentioned, the winning team will receive 10 000 EUR in cash, with no strings attached, and one startup will receive a fast track pass to the Silicon Vikings Startup World Cup Finals in San Francisco, USA on May 17, 2019.   "TechChill was the obvious choice for hosting this competition for us because they share the same passion for startups that we do and the same commitment to get Baltic startups truly recognized on the world map. There is so much great innovation coming out of the Baltics and Startup World Cup will help bring the Baltic region to the next level by building new connections for the region worldwide," said Charlotte Danielsson, the CEO of Silicon Vikings.
All early-stage startups with up to 100k in funding and with a valid TechChill 2019 Startup pass are welcome to apply, with no country restrictions.
Apply here until December 14: www.techchill.co/fifty-founders-2019/ 
TechChill has grown to become one of the leading tech, startup and entrepreneurship inspiration events in the Baltic states. For 2 days in February 21-22, 2019, the event in Riga will host up to 2000 international attendees and world-known speakers such as Joshua Slayton, Cassie Kozyrkov, Chris Brown, David Ryan Polgar, Oscar Kneppers and many more. TechChill agenda is full with discussions about the future and trends, as well as in-depth speeches on the present and future of tech communities, the role of investors and mentors, differences in the tech ecosystems and their growth, as well as the biggest challenges startups face – growing, selling, hiring, scaling.
The event will host representatives from many venture capital firms, corporate VC's, business angels and accelerators. Last year participated such organizations as Index Ventures, Cavalry Ventures, InReach Ventures, Vertical VC, 500 Startups, Y Combinator, Hoxton Ventures, Techstars, StartupBootcamp IOT, Startup Wise Guys, Hardware Club, Karma Ventures, Change Ventures, EBRD, LauncHub, NordicBan, Open Ocean, Superhero Capital and more, that came looking for their next investment.
About TechChill
TechChill is known as the year's most ambitious and recognizable Baltic startup ecosystem event and the best opportunity to meet the most promising new founders and ideas from the Baltics. The conference has grown rapidly – from a few hundred participants to two thousand international visitors. Every February, under the TechChill's leadership, Riga becomes a global innovation, business and networking center for a week. The next TechChill will take place on February 21-22, 2019 in Riga. Read more: www.techchill.co
About Silicon Vikings Startup World Cup
Silicon Vikings Startup World Cup is an event organized by Fenox Venture Capital that is dedicated to launching and advising the world's next wave of leading entrepreneurs. Organizers are excited to set a precedent for attracting the world's brightest minds across the globe and look forward to having them participating in solving the planet's biggest challenges through ground-breaking solutions that move ecosystems forward. Read more: www.startupworldcup.io