Teso Talks: Marketing Hacks for Global Growth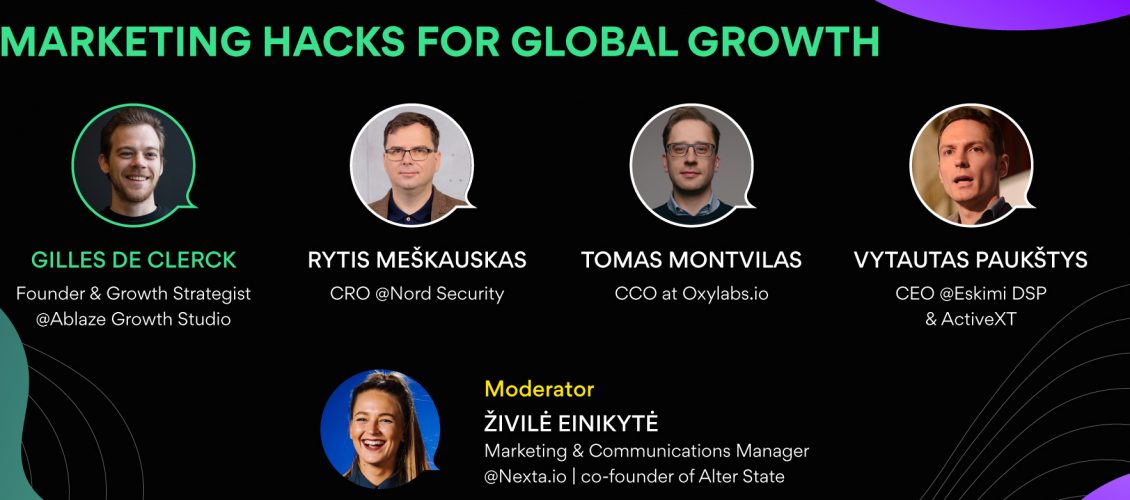 In this Teso Talks event, we'll have a brilliant growth strategist, founder at Ablaze Growth Studio Gilles de Clerck introduce and further explore marketing hacks that help to enter new markets and scale products globally. He's going to break down what prevents new customers from knowing and using your product and how to leverage strengths that your product already has to turn market constraints into a magnetic force.
Following Gilles' keynote speech Scaling Beyond Borders, we'll have a Q&A session hosted by Živilė Einikytė, marketing, and communications manager at Nexta.io and co-founder of Alter State, as well as a panel discussion on the secrets of successful scaling with Vytautas Paukštys, CEO at Eskimi DSP & ActiveXT, Rytis Meškauskas, Chief Revenue Officer at Nord Security, and Tomas Montvilas, Chief Commercial Officer at Oxylabs.
Speakers
As an independent growth strategist, Gilles de Clerck designs, builds and scales growth machines for startups, new ventures, and personal brands. He's specializing in experimental design to build ROI-driven business growth strategies, validation of new business ideas, and user acquisition & onboarding. Gilles worked with companies like Microsoft, ING, Sony Music, and Philips. 
Vytautas Paukštys is a co-founder and CEO of Eskimi, a mobile-first social network that grew from zero to 10 million registered customers in less than 24 months. During his career as a founder of 5 mobile payment and direct sales companies, Vytautas has gained extensive experience in customer marketing & acquisition.
Rytis Meškauskas has 15 years of experience in performance marketing, is a Certified Google Trainer, and a lecturer of mobile marketing at the Vilnius University Business School – Rytis Meškauskas definitely has extensive knowledge to share.
Tomas Montvilas is an expert in organizational growth with over 8 years of experience in leadership roles in the areas of sales, marketing, product development, and digital transformation. He's currently focusing on the development of AI-powered customer data management & analytics solutions.
Živilė Einikytė, Marketing and Communications Manager at Nexta.io and co-founder of Alter State. With her superpower being communication, Živilė is actively engaged in the Nordic startup's ecosystem. She creates opportunities for startups to scale through different marketing and communication activities, and she's also an active mentor looking for new ways to design and develop a more diverse and inclusive tech ecosystem.
Agenda
5:00–5:30 Keynote speech: Scaling Beyond Borders with Gilles de Clerck.
5:30–5:40 Q&A with Gilles de Clerck & Živilė Einikytė.
5:40–6:20 Panel discussion: Scale for Success: Is There a Secret Ingredient?
6:20–6:30 Q&A with the panelists.
When will it happen?
October 6, 5 pm;
Saltoniškių str. 10C, 1st floor, Vilnius & online with Facebook Live;
Event language: English.