Tech Zity Radar #9: Ecommerce Hacks for 2022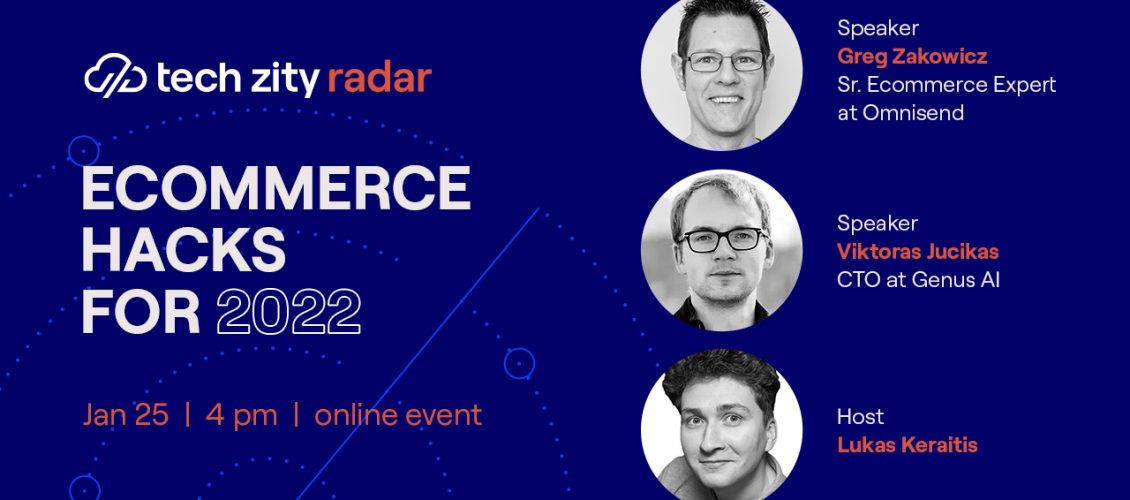 This time on our radar is #Ecommerce
Tech Zity will host Greg Zakowicz, Sr. Ecommerce Expert, USA from #Omnisend and Viktoras Jucikas, Founder & CTO from #GenusAI – the skyrocketing Lithuanian startups which build world-class eCommerce marketing tools & technologies.
Agenda:
👉 Intro by the host Lukas Keraitis
👉 Keynote | Ecommerce Marketing Trends in 2022 by Greg Zakowicz | Omnisend
Email, SMS, and push message marketing trend
Difference between a segmentation and automation strategy & why it matters (another way to say it for maximum effect is 'have we reached the end of the segmentation era?')
Examples of new tactics for old messages
Is SMS marketing here to stay or a passing fad?
👉 Keynote | AI is the future of E-commerce by Viktoras Jucikas I Genus AI
Growing brands in the post-Covid-19 era
Personalised AI-generated Creative at Scale
Creative selection and testing strategies for your campaigns (without spending any budget?)
👉 Wrap up discussion & O&A
When? January 25, 16:00 (EET)
Where? Online stream on Tech Zity's Facebook page, Youtube, Linkedin.
Read more about the speakers, content partners and register HERE.