Tech Hub Space Opening Ceremony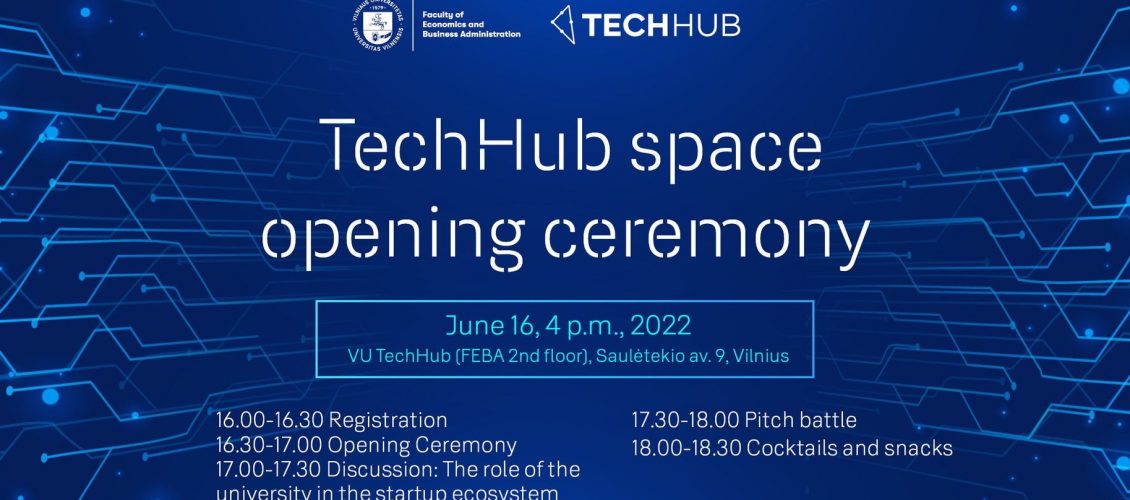 Tech Hub will be waiting for you in the opening ceremony of the VU Tech Hub coworking and startup education space
What is VU Tech Hub?
VU Tech Hub is a platform for collaboration between students, researchers and business and public sector to develop innovation and entrepreneurship. This initiative unites 9 main academic units of Vilnius University in order to achieve active interdisciplinary cooperation.
What do we do?
Our activities include pre-acceleration program for startups, hackathons, conferences and practical workshops. The pre-acceleration program, implemented together with the Innovation Agency Lithuania (formerly MITA), has already been completed by 110 startups! Another 20 teams are currently participating. All startups together have already attracted more than 5 million Eur of investments.
We are glad that from now on Tech Hub will have a space for these activities, where startups and other innovators will be able to gather, share good practices and ensure the development of innovation at the University. Therefore, we invite you to be one of the first guests in this space.
Event program:
16.00-16.30 Registration
16.30-17.00 Opening Ceremony
17.00-17.30 Discussion: The Role of the University in the Startup Ecosystem
17.30-18.00 Pitch Battle
18.00-18.30 Cocktails and Snacks
Venue: Saulėtekio av. 9, 2nd building, 2nd floor of the Faculty of Economics and Business Administration (VU TechHub premises)
Date and time: June 16, 4 p.m.
All participants must register to participate until June 10th
: 
here