Strategies for Billion Dollar Success – Kaunas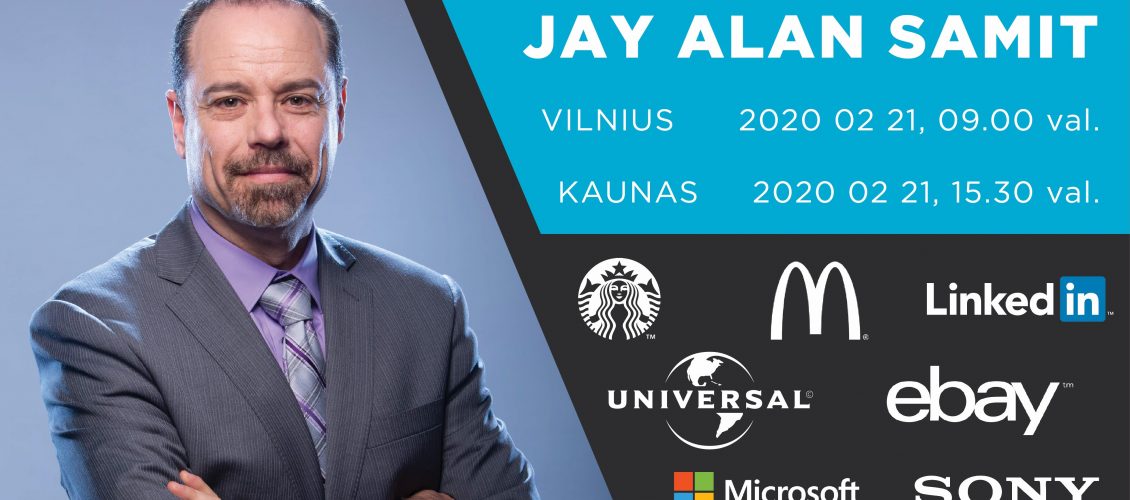 Would you like to learn from a man who even the Vatican Pope and the US President seek advice from? What would you give for the opportunity to consult a top advisor working with innovation greats like Bill Gates, Steven Spielberg, Steve Jobs, Reid Hoffman, David Geffen, Richard Branson, Paul Allen?
Take the opportunity to grow, transform your business and thrive with Jay Samit, the man who helped grow Linkedin and eBay!
Part I. Keynote speech + QA. EXPONENTIALS DISRUPTED – STRATEGIES FOR BILLION DOLLAR SUCCESS IN THE ERA OF ENDLESS INNOVATION. A speech and presentation on how exponential technologies such as AI, AR, 3D printing and Blockchain are changing our world and the positive impact it is having on how we work, live and play. Thematically, the speech will contain themes addressed in Samit's book Disrupt You! Master Personal Transformation, Seize Opportunity and Thrive in the Era of Endless Innovation.
Part II. Startups Battle. The stage will feature the top 10 startups who have won pre-selections by a team of KTU National Innovation and Business Center and innovation-driven Lithuanian technology companies.
Startups will have an extraordinary opportunity to pitch their products to an international commission made up of investors, serial entrepreneurs and academics from the United States and Lithuania.
FAQs:
Can I buy a conference recording or LIVE broadcast?
Yes. You will see this choice when choosing tickets.
What if I can't attend the event?
You will be able to watch the live broadcast of the message online or the video at your convenience.
Interested? Get 20% discount with code: StartupLithuania. 
Read more about the event and tickets –>  http://bit.ly/2qP1wfK