ROCKIT Impact accelerator

Mar 01, 09:00 - Jun 30, 18:00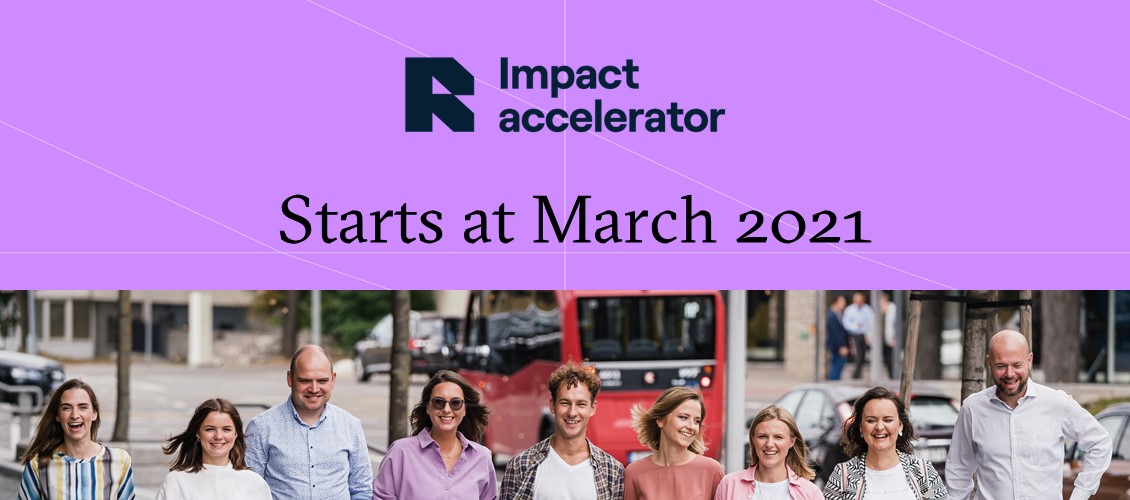 ! APPLICATION DEADLINE – JANUARY 5th, 2021 !
Rockit Impact Accelerator is an intensive startup programme focused on growing sustainable startups that create impactful B2B solutions for local and international enterprises. Together with top mentors and experts, we will match you with potential clients – the leading business community in the Baltics – so you can scale your positive impact while doing good business.
Value to startups:
• Create a positive impact.
Transform or adapt your product, business model and operations to become a sustainable business to the very core.
• Pilot your product with B2B clients.
Explore a database of potential B2B customers and validate your product by piloting it with TOP B2B customers in the Baltics. 
• Get traction.
Gather feedback, develop a customer-oriented product and increase your chances for your next fundraising round.
• Join the ROCKIT community.
Get access to both the top-notch location in Vilnius during the program and the ROCKIT network for life.
• Learn from international experts.
Meet top worldwide mentors and speakers in sustainability, business modeling, sales, business development, and many more areas.
• Network and co-create with minds alike.
Get support and inspiration from your peers in the accelerator batch.
Timeline:
• Application deadline – January 5th, 2021
• Startups are chosen – January 15th, 2021
• Start of accelerator- March, 2021
• Demo Day – June, 2021
• Alumni Programme – July, 2021
What are we looking for:
• VISION FOR IMPACT
B2B startups already working on creating positive social and/or environmental impact or want to develop sustainable products (but haven't yet).
• CAPABLE TEAM
Motivated, driven expert team of at least 2 dedicated members.
• THE RIGHT PRODUCT
Startups who have traction for their current products (before the start of the programme) – first clients, some validation.
APPLY NOW – http://www.impact.rockitvilnius.com/application-form