Open Vilnius'22: International Community Meetup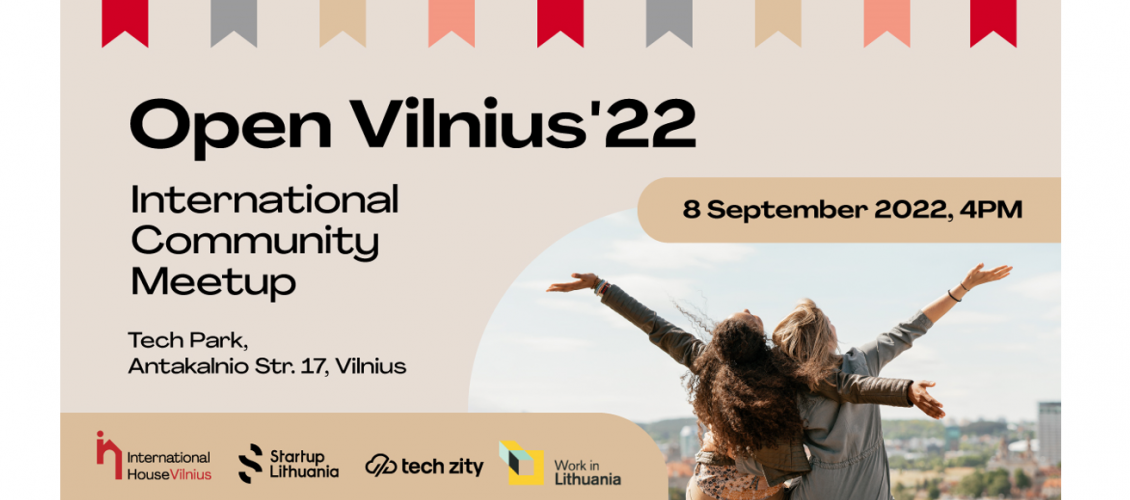 Startup Lithuania together with International House Vilnius, Tech Zity, and Work in Lithuania invite you to a community gathering full of exciting discussions, networking opportunities, and practical tips from locals and almost locals. Meet other international or internationally-minded people who live in our beautiful capital Vilnius – professionals, entrepreneurs, students, family members, or simply those who want to have a great time and make useful connections. The event takes place in Tech Park, well known for its hip atmosphere and nurtured environment.
PROGRAM
3.30 – 4.00 PM Registration.
4.00 – 4.45 PM. Panel discussion (I) How to build a career in Vilnius: success stories and challenges. Panelists:
Agnė Selemonaitė | Chair of the Board & Deputy CEO at ConnectPay
Thibaud Catry | Chief Compliance & Risk Officer, ConnectPay
Seymur Rasulov | CEO at Whelp
Sandro Franco | Founder and CEO at iSpeak App
Moderated by Inga Langaitė | CEO Unicorns Lithuania
4.50 – 5.35 PM. Panel discussion (II). Labas, kaip sekas? Tips and tricks how to become a local! Speakers:
Agnė Camara | Head of International House Vilnius
Dr. Stephen Jones | Research Lead at Life Sciences Center of Vilnius University
Fabian Sanchez , or as Delfi says "Ecuadorian that became unofficial ambassador of Lithuania"
5.45 – 6.45 PM. Quiz (organized and moderated by Paulius Ambrazevičius)
6.50 – 7.00 PM. Intro to networking. Kotryna Stankutė. Networking mentor & Founder at kotryna.network.
7.00 – 10.00 PM. Networking.
SIDE ACTIVITIES
4 PM – 8 PM Children's area. Bring your kiddos along because they will be entertained and well taken care of!
4 PM – 10 PM Food trucks. Taste different flavors of Vilnius.
7 PM – 9 PM Wine tasting by Airate (Startup Visa Lithuania community meetup). Discover your wine taste with the help of AI.
4 PM – 8 PM BeFriend promotion and live matching. Find a city mentor or become one!
4 PM – 10 PM – Photo booth. Take your best selfie ever!
Register
here
and let's meet on September 8th at Vilnius Tech PArk (Antakalnio g. 17, next to Building N3, Vilnius 10312, Vilnius) !