Online Hackathon HACK AgriFood'20

Oct 13, 10:00 - Nov 26, 20:00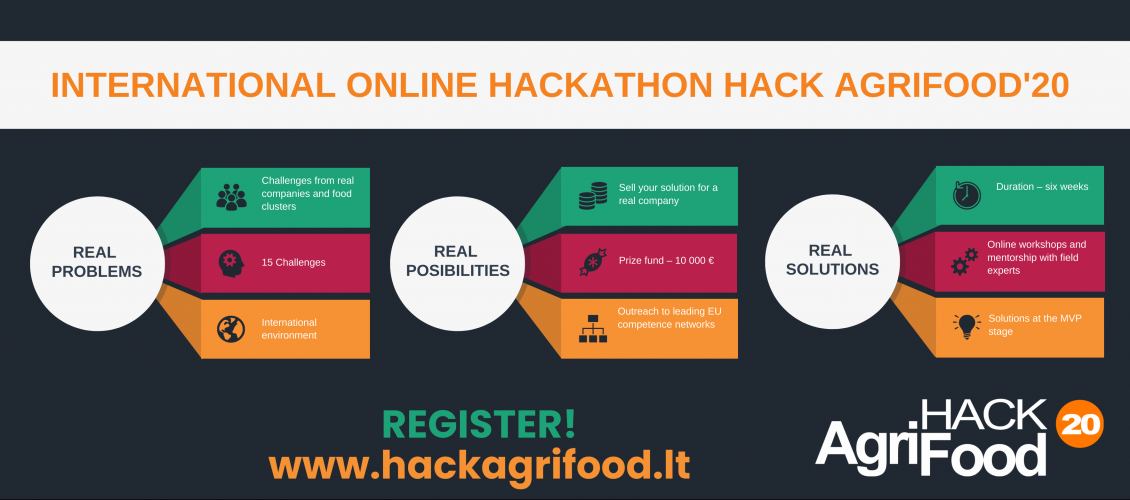 An international interactive hackathon aimed at helping the agriculture and food sectors overcome ongoing problems and solve challenges related to the COVID-19 crisis.
The strategic approach of HACK AgriFood'20 is based on 5 key objectives:
1. Supporting international and cross-sectorial teams of experienced or beginner innovators working on solutions related to the agrifood sector;
2. Involving a wide range of local and international agrifood stakeholders to shape project outcomes in line with market and end-user needs;
3. Focus on tangible results and delivering innovative solutions targeted on mitigating the effects of the COVID-19 crisis on the agrifood sector;
4. Maximizing dissemination and exposure of solutions developed during the event to end-users and other stakeholders;
5. Attracting additional support and investment for teams and their solutions developed during the event.
HACK Agrifood'20 has already received support from both international and local communities. The hackathon is sponsored by many influential partners, such as the SMART AgriHubs consortium, which unites 164 partners all over Europe, the Lithuanian Science, Innovation and Technology Agency and others.
Registration of teams and individuals willing to participate in the international online
hackathon HACK Agrifood'20 has already started and will end on October 11. Everybody willing to address the challenges proposed by AgriFood sector companies can register at www.hackagrifood.lt.