Lithuanian-American Innovation Award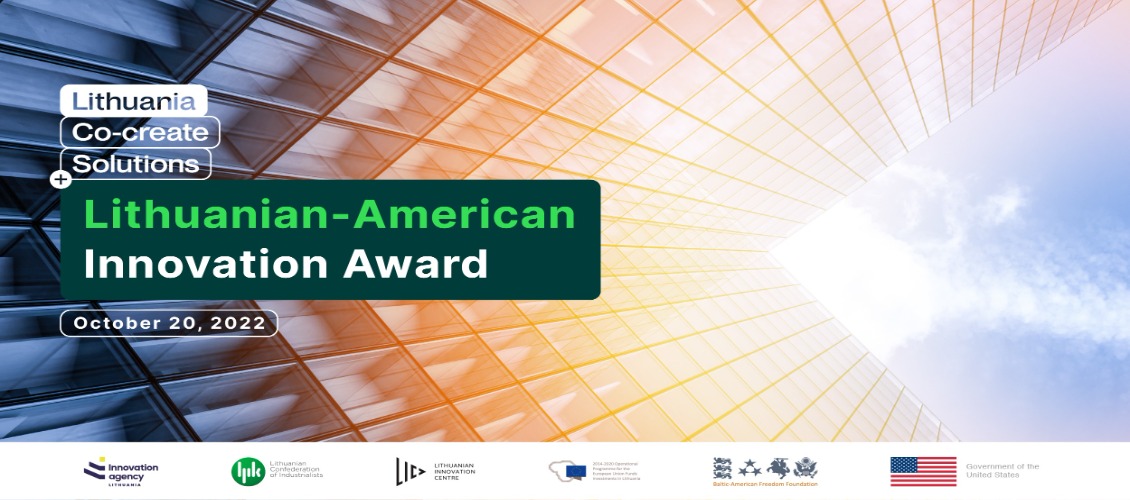 Baltic-American Freedom Foundation (BAFF), the U.S. Embassy in Lithuania, and Innovation agency Lithuania will celebrate visionaries of Lithuania's tech and entrepreneurial community and the cutting-edge technologies they created in partnership with entities or individuals from the United States.
About the award
The Lithuanian-American Innovation Award 2022 is organized by the Baltic-American Freedom Foundation (BAFF), the U.S. Embassy in Lithuania, and Innovation agency Lithuania. The initiative aims to recognize and inspire future leaders in academia, science, technology, and business and foster international collaboration in reaching their full potential.
The award winner will receive a prize of 10,000 Eur, and the runner-up will be granted a 5,000 Eur prize. In addition, a special Impact Award will be given to recognize an applicant that furthers a common U.S.-Lithuanian social or environmental objective.
The prizes are funded by Baltic-American Freedom Foundation (BAFF)
Applicants
Lithuanian individuals, companies, academic institutions, or organizations can submit applications. The main criteria for recognition are innovative solutions in the applicant's area of expertise and collaboration with a partner from the United States during the creative process.
Evaluation criteria
Applications will be evaluated based on the following criteria:
I. Quality of innovation:
• How scientifically important and novel is the innovation?
• What is the extent to which it solves a specific problem?
• What is the project's level of technological readiness?
• Has the innovation or its business application received any special recognition?
II. U.S. collaboration:
• Was the innovation created collaboratively between Lithuanian and American individuals or entities, and/or is there a U.S.-Lithuanian nexus for the innovation?
Additional information for The Impact Award:
• Award criteria are similar, but the application must demonstrate innovation in its approach to furthering common U.S.-Lithuanian social or environmental objectives, for example defending human rights or combatting climate change.
• Impact Award nominations could include innovative use of an already existing tool but for the common good.
• Applicants must clearly identify the common U.S.-Lithuanian social or environmental objectives.
Mentorship
This year, applicants have a unique opportunity to consult with InterInoLT experts, who will support applicants in presenting their innovations.
Applicants seeking advice on their submissions are invited to send their questions to InterInoLT innovation expert Mr. Janušauskas (g.janusauskas@inovacijuagentura.lt; +370 687 15 305). Mr. Janušauskas can also be contacted for further consultations on assessing the disruption potential of projects and ideas, best ways of searching for partners abroad, or becoming part of international scientific research, development, and innovation programs.
Additional Information:
How to apply?
Applicants must submit a filled-in application form which includes:
– A summary of their project in English (up to 1000 words) describing the innovation and how the project meets the selection criteria.
– Additional documents (up to 6 pages) to support the application (including references, recommendations, reviews, photos, more detailed plans, etc.)
– A confirmation that all information in the application is accurate and valid and that the applicant meets all Terms and Conditions.
Date: 20 October, 2022
Read more and apply: here